While the eyes of virtually everyone on the Destiny 2 community are set upon the highly anticipated The Witch Queen expansion, Season 16 has also kicked off. 
Titled Season of the Risen, it'll follow up on the events of The Witch Queen, with a new seasonal activity, weapons, and gear to chase for the next three months.
Of course, a huge reason to grind seasons in Destiny 2, like many other games, it's the inclusion of a new season pass with an incredible amount of rewards that'll make players' time be well spent. 
Featuring both premium and free tracks, the Destiny 2 season passes have always featured some exclusive content tied to them, going beyond items, adding access to special exotic quests as well. 
With all that said, let's take a look at everything you need to know about the Season of the Risen season pass in Destiny 2.
How much does the season pass cost in Destiny 2?
The Season of the Risen season pass costs 1,000 Silver or approx. US$10.
As mentioned, there is both a free and paid track, Bungie has provided details on what both contain with a helpful infographic.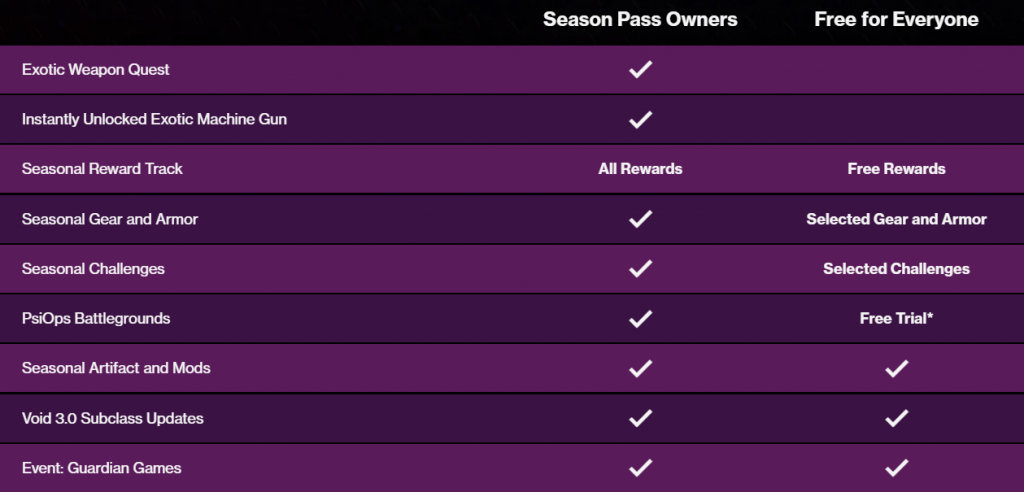 Season of the Risen season pass - All tiers
There are a total of 100 tiers, both paid and free, to grind out, featuring massive rewards along the way. Take a look at all of them down below.
1-10
11-20

21-30

31-40

41-50

51-60

61-70

71-80

81-90
91-100

When does the Season of the Risen pass end?
Each Destiny 2 season lasts around three months, so expect the Season of the Risen pass to expire around mid-May. That'll give you over 90 days to complete each tier of it.
Featured image courtesy of Bungie.
---
For more Destiny 2 news, be sure to check out our dedicated section or take a look at some of our Guides & Tutorials just below:
Weekly Updates - Destiny 2 Weekly Reset | Destiny 2 Weekly Challenges | Destiny 2 Xur Location This Week | Destiny 2 Trials of Osiris Map & Rewards This Week | Destiny 2 Lost Sector Rotation |
Upcoming Updates - Destiny 2 Season 19 Release Date | Destiny 2 The Dawning Event 2022| Destiny 2 Lightfall Release Date | Everything We Know About 'Destiny 2 The Final Shape'
Exotics, Catalyst & God Rolls - Alter of Reflection Catalyst Quest | Austringer God Roll | Calus Midi Tool God Roll | Dead Man's Tale God Roll | Fixed Odds God Roll | Hawkmoon God Roll | How To Get Come To Pass | How To Get Dawn Chorus | How To Get Omnioculus | How To Get Star-Eater Scales | Mechabre God Roll | Osteo Striga Catalyst | Riptide God Roll | Queens and Worms Quest
Game Guides - Destiny 2 Redeem Codes | How To Unlock All Subclasses | Memories of Ruin Puzzle Solution| Strikes Guide | Where To Farm Cabal | Where To Farm Fallen | Where To Farm Hive | Where To Farm Scorn | Where To Farm Vex | How To Get 100k Nightfall Score | 
Raid Guides - Master King's Fall Totem Challenge Explained |