We're just weeks away from the release of Destiny 2's most anticipated expansion yet, The Witch Queen. Amid the recent Sony acquisition and the announcement that over 1 million players had pre-ordered the upcoming DLC, the developers also showcased new exotic gear and weapons that will be available starting on 22nd February.
If you're a new player looking to get into the game, exotic items are the rarest type of gear in the entire game, with Destiny 2 only allowing one piece of exotic armour and a single weapon to be used at the same time in your loadout. 
They boast unique perks and can be upgraded via catalysts, that empower them even further, making them highly valuable. 
As is customary with every new expansion, old and new players alike are looking for that amazing weapon or piece of gear that will lure them back into the grind with The Witch Queen promising enticing choices in both regards. 
The Witch Queen exotic weapons
While we don't know much information about the weapons showcased in the teaser trailer, at least we got our first look at quite a few of them.
Check them out down below.
Grand Overture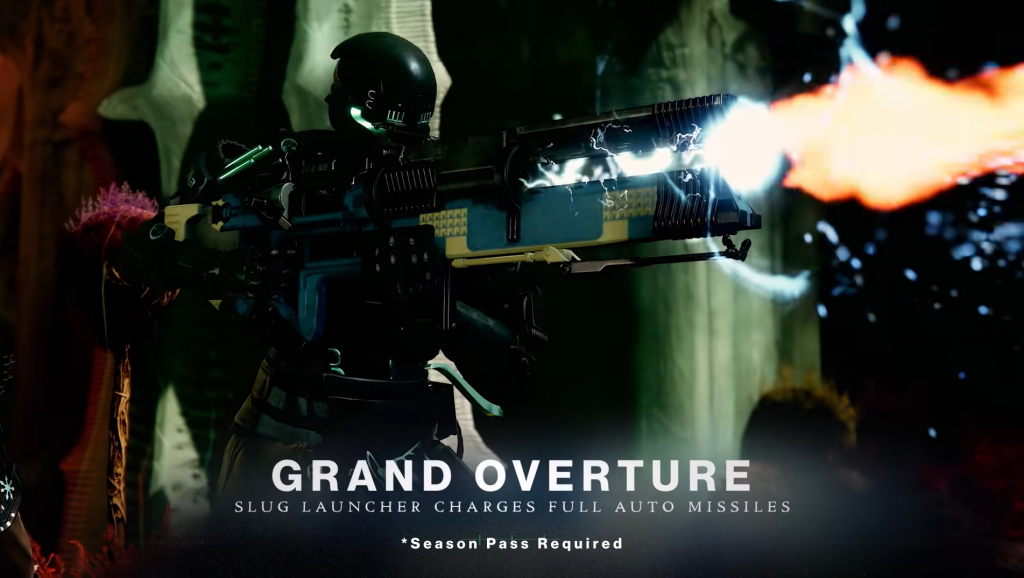 The first gun showcased is the Grand Overture submachine gun, which, if we read the fine print below the weapon, might be tied to Season 16 rather than The Witch Queen.
This submachine gun seems to fire auto missiles that work as projectiles, rather than hitscan.
Parasite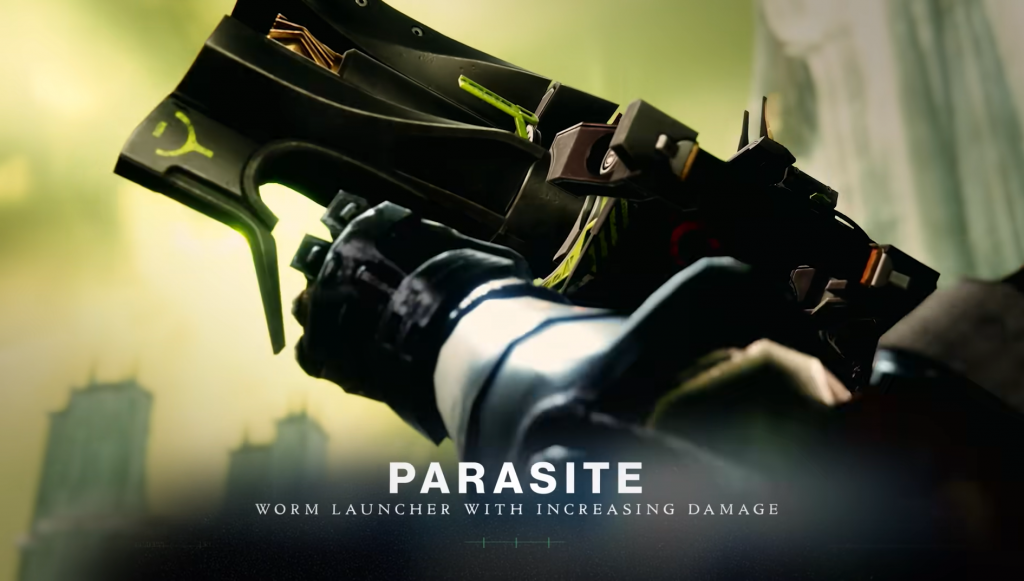 This exotic grenade launcher has caught the eyes of thousands of Destiny 2 players for its unique distinction -- it fires hive worms rather than actual grenades.
In fact, the description of the weapon mentions it's a "worm launcher with increasing damage." This might refer to having AoE damage capabilities like Witherhoard, or maybe its damage scales the further the worm travels. It remains a mystery for now. 
Osteo Striga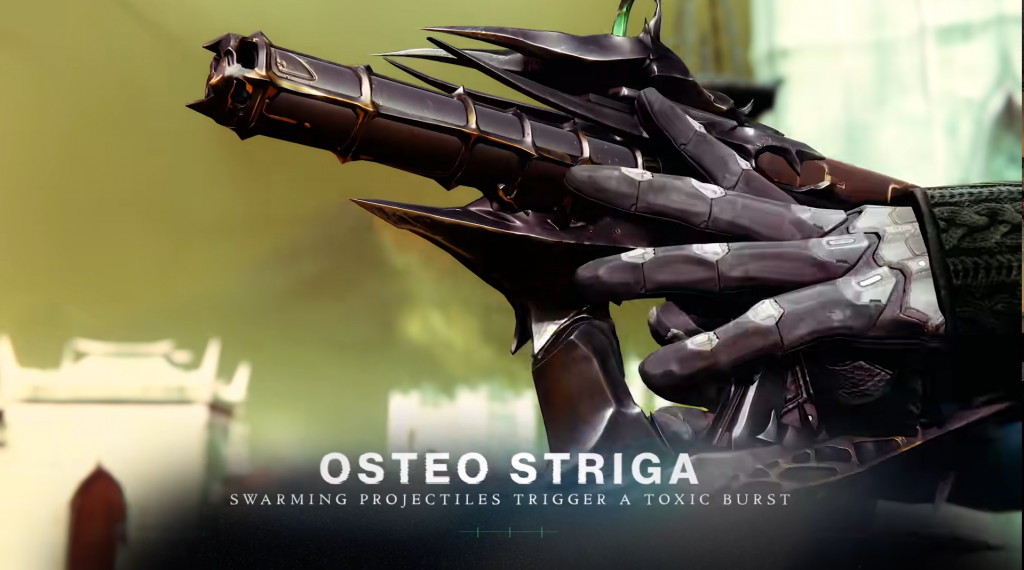 This exotic SMG will be tied to the Deluxe Edition of The Witch Queen, meaning that if exclusive content works as in previous expansions (such as the No Time to Explain pulse rifle in Beyond Light), the only way to get it during Season 16 will be by forking out extra cash.
Having said this, it has an interesting look and more importantly, perk, as it'll work similarly to Thorn or Malfeasance, with damage over time capabilities via a toxic burst.
The Witch Queen Glaives
Glaives were already introduced in a previous developer update, but Bungie added more info, confirming they'll have class-exclusive perks.
While the design doesn't seem to, what they do certainly does. 
Titan Glaive: Edge of Action - Places a protective shield
Warlock Glaive: Edge of Intent - Deploys a healing turret
Hunter Glaive: Edge of Concurrence - Tracking chain lightning
The Witch Queen exotic armour
To top it all off, three new pieces of exotic gear were shown, one for each class.
Titan chest: Hoarfrost-Z - Stasis wall replaces barricade
Warlock Gloves: Osmiomancy - Additional Coldsnap with enhanced seeking
Hunter Helmet: Blight Ranger - Reflected projectiles deal increased damage
If you want to look at all the exotic in action, check out the YouTube video embedded down below. 
Featured image courtesy of Bungie.
---
For more Destiny 2 news, be sure to check out our dedicated section or take a look at some of our Guides & Tutorials just below:
Weekly Updates - Destiny 2 Weekly Reset | Destiny 2 Weekly Challenges | Destiny 2 Xur Location This Week | Destiny 2 Trials of Osiris Map & Rewards This Week | Destiny 2 Lost Sector Rotation |
Upcoming Updates - Destiny 2 Season 19 Release Date | Destiny 2 The Dawning Event 2022| Destiny 2 Lightfall Release Date | Everything We Know About 'Destiny 2 The Final Shape'
Exotics, Catalyst & God Rolls - Alter of Reflection Catalyst Quest | Austringer God Roll | Calus Midi Tool God Roll | Dead Man's Tale God Roll | Fixed Odds God Roll | Hawkmoon God Roll | How To Get Come To Pass | How To Get Dawn Chorus | How To Get Omnioculus | How To Get Star-Eater Scales | Mechabre God Roll | Osteo Striga Catalyst | Riptide God Roll | Queens and Worms Quest
Game Guides - Destiny 2 Redeem Codes | How To Unlock All Subclasses | Memories of Ruin Puzzle Solution| Strikes Guide | Where To Farm Cabal | Where To Farm Fallen | Where To Farm Hive | Where To Farm Scorn | Where To Farm Vex | How To Get 100k Nightfall Score | 
Raid Guides - Master King's Fall Totem Challenge Explained |