With The Witch Queen's release well behind us, players stuck around Destiny 2 are getting rewarded with more and more challenging activities to tackle, such as Trials of Osiris, Iron Banner, and GM Nightfalls.
Part of what makes banging your head into a wall while trying to complete high-end PvE activities worthwhile is the exclusive slew of rewards available, with the Eyasluna Hand Cannon being among the best.
The explosive 140 RPM Hand Cannon has seen a resurgence now that we've entered that timeframe in which all Destiny 2 tryhards are attempting flawless Trials runs or beating GM Nightfalls.
Where to farm Eyasluna Hand Cannon in Destiny 2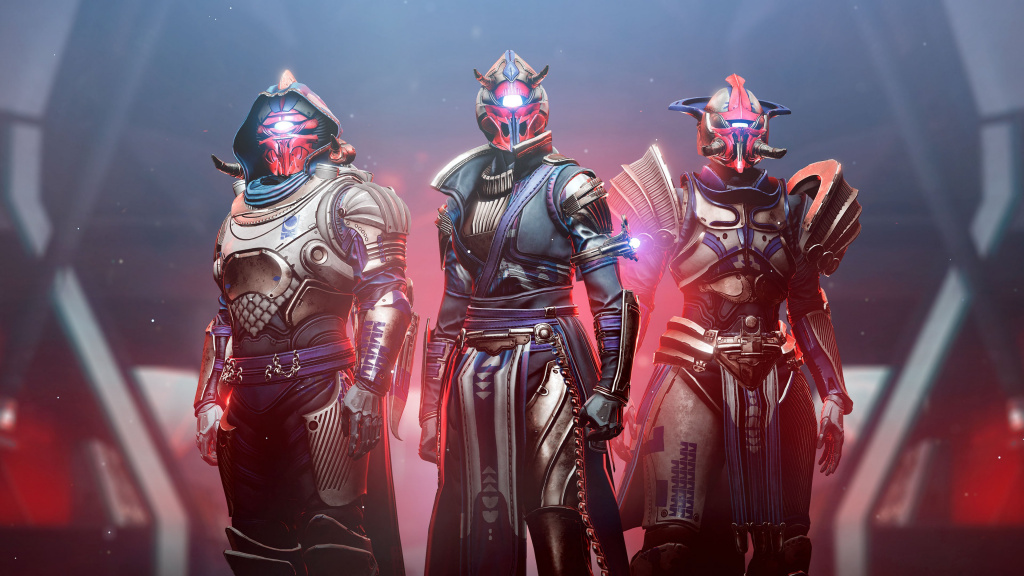 To get the Eyesluna in Destiny 2, you'll need to complete the Grasp of Avarice dungeon that was introduced with Bungie's 30th Anniversary late in 2021.
Dungeons are raid-like activities designed for a fireteam of three players, making the process of finding people to play a lot easier, considering they don't have any sort of matchmaking. 
Of course, some are doable solo, and the most hardcore of Guardians have actually cleared it by themselves. If you're a newer player or take a more casual approach, chances are trying this will end up being a complete waste of time.
Dungeons have different loot, such as weapons or armour, drop from certain encounters, and Grasp of Avarice is no different. The Eyasluna Hand Cannon only drops from completing the final boss of the dungeon.
Note that getting an Eyasluna is not guaranteed but the final boss always drops double the loot. Furthermore, the activity is farmable, meaning you can get multiple weapons and gear each week. 
Eyasluna God Roll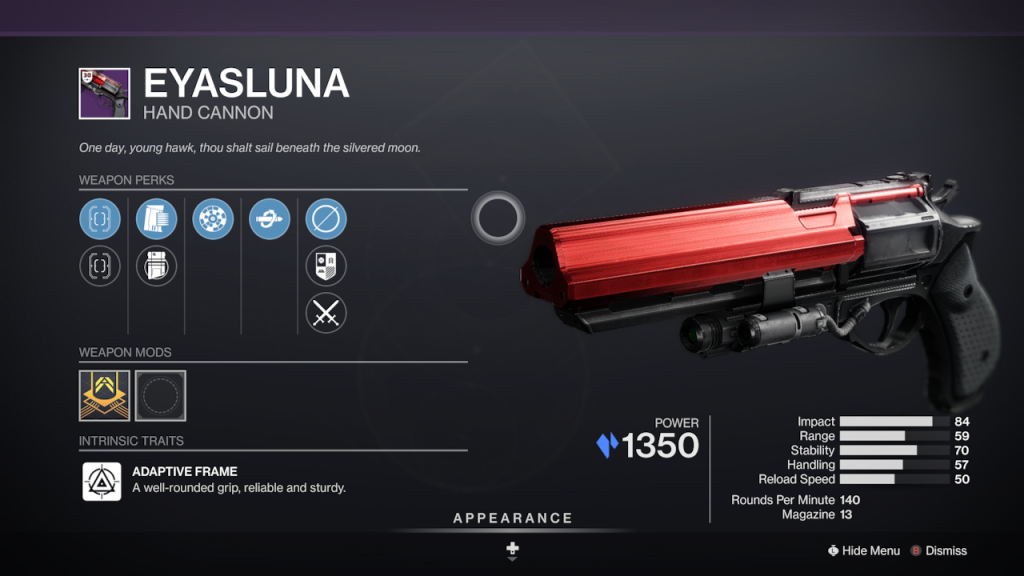 There is no shortage of great 140 RPM Hand Cannons out there, but Eyasluna remains one of the top picks in this category thanks to its vast perk pool.
While primarily a PvP option, Eyasluna can work wonderfully in certain PvE activities. Sadly, the HC doesn't boast any Origin Traits which are a new addition to Destiny 2 with The Witch Queen. Hopefully, Bungie can update the gun in upcoming seasons.
These are the perks you should be looking out for:
First Column - Rapid Hit, Outlaw, Perpetual Motion
Second Column - Headstone, Demolitionist, Kill Clip
For more on Destiny 2, please make sure to check our dedicated Destiny section full of news, guides, and more.
Featured image courtesy of Bungie.
---
For more Destiny 2 news, be sure to check out our dedicated section or take a look at some of our Guides & Tutorials just below:
Weekly Updates - Destiny 2 Weekly Reset | Destiny 2 Weekly Challenges | Destiny 2 Xur Location This Week | Destiny 2 Trials of Osiris Map & Rewards This Week | Destiny 2 Lost Sector Rotation |
Upcoming Updates - Destiny 2 Season 19 Release Date | Destiny 2 The Dawning Event 2022| Destiny 2 Lightfall Release Date | Everything We Know About 'Destiny 2 The Final Shape'
Exotics, Catalyst & God Rolls - Alter of Reflection Catalyst Quest | Austringer God Roll | Calus Midi Tool God Roll | Dead Man's Tale God Roll | Fixed Odds God Roll | Hawkmoon God Roll | How To Get Come To Pass | How To Get Dawn Chorus | How To Get Omnioculus | How To Get Star-Eater Scales | Mechabre God Roll | Osteo Striga Catalyst | Riptide God Roll | Queens and Worms Quest
Game Guides - Destiny 2 Redeem Codes | How To Unlock All Subclasses | Memories of Ruin Puzzle Solution| Strikes Guide | Where To Farm Cabal | Where To Farm Fallen | Where To Farm Hive | Where To Farm Scorn | Where To Farm Vex | How To Get 100k Nightfall Score | 
Raid Guides - Master King's Fall Totem Challenge Explained |