The International 10 is Dota 2's most highly anticipated prestigious event, and it is fast approaching, with only three weeks left until the Group Stages starting on 7th October. This year boasts a record-breaking $40 million prize pool and will see the world's best Dota 2 teams compete for the Aegis of Champions.
While millions of Dota 2 enthusiasts will be attending the event virtually by watching the games per live stream, fans eager to see the carnage in person will soon be able to do so. This follows after Valve announced that ticket sales to attend The International 10 will go live early next week.
The International 10: Ticket Sales
The Dota 2 International 10 Main Event will take place at the Arena Nationala stadium in Bucharest, Romania, between the 12th to 17th October. In a recent blog post, Valve announced that tickets to attend the Main Event will go on sale from 22nd September at 10:00 AM BST.
In case you're wondering what type of tickets will be available for purchase, then you'll be happy to know that there will be three separate two-day bundles for purchase. The approximate price conversion from Romanian Lei to Pound Sterling is indicated below.
Midweek 1 (12th & 13th October): £43
Midweek 2 (14th & 15th October): £43
Finals (16th & 17th October): £172
All tickets can be purchased at https://theinternational10.entertix.ro. There are no VIP tickets for sale this year.
Valve notes that this is a General Admission event and that ticket holders will be able to sit anywhere in the venue. The event will adhere to COVID-19 protocol, however, which includes all attendees wearing masks and adhering to social distancing at all times. Only fully vaccinated individuals will be allowed to attend the event.
The International 10: Compendium
In addition to announcing ticket sales, Valve also released The International Compendium for free to all Dota 2 players. "The field of teams is set, the tickets are prepared, and The International is almost upon us. To help everyone keep pace with the upcoming action, today's update includes free access for all Dota players to The International 2021 Compendium."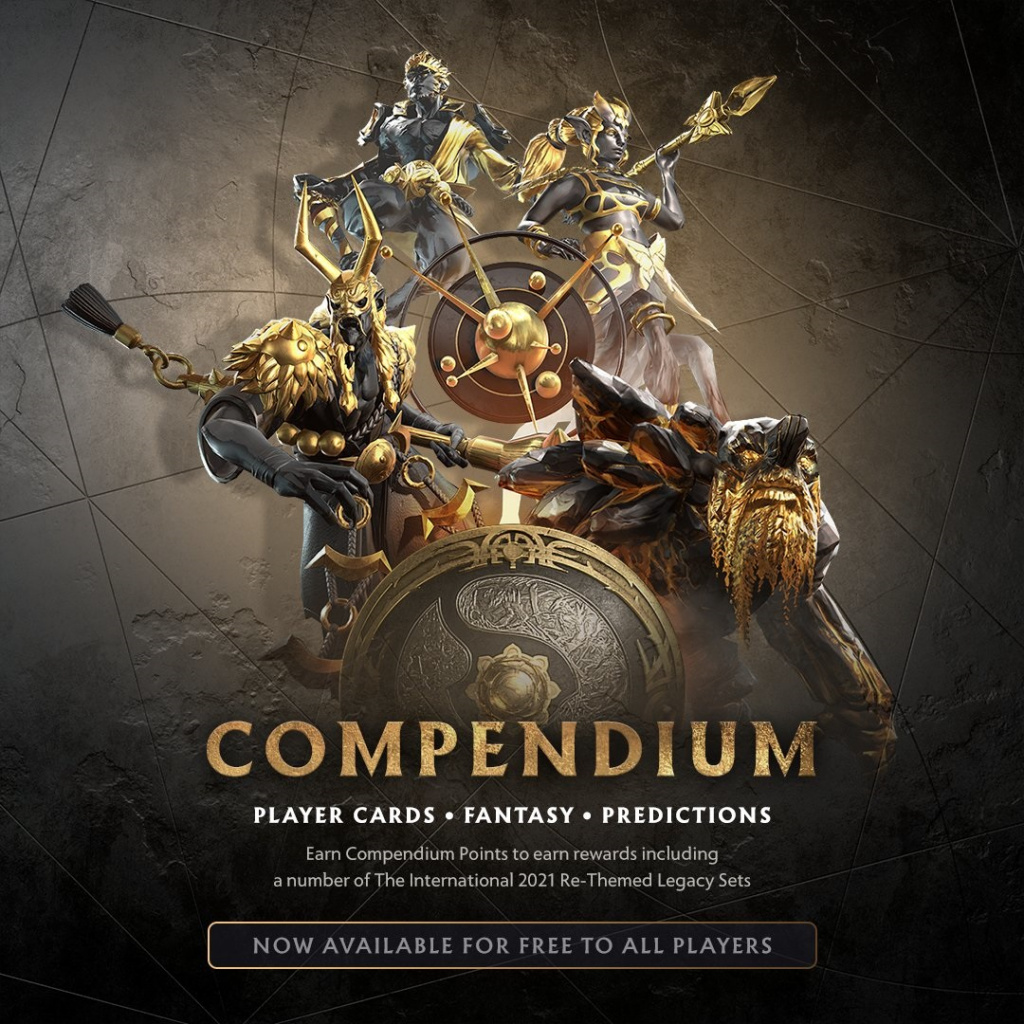 All players will also receive 10 free packs of Player Cards to start and will be able to unlock additional team packs by winning at least one match per day.
Otherwise, players can support their favourite teams by purchasing Player Card packs, retailing for $0.49 each. 50% of the revenue generated will go to the team, and team packs are guaranteed to include one Gold or Silver card from that team.
Valve also announced that Supports Club will be discounted by 50%. In addition to this, all Supports Club members will be rewarded with additional Player Card packs based on their club tier.
Bronze: 1 basic pack, 1 team pack
Silver: 6 basic packs, 2 team packs (for a total of 7 basic and 3 team packs)
Gold: 7 basic packs, 3 team packs (for a total of 14 basic and 6 team packs)
Valve noted that the rest of the Compendium will unlock closer to the event and will include: "predictions, fantasy, and a set of rewards featuring legacy items themed to the black and gold styling of this year's event."
Don't forget to check out our dedicated Dota 2 section, featuring more news, updates, and more.
Feature image courtesy of Valve.