Venturing into the Lands Between can be a daunting experience, as Elden Ring is filled with enemies and bosses that can demolish Tarnished with ease. There are some other hardships that players could possibly face, especially those on PC. Elden Ring has some performance issues, and players are also running into a failure to launch error related to EasyAntiCheat.
Specifically, players are receiving a "Failed to initialize the game launcher" EasyAntiCheat launch error. In this guide, we tell you exactly how to fix this Elden Ring error on PC (via Steam) with ease.
How to fix Elden Ring EasyAntiCheat launch error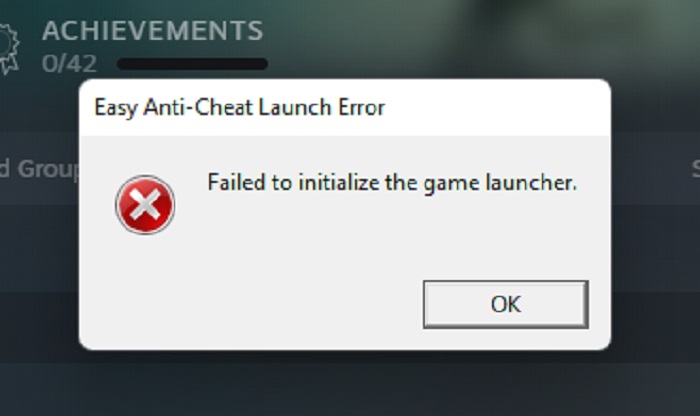 First up, remember to have the game updated to the latest version. This is an important first step before we go any further. Then, also update your Windows to the latest version.
If this doesn't solve the issue, you might have to delete EasyAntiCheat and reinstall it completely.
Follow the steps below to fix Elden Ring's EasyAntiCheat launch error:
Open file explorer and navigate to the drive where Elden Ring is installed.
Head to the Program Files folder, then Steam, then SteamApps, then Common, select Elden Ring, then head into "Game" then EasyAntiCheat. 
Note that if you installed Elden Ring in another, custom folder, head there, then into Game and then EasyAntiCheat.
Proceed to delete all the files within.
Now, launch Steam, right-click on Elden Ring, select Properties, head to the Local Files tab and click "Verify integrity of game files".
Give it a minute so EasyAntiCheat gets installed again, then launch Elden Ring.

Following these steps should fix the EasyAntiCheat launch error for most PC gamers in Elden Ring. 
We suggest contacting FromSoftware or Bandai Namco support if you simply can't get rid of the error, instead of downloading third-party files and trying some grey-area workarounds.
More Elden Ring Guides:
Check out the video from YouTube channel Tech How below for a visual guide.
Hopefully, this guide will help you fix the EasyAntiCheat launch error for Elden Ring on PC so you can play the latest and arguably greatest FromSoftware game to date with ease.
Don't forget to check out our dedicated Elden Ring section filled to the brim with guides, news, and more.
Featured image courtesy of FromSoftware.