TSM has been massively criticized after Dunc, senior social media manager, tweeted out an insensitive joke depicting someone committing suicide after the org failed to perform at both LCS and Valorant Challengers on 5th March.
The joke, which was a spin on the known "are ya winning son?" meme was promptly deleted with plenty of people saving the image to remind TSM of their horrendous mishap, including LCS analyst and former top-laner Kieran "Allorim" Logue.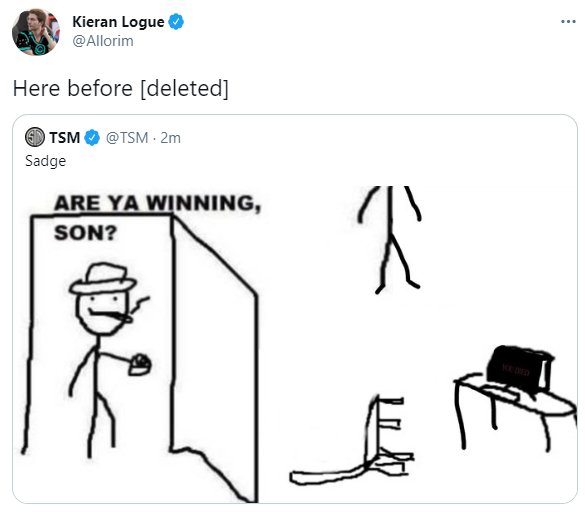 (Image: Allorim)
Soon after the meme was deleted, Dunc apologized on his personal Twitter account, calling it an "amateur mistake."
"I'm truly sorry to those that I may have offended. I really did not mean to cause offence. It was a straight copy and paste in a quick action. I thought the guy was walking away from the chair and he kicked it over in frustration. I really hope you can forgive me," Dunc added.
Eventually, a formal apology was issued by Team Solo-Mid in the form of a twitlonger claiming that the org had reviewed the situation and that "moving forward, processes are now in place to prevent something like this from happening again."
"For those of you that know Dunc, please know that it was an honest mistake and is focused on educating himself, and has committed to working to rebuild trust within our community."
While we agree it was a sad day for TSM fans after their loss against Team Dignitas in the LCS and the failure to secure a spot for the Valorant North America Masters, jokingly implying it's worth killing yourself over is crossing the line.