Portuguese hitman, André Silva, has been in scintaliating form this season for . On 18 goals for the season he has helped take the provincial club into the top three.
January was his best month yet scoring seven goals in six games and its these performances that have seen him awarded the Bundesliga Player of the Month.
🏟 6 games
⚽ 7 goals

Introducing January's @Bundesliga_EN#POTM... @andrevsilva19 🔥#FIFA21#FUTpic.twitter.com/vZeSw7JgSF

— EA SPORTS FIFA (@EASPORTSFIFA) February 19, 2021
And that, of course, means he gets a special POTM card, available to those FUT players who complete his Squad Building Challenge (SBC).
Here is how to do it.
Note: All prices courtesy of FUTBIN and are subject to change.
FIFA 21 André Silva POTM SBC - cheapest solutions
Thankfully there is just one SBC to complete to get your hands on Silva meaning you can complete this SBC for between 60k (PS) to 66k (PC) coins depending on your platform.
Requirements:
# of players from Bundesliga: Min 1
IF Players: Min 1
Squad Rating: Min 83
Team Chemistry: Min 80
# of players in the Squad: 11
Solution #1

(Picture: FUTBIN)
Solution #2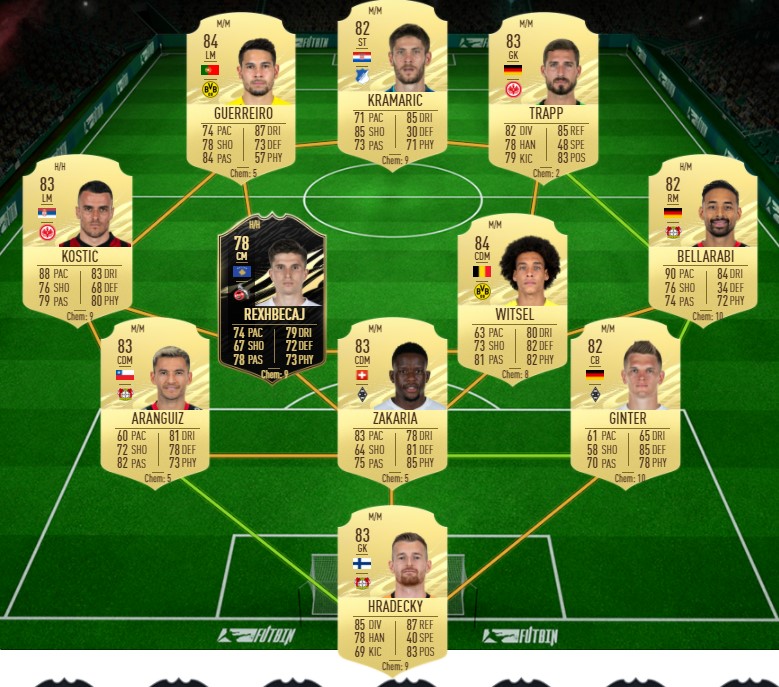 (Picture: FUTBIN)
André Silva POTM stats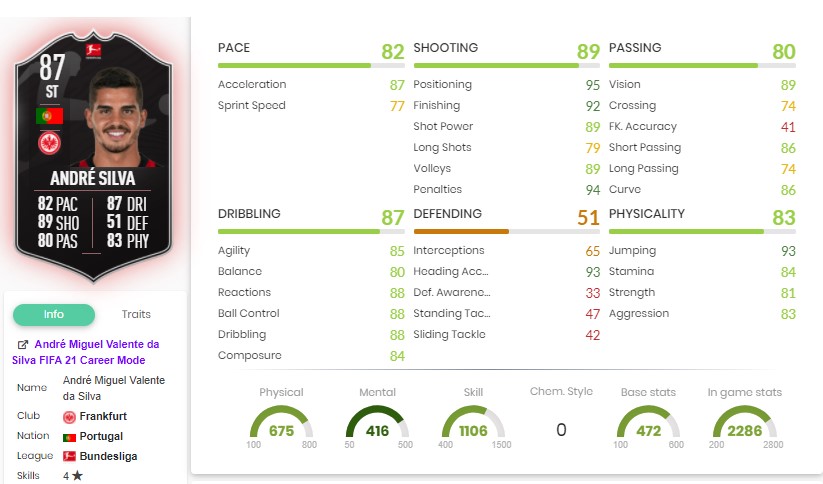 (Picture: FUTBIN)
Silva's POTM card stats are much improved over his base. Now 87, compared to 79, the biggest stat boosts are reserved for his Passing, Pace, and Shooting.
Particular highlights include the +18 for his Vision taking it to 89, the +17 to his Short Passing and Curve taking them to 86, and in Shooting his 95 Positioning, 92 Finishing and 89 Shot Power and Volleys put him up there with the very best.
His Pace, at 82, is now in the levels of being meta with 87 Acceleration only slightly hampered by his 77 Sprint Speed.
His Physical stats are also right up there, 93 Jumping coupled with 81 Strength, 84 Stamina, and 83 Aggression have you asking when exactly Bayern Munich are going to sign him...
If you want to get André Silva into your team you have some time to do it with his SBC being available until approx. 27th March.