Squad Building Challenges always bring excitement to Ultimate Team fans, as they give players a chance to earn exclusive cards with powered up stats to bolster their teams.
This time around, one of the newest SBCs involves Lyon's Brazilian starlet Bruno Guimarães. Signed in January 2020, the current campaign has seen the 23-year-old establish himself as an integral piece of the French side, who's currently competing for the title.
This Future Stars card comes accompanied by a Player Pick SBC, letting those that complete choose a different version of the card. With all that being said, let's take a look at everything you need to know.
As always, huge shoutout to FUTBIN for their squad building tools.
FIFA 21 Bruno Guimarães Future Stars - Stats
There are two versions of Bruno to choose from, let's have a look at both.
Bruno Guimarães Future Stars CDM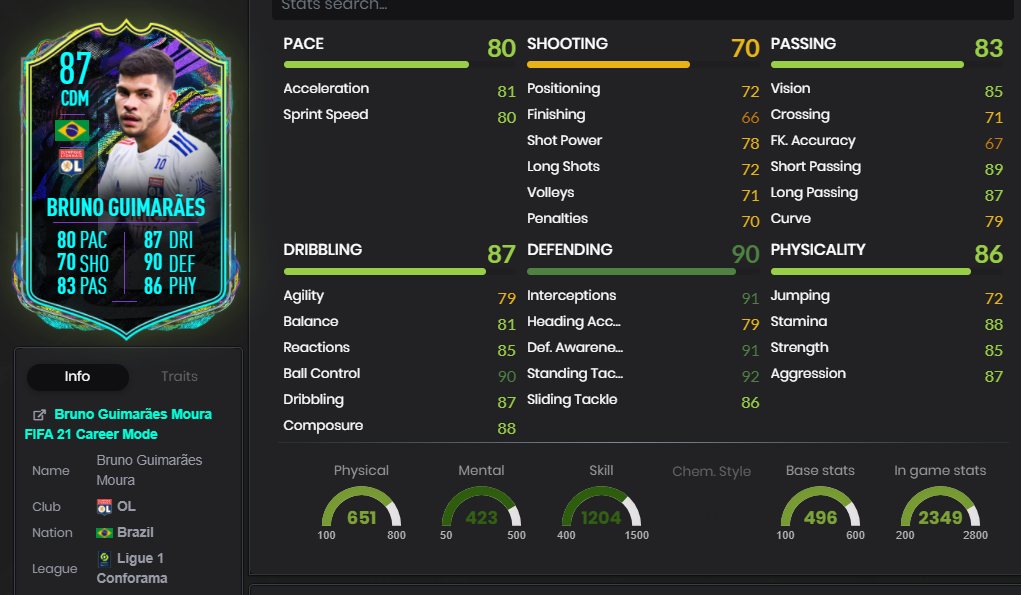 (Image: FUTBIN)
The first option is more defensive-minded, with high stats reaching the 90s in Defensive Awareness, Interceptions, and Standing Tackle.
Choosing the CDM version means you'll lose out on important offensive stats, however, it nets you a powerful option to bolster your defensive presence.
Bruno Guimarães Future Stars CM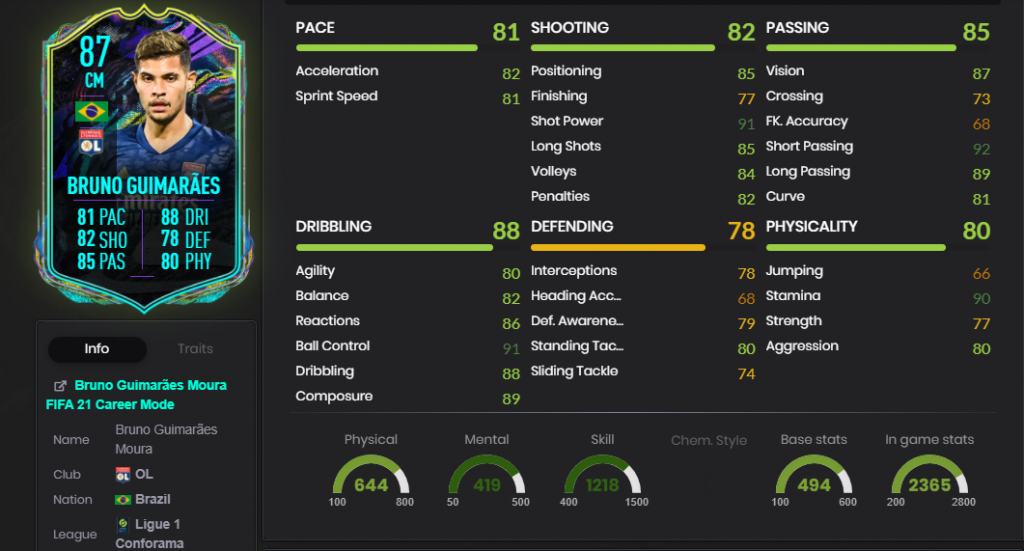 (Image: FUTBIN)
On the other hand, the CM version of Bruno has his defensive prowess nerfed all the way down to the 60s and 70s, his Dribbling (88), Shot Power (91), and Long Shots (85) more than make up for it.
FIFA 21 Bruno Guimarães Future Stars Player Pick SBC- Stats
To complete this SBC, you need to exchange a total of two unique squads with different requirements.
National Duty SBC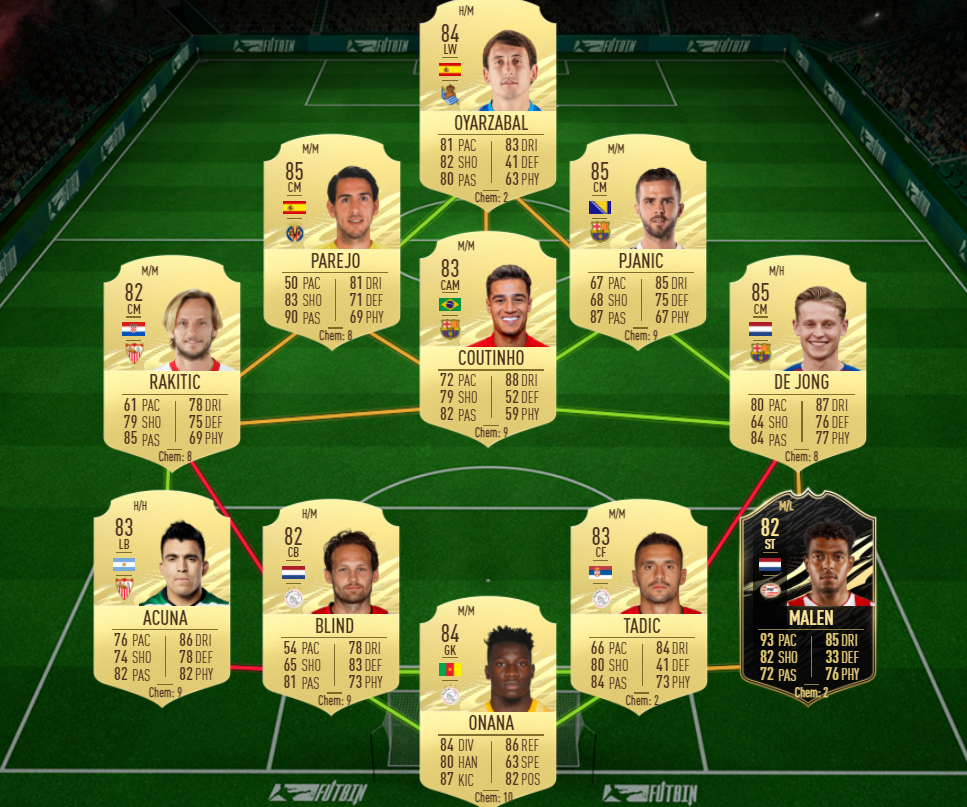 (Image: FUTBIN)
Number of players from Brazil: Min 1
IF Players: Min 1
Squad Rating: Min 84
Team Chemistry: Min 75
Number of players in the Squad: 11
Cost: 83,000-96,000 Coins
Reward: 1 Prime Electrum Players pack
Ligue 1 SBC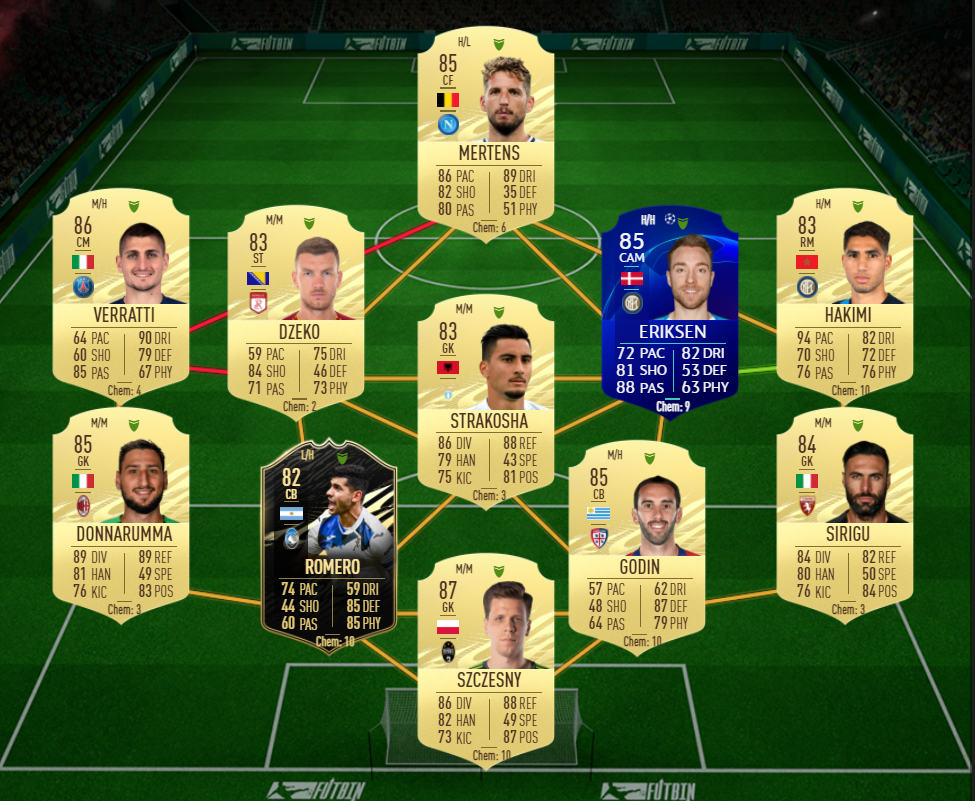 Number of players from Ligue 1 Conforama: Min 1
IF Players: Min 1
Squad Rating: Min 85
Team Chemistry: Min 70
Number of players in the Squad: 11
Cost: 147,000-166,000 Coins
Reward: 1 Premium Gold players pack