It's time to keep moving along with one of the biggest promotions in Ultimate Team, FIFA 21 Team of the Season has been full of excitement so far. We've seen official TOTS squads for Community, the Premier League, La Liga, Saudi Pro League, and now the German top-flight.
The 2020/21 Bundesliga campaign has been ruled by its long-time kings, Bayern FC. Though the rest of the top four has seen a bit of a shakeup. The ultra-popular Borussia Dortmund have fallen to fourth place while a surging RB Leipzig and Wolfsburg fill out second and third.
Throughout the league from top to bottom teams have been powered by some terrific individual performances. And now those in top-form all season will be rewarded with TOTS cards for their stellar play.
FIFA 21 Bundesliga TOTS release
Live in FIFA 21 Ultimate Team as of Friday, 14th May 2021 at 6 pm GMT, the Bundesliga TOTS will be available in packs for a one-week period. The official squad will be accompanied by SBC and Objectives players available for unlocking.
Official Squad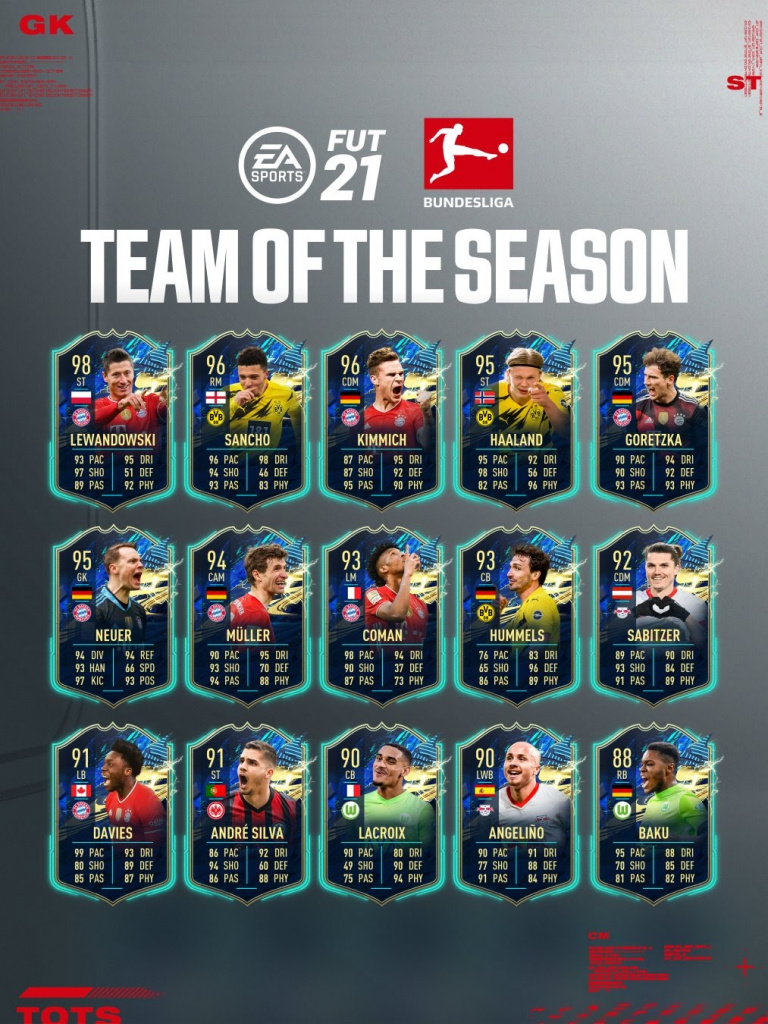 (Picture: EA Sports)
GK: Manuel Neuer (95) - Bayern FC
LB: Alphonso Davies (91) - Bayern FC
CB: Maxence Lacroix (90) - VfL Wolfsburg
CB: Mats Hummels (93) - Borussia Dortmund
RB: Ridle Baku (88) - VfL Wolfsburg
LWB: Angeliño (90) - RB Leipzig
LM: Kingsley Coman (93) - Bayern FC
CDM: Marcel Sabitzer (92) - RB Leipzig
CDM: Joshua Kimmich (96) - Bayern FC
CDM: Leon Goretzka (95) - Bayern FC
RM: Jadon Sancho (96) - Borussia Dortmund
CAM: Thomas Müller (94) - Bayern FC
ST: André Silva (91) - Frankfurt
ST: Erling Haaland (95) - Borussia Dortmund
ST: Robert Lewandowski (98) - Bayern FC
Check out our FIFA 21 tab for information on the Bundesliga TOTS SBC's as well as Objectives players.