Seeing that FIFA 21 will soon be made available for Xbox Game Pass members, it's likely we'll see many gamers starting up an Ultimate Team squad. The initial stages of Ultimate Team can be challenging when raising funds, but spending your coins wisely can help you get up and running quickly.
It's all about building out a competent squad to suit your playstyle. Formations, chemistry, and tactics give you the ability to completely customize your side and suit any style of play.
Here are the cheapest 85-rated players available at each position. All price ranges are courtesy of FUTBIN and are subject to change, depending on the platform.
Cheapest 85-rated players for FUT
We have chosen six players for six key positions from goalkeeper to striker.
GK: Péter Gulácsi - RB Leipzig - Cost: 7.5-9.6k FUT coins

(Picture: FUTBIN)
A talented goalkeeper for a surging RB Leipzig side, Gulácsi is a great value-buy to get your team started. His stats are very well-rounded across the board with 84 Diving & Positioning, 85 Handling, 82 Kicking, and 86 Reflexes. Add a simple chemistry style card and this is an extremely reliable goalkeeper set to fit any Bundesliga team.
RB: Ricardo Pereira - Leicester City - Cost: 7.5-12k FUT coins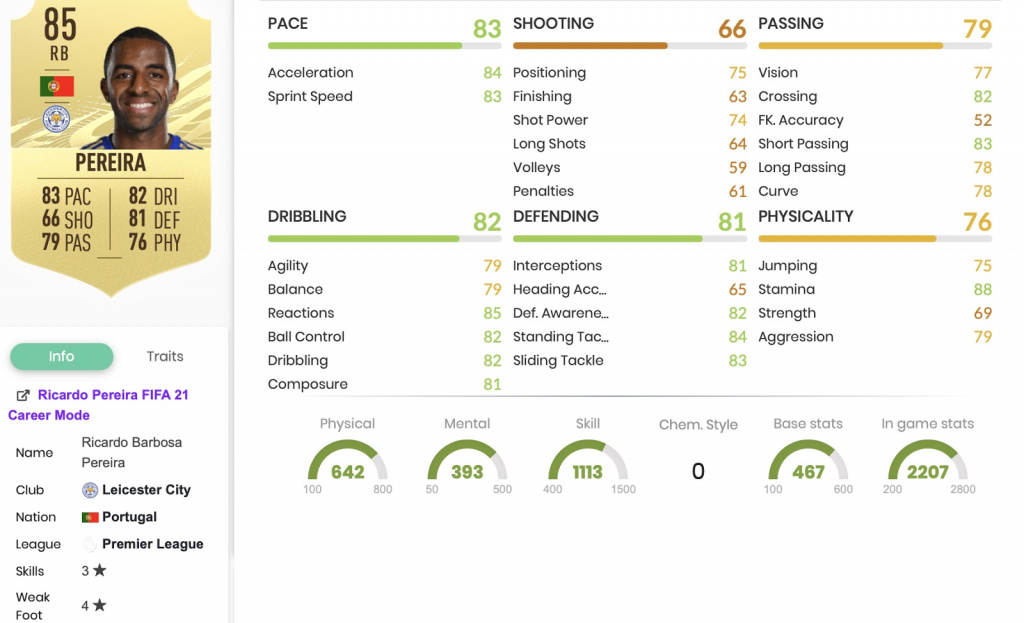 (Picture: FUTBIN)
The right-back has been a key cog in the Leicester City defence in recent seasons. He offers decent Pace and Defending stats, with reliable quality on the ball. Be sure to boost his Pace further with a chemistry style card and utilize his 82 Crossing rating to swing in service from wide areas.
CB: Diego Godín - Cagliari - Cost: 7.3-9.6k FUT coins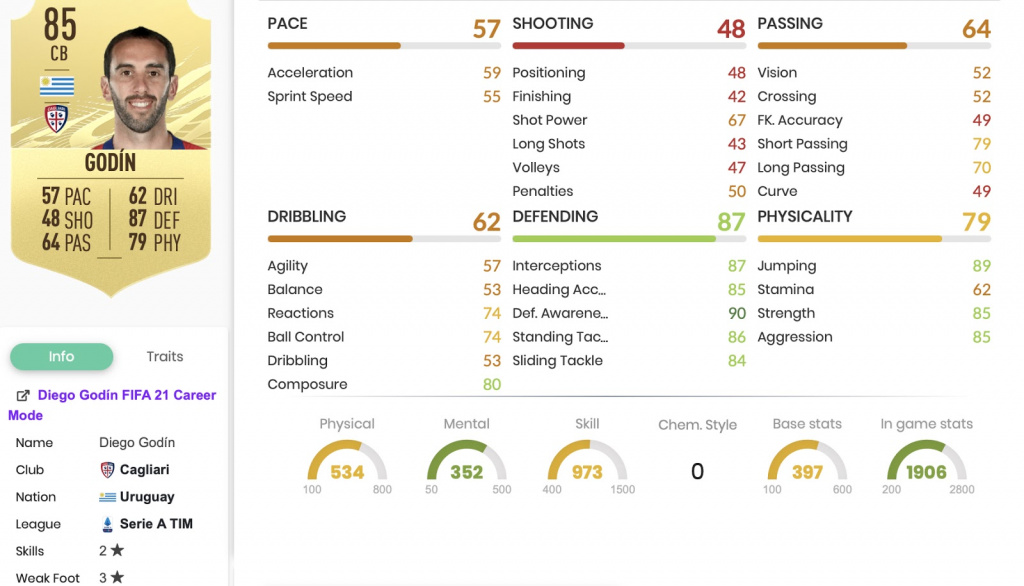 (Picture: FUTBIN)
In the twilight of his career, the 35-year-old Uruguayan has moved on to Cagliari after a fruitful tenure at Inter. He was never known for Pace, but his sheer knowledge of the game and positional awareness always accounted for his lack of wheels. Still carrying rock-solid Defending stats, he can absolutely help your early Ultimate Team. Make sure to utilize the Shadow chemistry style to give a +10 boost to his Pace rating.
CM: Frenkie de Jong - Barcelona - Cost: 7.5-9.9k FUT coins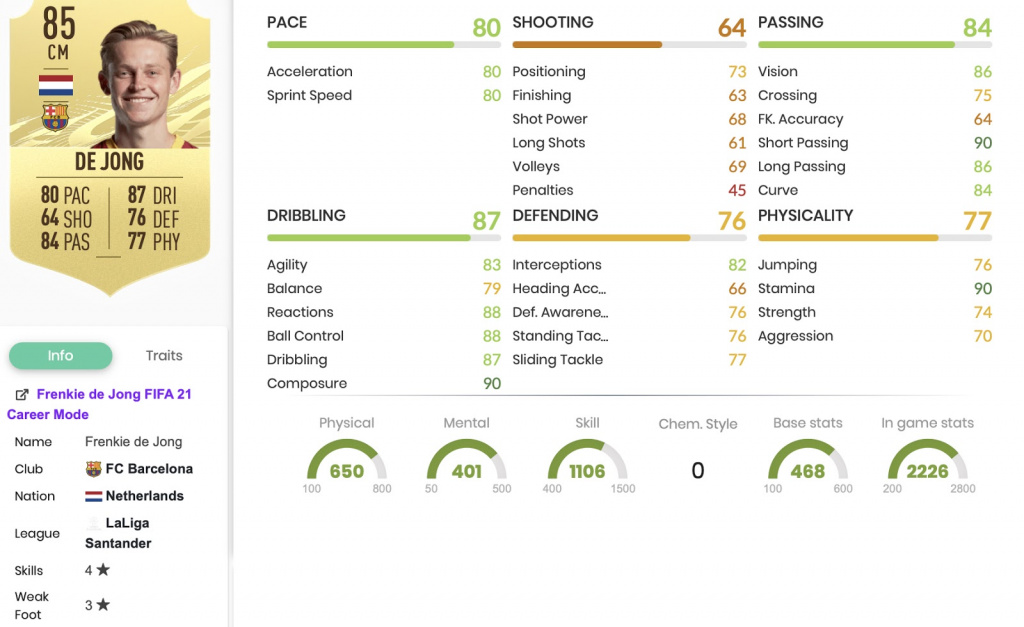 (Picture: FUTBIN)
The young Netherlands international made his name coming through the ranks as a prodigy at Ajax. He's since moved on a mega-transfer to Barcelona to be the heart of their midfield for future generations. This card is very impressive carrying an 80 Pace rating, 84 Passing, 87 Dribbling, and 4* Skill Moves. The Shooting rating is only 64, so add a chemistry style card to bring that up and make De Jong a real goal-scoring threat.
LW: Lorenzo Insigne - Napoli - Price: 7.5-11.75k FUT coins
(Picture: FUTBIN)
Insigne has been on fire this season, and he's seen multiple In-Form cards as a result of his stellar play. Though his TOTW cards have boosted up all the way to 89 OVR, his standard 85 Gold card is still very impressive. It's very Pacey at 88 featuring 92 Acceleration, 83 Passing, and 91 Dribbling with 4* Skill Moves. The Long Shots rating is 84 and the card carries a  4* Weak Foot so don't be afraid to go for goal with this one.
ST: Memphis Depay - Lyon - Cost: 7.6-9.6k FUT coins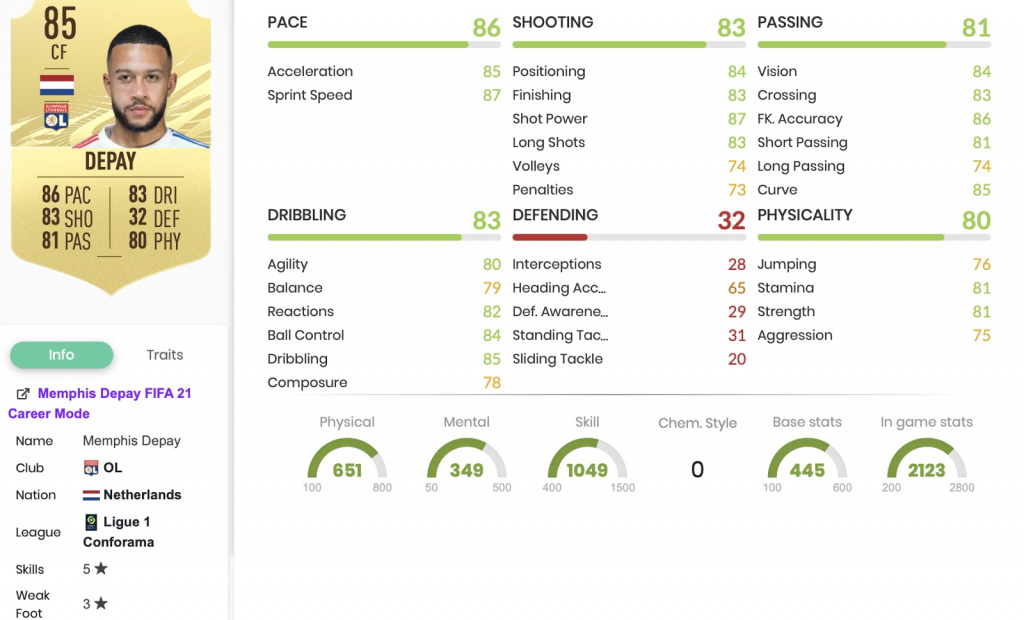 (Picture: FUTBIN)
Depay first burst onto the scene at the 2014 World Cup when he put in spectacular performances for the Netherlands. While he never quite reached the levels that many speculated, he is still a fantastically talented player. Fast and Strong on the ball with 86 Pace and an 81 Strength rating.
His Shooting stats are impressive at 83 overall featuring 87 Shot Power. He also carries an 83 Dribbling rating with 5* Skill Moves so you should have fun running at defenders with Depay.