Soccer Aid is a Unicef program, which every year brings together two teams featuring a mix of celebrities and footballing legends, to play an exhibition match raise awareness and loads of cash for children that are suffering throughout the world.
The annual game was delayed due to the COVID-19 pandemic, with plans to play it later in the year but in a show of support EA wants to give gamers a chance to rep the cause by introducing the Soccer Aid World XI, now before you ask - no, you can't play as Gordon Ramsay.

Fans will be left disappointed if they thought playing with Gordon Ramsay was on the cards. (Picture: Unicef)
No, the Soccer Aid team has quite a few more accomplished footballers than the Rangers youth prospect turned most famous chef in the world, with the Prime Icon cards of many of the games highest-rated players including Maradona, Gullit, Maldini and Zidane among the teamsheet.
It's a great chance for those that don't play much FIFA Ultimate Team to play some games using the best cards in the game.
The squad has an OVR rating of 93 and no player is rated under 90 - so if you can't win as this lot you may as well call it a day on FIFA.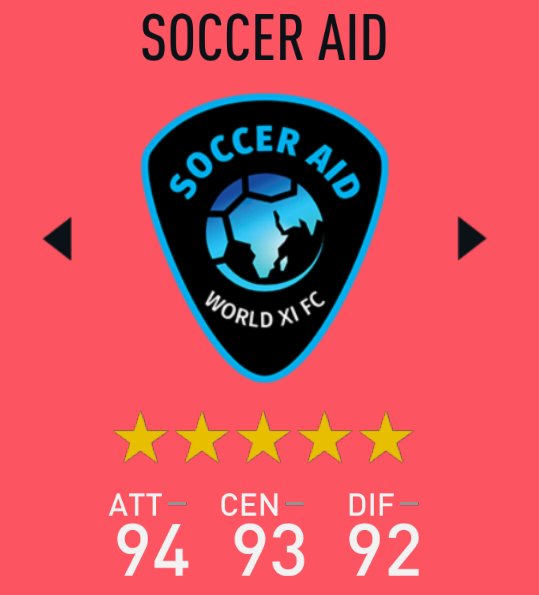 (Picture: EA Games)
You can think of this like the Classic XI that used to be in the games until it was removed in FIFA 17, to the dismay of fans.
The Soccer Aid World XI FC is now available to play on the PlayStation 4, Xbox One and PC versions of the game. 
How can I play as the Soccer Aid World XI squad?
Playing as the squad is simple simply make sure you have Live Form set to 'on' and in a Kick-Off game head to the Rest of the World category and there you will find the Soccer Aid team.
Through a server release, we've added the Soccer Aid World XI FC to Kick Off (PS4/X1/PS4), a new team with some of the most renowned names in football history. You can access it in the Rest of World category when Live Form is set to 'on.'

— FIFA Direct Communication (@EAFIFADirect) June 10, 2020
Who is in the FIFA 20 Soccer Aid World XI squad?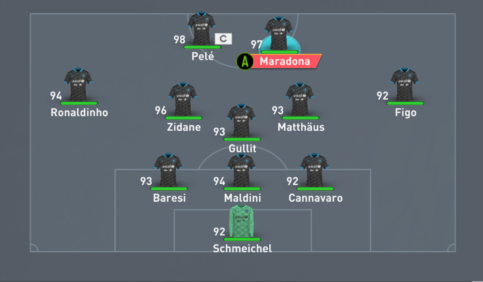 (Picture: EA Sports)
Who isn't would be a more accurate way of putting it, this squad is jam-packed full of legends, 35 in total, and all at the absolute peak of their powers.
Here they are including their ratings:
Pelé (98)
Maradona (97)
Ronaldinho (94)
Zidane (96)
Gullit (93)
Matthäus (93) 
Figo (92)
Gullit (93)
Baresi (93)
Maldini (94)
Cannavaro (92)
Schmeichel (92)
Del Piero (92)
Rush (91)
Larsson (90)
Pirès (91)
Desailly (91)
Roberto Carlos (91)
Lehmann (90)
Dalglish (92)
Shevchenko (91)
Seedorf (91)
Keane (90)
Crespo (90)
Barnes (90)
Van der Sar (91)
Zola (90)
Shearer (91)
Giggs (92)
Campbell (89)
Owen (91)
Verón (90)
Makélélé (90)
Kluivert (91)
Essien (90)