Always one of the most popular attractions of any EA Sports FIFA title, Career Mode provides gamers the opportunity to play out the career of a player or manager. From signing with a club, all the way to retirement and accolades, Career Mode has it all.
There are two different types of Career Modes, Player career, and Manager career. Each offers its own set of content and challenges but had seemed to go a bit stale in recent years.
FIFA 22 promises to be different as EA Sports have laid out new changes and content to both Player and Manager versions. Here's everything you need to know about what's coming to Career Mode in FIFA 22.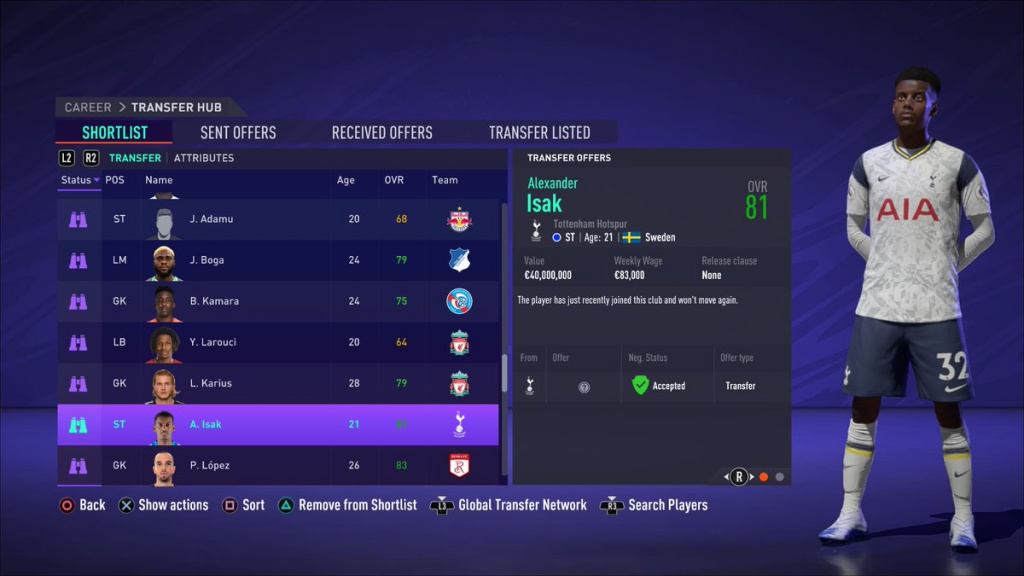 FIFA 22 Career Mode - new features
The excitement for FIFA 22 is reaching new heights as EA Sports is beginning to spotlight different game modes of their popular footballing title. The Pro Clubs deep dive was great news for FIFA fans as the game mode was long overdue for a change-up.
Another of the popular modes, Career Mode has been in need of a revamp, and FIFA 22 promises to deliver. There are new changes and features coming to both Player and Manager Career Modes in this year's title.
With the ability to create a club, play in European competitions, and much more, here's everything coming to FIFA 22 Career Mode.
Create a club - Manager Mode
After many requests and gamers clamouring for the ability to create a club in Career Mode, EA Sports is granting that wish. FIFA 22 Career Mode (Manager) will be able to start a club from ground zero.
Gamers will create their own club name, crest, kit, and stadium as well as selecting which country and the league they will play in. The created club will replace a selected club from that league, which will then be added to the 'Rest of World' section.
The customization options are extensive, as gamers have the ability to make their club identity completely unique.
Squad Builder
Gamers will need to fill out their squad of players once they've completed the basic club needs. When generating the group of new players, gamers will have control over the squad's star rating and the average age of players.
Before selecting the new squad, it's recommended to play around with the various settings until finding a squad to start the journey with. The nationality of the generated players in the squad is based on the nationality makeup of the players in the league of choice.
For example, assume that 7% of the players in the English Premier League have French nationality. Each time a player is generated for the squad in the English Premier League, there's a 7% chance that they could be French.
Another new addition to FIFA 22 Career Mode is Board Priorities. The Board Priorities are important as they will dictate the set of objectives a club receives.
Gamers will be able to change and update their Board Priorities as their club grows or shrinks in stature.
FIFA 22 Career Mode - Player Career
To keep things fresh and exciting, EA Sports have made a number of changes to the traditional, Player Career Mode. The first new addition is the ability for gamers to enter the match as a sub.
Similar to a young professional coming through the ranks, gamers will be able to begin their careers via cameos off the bench. There will also be an option to simulate up until the point when the manager brings a player in from the substitutes.
Manager Rating
Each player will have a set of objectives to complete, which is continuously updated as your player's career progresses. Completing the objectives will impress the manager, resulting in increased minutes and potential starts.
However, failing to complete objectives will work in the opposite direction and force the manager to potentially drop the player from the squad. Gamers will also have an opportunity to impress the manager in training and gain further opportunities.
Match Objectives
Playing position
If the formation of the team doesn't include a player's preferred position, such as the CAM position in a 4-4-2 formation, the manager will look at qualities in other areas of the pitch to determine which position will be best.
Quality of team compared to the opposition
While things start off easy in pre-season, players could receive objectives of a higher difficulty range based on the quality of the opposition, or if they're playing against a rival club.
Formation team is using compared to the opposition
A striker facing a strong defensive force in a 5-4-1 formation can have a harder time scoring compared to a 3-4-3 formation, and FIFA 22 acknowledges that. The game also acknowledges a squad's formation.
Player Growth (Created Players)
Earning XP will level up a player and unlock Skill Points with each new level achieved. There are multiple ways to earn XP in Player career mode:
Match Rewards - Gamers earn XP at the end of each match played.
The vast majority of XP earned is based on Match Rating at the end of the match, but gamers can also earn additional XP for performing different actions such as scoring goals, making tackles, or winning headers. Whenever they perform an action that grants XP at the end of the match, an icon with 3 chevrons will appear next to the Player Indicator.
Training - Participate in 3 training sessions every week. The amount of XP earned from a training session varies depending on the preferred position. 
There are two additional XP bonuses gamers can earn from training: First-Time Played Bonus and Playing Bonus.
Gamers will also be able to make presets of favourite training sessions to have them readily available for selection as soon as they're prepared to train again.
Enhanced Match Objectives - Completing the enhanced objective will grant bonus XP.
Skill Tree and Perks
The last feature added to this year's FIFA 22 Career Mode is the implementation of the Skill Tree and Perks. These allow gamers to select the specific parts of their player's game which they wish to improve.
Career Mode will use the same Skill Tree and Perks as Pro Clubs, you can find all the information about those perks here.
Make sure to keep our FIFA 22 tab at your ready as the release date is fast approaching. We'll be sure to keep you in the loop with all the latest breaking news and developments.