With March well behind us, EA Sports is still handing out Player of the Month (POTM) cards to those that shine throughout the month. This time, Joao Félix, Atlético Madrid's brilliant attacking midfielder, has been selected as LaLiga's March POTM, thus earning a card in FIFA 22 Ultimate Team.
The 22-year-old has had a lukewarm three year period with Los Colchoneros, with some moments of sheer brilliance spread throughout. Over the past month, the Portuguese star helped Atlético Madrid win their three games with three goals and one assist.  
Still far from competing for the LaLiga title after winning it last season, Atlético Madrid needs to secure a place in next year's Champions League spot, as failing to do so could lure Joao Félix away from the club. With that said, here's everything you need to know about the Joao Félix POTM SBC in FIFA 22.
Joao Félix POTM SBC - Cheapest solutions
To get your hands on Joao Félix POTM, you need to exchange a single squad. It will cost somewhere between 25-27k Coins, depending on your platform.
Note: All prices are courtesy of FUTBIN and are subject to change.
Joao Félix SBC
# of players from Atlético de Madrid: Min 1
IF Players: Min 1
Squad Rating: Min 83
Team Chemistry: Min 70
# of players in the Squad: 11
Reward: Joao Félix POTM card 
Joao Félix POTM SBC - Stats
Surprisingly, the Joao Félix POTM card is not the Portuguese's best rate item in FIFA 22. It comes 2 OVR behind his 89 OVR Adidas Numbers Up version.
Another significant distinction between the two is that Adidas Numbers Up is a CF; meanwhile, POTM Félix is an ST. Again, a slight difference, but it can impact certain lineups.
As for his stats, since it comes on a cheap with just one SBC to complete, Joao Félix POTM can be a decent choice to bolster any squad. His highlights include 90 Positioning, 90 Agility, 91 Ball Control, 90 Dribbling, 86 Shot Power, and 86 Long Shots. 
Take a look at his full stats down below.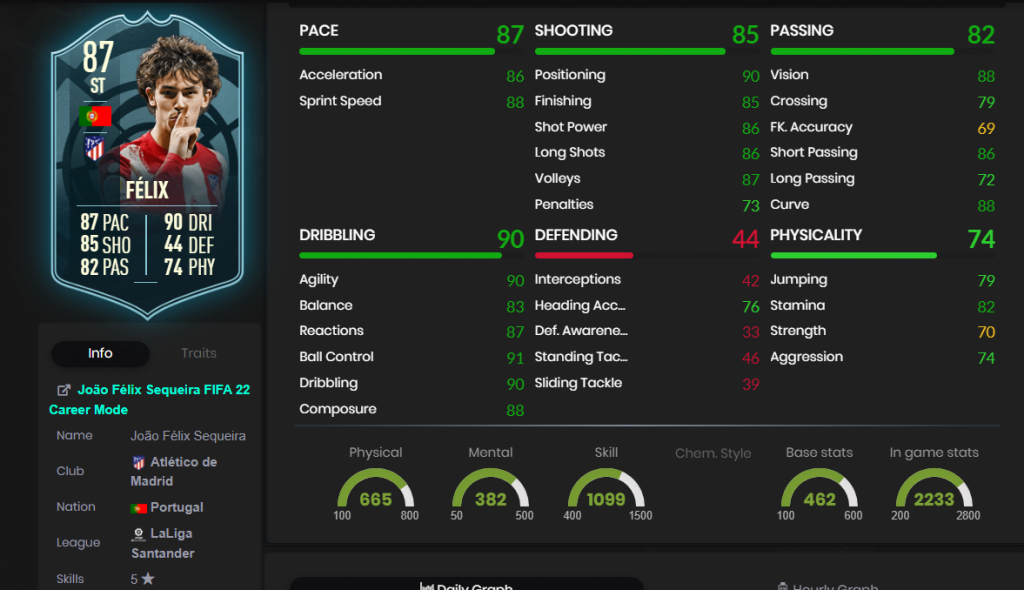 For more coverage on all things FIFA 22, check out our dedicated section. You'll find SBC solutions, news, and much more to take your FIFA experience to the next level.
Featured image courtesy of FUTBIN / EA Sports.