December has been an exciting month for Ultimate Team players, with multiple events taking place, including the FUT Versus promotion, which brought numerous versions of players with different sets of boosts before the replacement of last season's FUT Freeze event finally arrived.
The Winter Wildcards promotion is currently underway and has been a smashing success thus far. The possibilities are endless, with daily player drops and squads of boosted cards to help your FUT squad.
The next batch of players just went live as FIFA 22 Winter Wildcards Team 2 is finally available for unlocking in FUT packs, featuring star players like Sterling, Hazard, Lucas Moura, and more.
Winter Wildcards Team 2 now live in FUT packs
The FIFA 22 Winter Wildcards Team 2 players went live in FUT packs on Thursday, 23rd December at 6 pm GMT. Similarly to how Team 1 operated, each card will remain available for unlocking in packs for one week.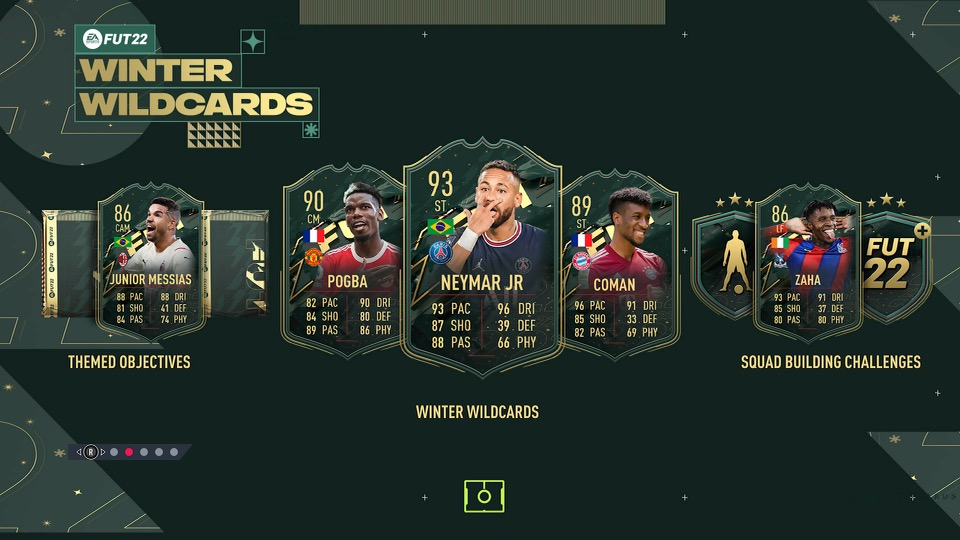 Team 2 features 11 boosted cards, some featuring notable positional changes and weak foot and skill move changes.
Here is a list of players that made the squad for Team 2 of the Winter Wildcards promotion.
FIFA 22 Winter Wildcards Team 2:
Raheem Sterling - RW - 90 - Manchester City
Eden Hazard - LW - 88 - Real Madrid
Lucas Moura - CAM - 88 - Tottenham Hotspur
Anthony Martial - ST - 88 - Manchester United
José Morales - ST - 86 - Levante UD
Kieran Tierney - LB - 86 - Arsenal
Mattéo Guendouzi- CDM - 86 - Marseille FC
Çaglar Söyüncü - CB - 86 - Leicester City
Romain Alessandrini - ST - 86 - Qingdao Huanghai
Alessandro Florenzi - RB - 85 - A.C. Milan
Nnamdi Collins - CB - 85 - Borussia Dortmund
More 😱 boosts, shapeshifting upgrades and all the powerhouses in between 🙌 #WinterWildcards❄ Team 2, with a variety of permanent boosts inspired by past, present and potential future #FUT player upgrades, are here‼️

Learn more 👉 https://t.co/Vd5lGhca7h#FUT#FIFA22pic.twitter.com/fJyDEWmOsA

— EA SPORTS FIFA (@EASPORTSFIFA) December 23, 2021
Raheem Sterling received a positional change from LW --> RW and a weak foot change from left to right.
Lucas Moura moved from RM --> CAM, allowing you to play the enigmatic Brazillian through the middle.
Anthony Martial received a weak foot boost up to 5*, and Mattéo Guendouzi's weak foot boosts from 3* to 4*.
Check out our dedicated FIFA page for all the latest news and updates around Ultimate Team, including squad drops, SBCs, Objectives challenges, and much more.
Featured image courtesy of EA Sports.