The Guinness World Record for the "longest videogame marathon on a football (soccer) game" could be broken this week, as a pro FIFA player from  a South African organization will attempt to break it.
Here's what you need to know about the Guinness World Record attempt. 
The Guinness World Record FIFA attempt
Daniel "Dox" Osemeudiame, a Nigerian FIFA pro from South African esports organization Sinister5, will attempt to break the world record starting on 14th May at 09:00 GMT+1.
The reference number for Mr Osemeudiame's attempt is: 190717080225ivmo
This Guinness World Record held by Christopher Cook, who played FIFA 15 for 48 hours, 49 minutes and 41 seconds back in 2014. Expect the attempt to last at least until 16th May. The aim, however, is to play FIFA for four days straight.
Speaking to Esports Central, Mr Osemeudiame explained: "I have the aim of lifting the African e-sports scene and I want people to understand that esports isn't all about going out to compete in tournaments. We need people to encourage our gamers and streamers which is why I will be playing FIFA for the next 4 days non stop and I have waited since 2014 to do this.
"I will also be playing some Nigerian celebrities such as DrSid and esport owners in Nigeria and I plan on playing so many friendly matches with good south African pro gamers. To my fans home and abroad I want to let you I don't intend disappointing and I am coming with an x-factor, am coming with something different."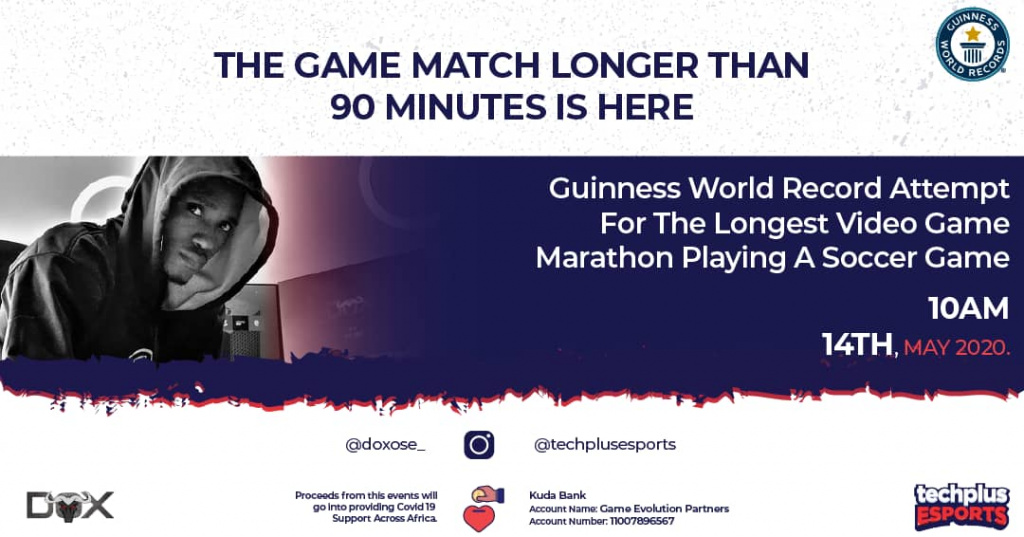 Can he break the record? (Picture: Techplus Esports) 
Any proceeds made from the Guinness World Record attempt will go towards providing COVID-19 support across Africa. 
You can follow Mr Osemeudiame on Twitter and check out his Twitch.tv channel, where the Guinness World Record attempt will be streamed.