Welcome to the FIFA 22 Ultimate Team Beginner's Guide, this is a place for all things Ultimate Team to help get your squad up and running in FIFA 22. There are a number of structural changes to Ultimate Team in FIFA 22, so you'll want to be keyed in before the game releases in just a few weeks.
Among the most important changes to Ultimate Team in FIFA 22 is the reworking of multiple core game modes including Division Rivals and FUT Champions. Tweaks to the rankings and rewards systems should make things interesting, and seem like natural fits after EA Sports trialed Preview Packs in FIFA 21.
From top to bottom, this guide will have you ready to go for FIFA 22 as we get set for another exciting year of Ultimate Team football.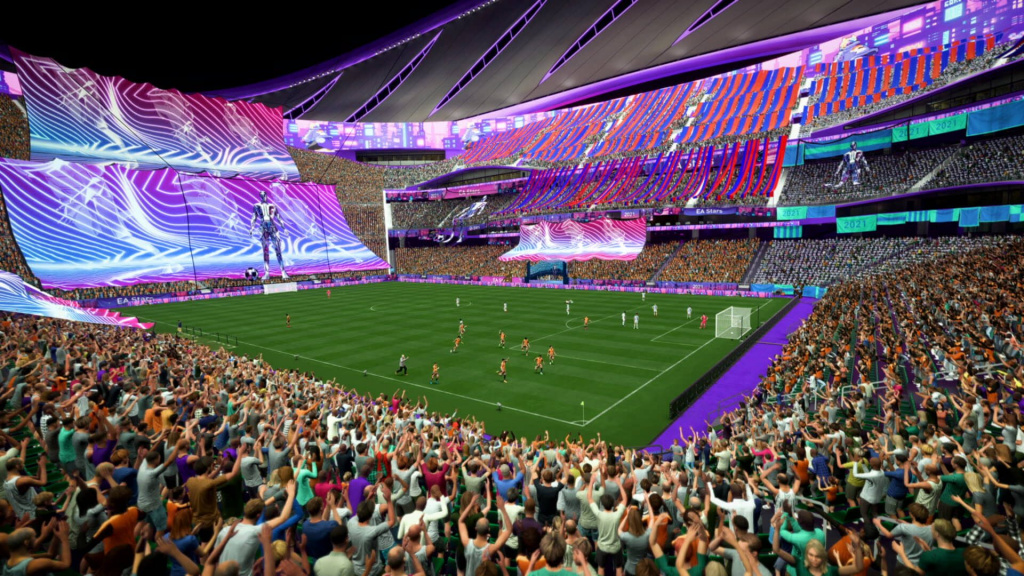 FIFA 22 Division Rivals
One of the most popular features of Ultimate Team, Division Rivals is the classic online head-to-head mode. It's a great place to play competitive games that test your squad while stacking up worthwhile rewards to take your club to new heights.
Division Rivals matches count on your record, and help qualify for ranked FUT Champions (Weekend League). Rivals matches use a skill-level matchmaking system to link gamers up with opponents of their calibre.
This year, Division Rivals will operate differently, as EA Sports have introduced a new seasonal progression system, along with an Elite Division, a new lobby for the best FUT players in the world to compete in. In FIFA 22, Division Rivals is using a new ladder system where each division is made up of the following components:
Ranks that reflect progress within a Division and unlock better Weekly Rewards
Stages, which are the individual steps between ranks
Checkpoints that prevent losing progress and ensure that players remain at their appropriate skill level
The result of each match determines progress on the ladder, winning a match moves forward one stage, losing a match moves back one stage unless they are on a checkpoint, and drawing will remain at the current position. Winning two consecutive matches in a row will start a winning streak. While on a winning streak, teams will progress one additional stage for every consecutive win.
Division Rivals is now a seasonal competition tied to the overall FUT Season, approximately six weeks long. Regardless of a win or loss, gamers will make progress towards seasonal rewards. Players can earn up to three Milestone Rewards per Division based on the Division they finish in.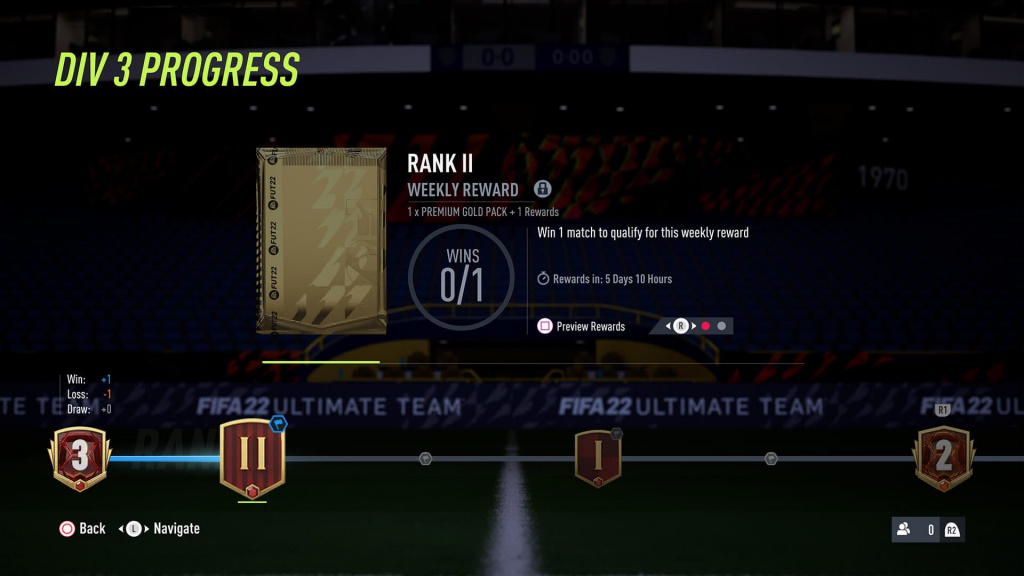 FUT Champions in FIFA 22
The most competitive ranked mode in all of FIFA Ultimate Team, FUT Champions is the top of the top. Gamers must qualify for FUT Champions via Division Rivals, to ensure they're ready for the heated competition.
One of the welcomed new changes to FUT Champions in FIFA 22, the competition is being spread throughout the week, rather than jammed into the weekend period. This is being done through the implementation of the Champions Play-Offs and Finals.
The Champions Play-Offs are the first leg of the overall FUT Champions competition and are open for the duration of the FUT Season (approximately six weeks long). Players progress through a limited number of games on their own time, earning points toward Champions Ranks and Rewards (awarded at the end of the Champions Play-Offs).
If enough points are earned, a Finals Qualification Token will be unlocked, granting access to the Champions Finals. Gamers that did not make it to the Finals can always return to the Play-Offs after re-qualifying through Rivals.
FUT Champions Finals will then take place on the weekend (Friday-Sunday) as per previous FIFA time slots. However, the competition will only be 20 matches rather than the 30 of previous FIFA's.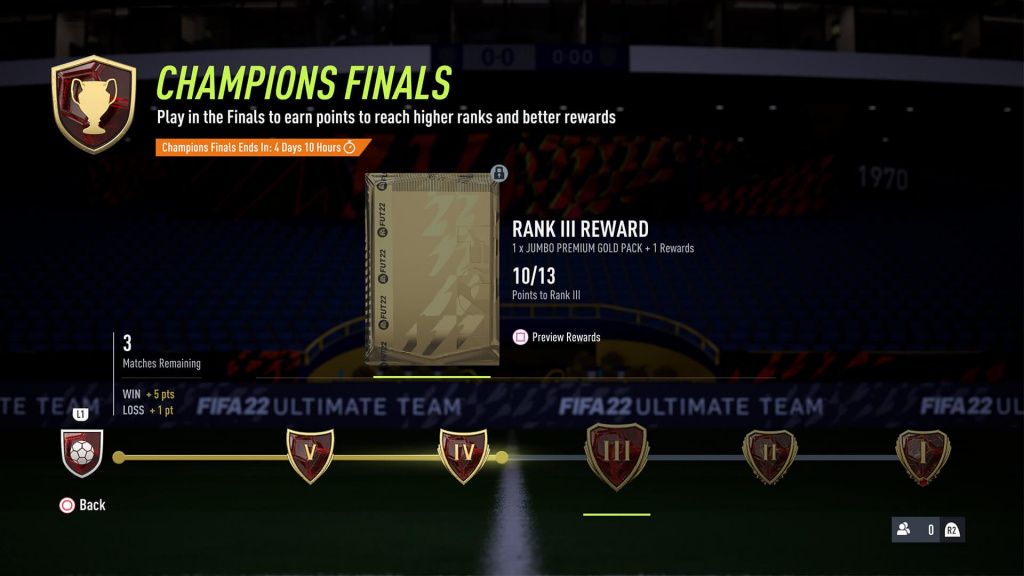 Public co-op matchmaking
An all-new game mode coming to FIFA 22 Ultimate Team, co-op public matchmaking allows gamers to have a casual drop-in experience playing FUT with a new partner against other co-op opponents. The brand new game mode will feature in the Online Friendlies menu as an additional mode.
It's a nice change-up as gamers won't be using their normally owned FUT squads. Instead, the public co-ops will have a pre-set list of teams to select from, which will rotate in timed periods.
This avoids a situation where both co-op partners want to use their own squad. It also provides gamers with an opportunity to try out some of the best (most expensive) players in FUT. Squads will reflect recently released player items in the game, so gamers will see balanced teams.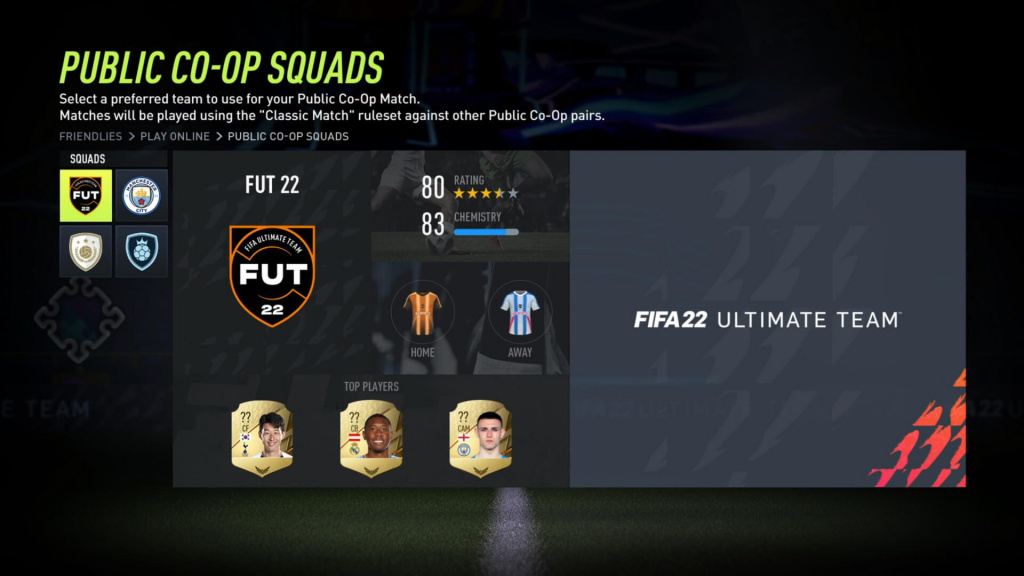 Make sure to keep up with our FIFA 22 tab ahead of the upcoming release of the world's most popular footballing title.