FIFA 21's player ratings have been revealed ahead of its release, and there has been quite a few concerns and inconsistencies. But nothing stands out more than Toni Kroos' pace, which has been all over the place on FIFA titles in the past decade.
Kroos isn't the fastest player, but he also isn't the slowest by any stretch of the imagination. Still, EA slapped him with a pretty harsh 56 pace rating back in FIFA 16 despite having an 87 overall.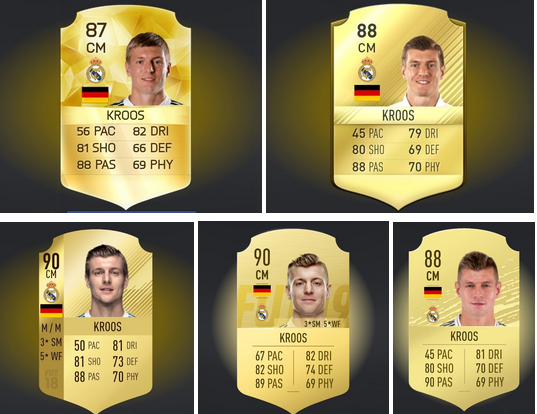 Kroos' pace has been wildly different over the years (Photo: EA Sports)
His pace dropped even further to 45 in FIFA 17 despite his overall increasing to 88, only to bounce back up to 50 in FIFA 18 as his overall climbed to 90. Then, although his overall remained at 90 in FIFA 19, his pace shot up to 67, before dropping back down to 45 as his overall was reduced to 88 in FIFA 20.
His overall rating has remained the same in FIFA 21, but again, his pace has gone up to 54. It's all very confusing, but thankfully, a dedicated FIFA player on Reddit compiled an impressive graph that highlights the changes all the way back to FIFA 10.

(Photo: Reddit user 7FOOT7)
The data is baffling because his pace has neither trended up or down. Instead, it's fluctuated with no logical reason or explanation. This highlights a bizarre inconsistency in his pace, which seems to exist independently to his overall player rating.
But more importantly, it begs the question: How does EA calculate and determine a player's rating, let alone their individual stats? Nobody seems to have an answer, not even EA themselves. That's probably why fans and players. like Romelu Lukaku, get so riled up about it.
Either way, Toni Kroos is still one of the highest-rated players in FIFA 21 despite his pace. But sadly, he might not be the first choice midfielder for a lot of FUT enthusiasts who tend to prefer faster players.