Fortnite Chapter 3 Season 2 has brought in a plethora of gameplay changes to the classic Fortnite formula. For instance, players can now choose to disable building in a new game mode called Zero build. Additionally, players can also sprint and mantle their way in the playground, allowing for more free flow traversal.
Chapter 3 Season 2 also introduces a new enemy faction called IO, which has established outposts all across the map. IO has raged an all-out war and, in the process, brought vehicles like tanks to defeat the members of the Seven. Interestingly, one of the new resistance quests requires you to damage a tank to collect armor samples. As such, here's our guide that explains exactly how you can do it. 
Tank damage resistance quest in Fortnite Chapter 3 Season 2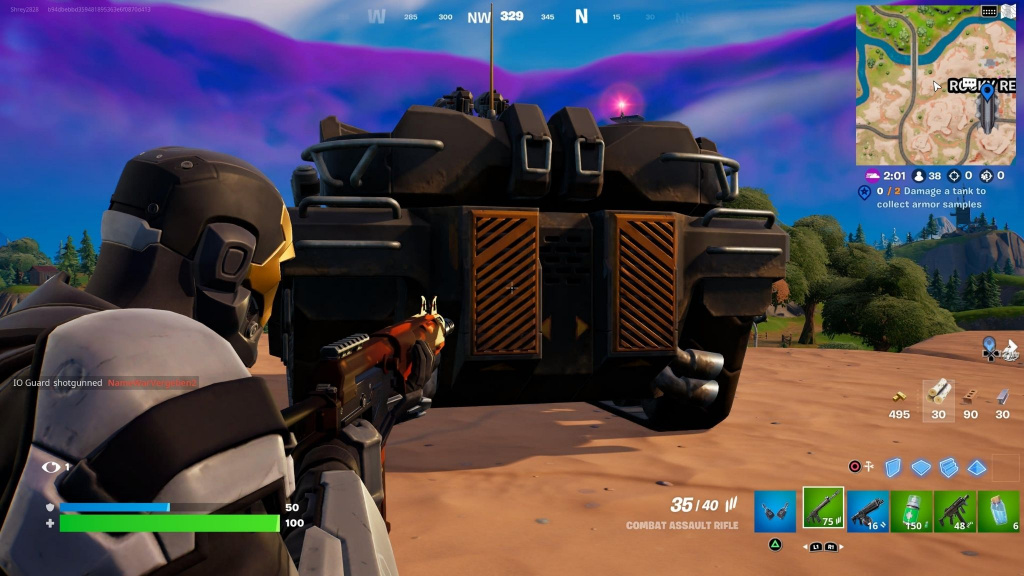 First and foremost, don't try to seize a tank that's being driven by other players or the IO members, as they could quickly take you out with the tank's missiles.
We recommend finding an abandoned tank, then driving it to a secluded area, and then damaging it to complete the resistance quest. 
You can find a tank in The Daily Bugle, Rocky Reels, Condo Canyons, Tilted Towers Coney Crossroads, Command Cavern, and The Fortress, but we recommend taking the one in Rock Reels.
It's because one of the tanks in here is sitting isolated on top of a cliff with no IO members in sight. As such, you can easily snag this one without getting into trouble. We suggest landing here directly, since the more time you take to arrive, the less your chances get to snag that isolated tank.
Once you have the tank and you're away from any plausible threats, there's not much left to do. Simply go to the back of the tank and start shooting on the two rectangular structures to do some massive damage, which would then drop the two armour samples that you need.  Collect them to complete the quest and earn 23,000 XP in the process.
That concludes our guide o how to damage a tank to collect armor samples in Fortnite Chapter 3 Season 2. Make sure to check our dedicated Fortnite section for more news, guides, and features. 
Featured image courtesy of Epic Games.