Fortnite's Winterfest 2021 event is in full swing, with new challenges and rewards for players to unlock. Between the 16th of December and the 6th of January, players can unwrap one present every day for free in Winterfest's lodge, where they will also find Sgt. Winters, idly sitting and getting cosy next to the Yule log.
Players can also buy new Winter themed cosmetics from the item shop. As of now, players have 10 hours left to buy the Spider-Man: No Way Home outfits and Gears of War outfits from the item shop. As for Winterfest free presents, there's a total of 14 of them with 2 currently locked. Here's what's in every one of them.
Fortnite Winterfest 2021 presents unwrapped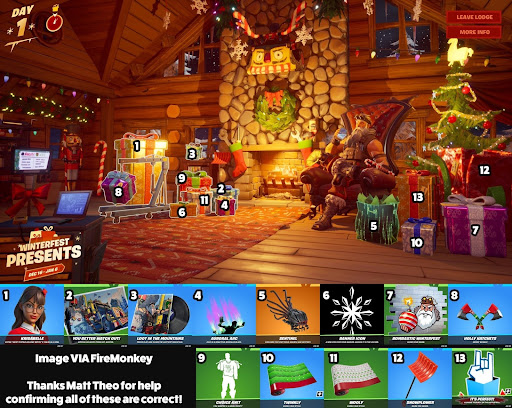 Notable Fortnite leaker, iFireMonkey, took to Twitter to confirm what's in all the 14 presents. As labelled above, the presents contain:
Krisabelle Skin

You Better Watch Out loading screen

Loot in the Mountains music pack

Auroral Arc contrail

Matrix 'Sentinel' glider

Banner Icon

Bombastic Winterfest spray

Holly Hatchets pickaxe

Knitting emote

Twinkly wrap

Wooly wrap

Snowplower pickaxe

It's perfect emoticon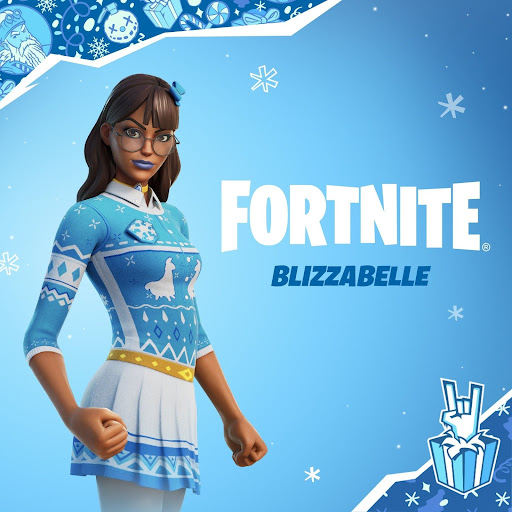 Players will notice that the 14th present is currently frozen and is inaccessible. It contains the much anticipated Polar Peely skin. Players may also notice the big yellow present containing Krisabelle skin is also inaccessible and wants players to save it for the last. Players yearning for more free skins should check our guides on unlocking the Blizzabelle skin and Sultura skin on PC and PlayStation respectively.
Check out our dedicated Fortnite page for everything you need as Chapter 3 rolls along. We'll keep you in the loop with the latest challenges, cosmetics, and more.
Featured image courtesy of Epic Games.