Back in April, Epic Games began yet another ultra-popular crossover event, this time with the legendary DC Comics. A Batman-themed event, the promotion provides gamers with the opportunity to play Fortnite as some of their favourite action heroes.
An awesome crossover, Fortnite actually produced an exclusive Fortnite x DC Comics book series as well, with fans able to get a hold of a physical copy. Each copy also contained a code that could be redeemed to unlock exclusive Fortnite skins.
In addition to the redeemable codes, Epic Games will also drop the skins into the Fortnite shop where they can be purchased using V-Bucks. The first DC Comics character to arrive in-game was the famous Harley Quinn, the Joker's girlfriend.
Now it looks like we're set to unveil exclusive loot from the series hero, the Batman.
How to get Fortnite Batman Zero skin
Available in the Fortnite shop starting Tuesday, 4th May 2021 gamers can now purchase the Batman Zero skin bundle for 2100 V-Bucks. If you're not interested in the entire bundle, you can still purchase individual Batman Zero items, but at higher unit costs.
The Batman Zero skin can be purchased for 1500 V-Bucks, the Batman Zero Wing (glider) can be purchased for 1200 V-Bucks, and the Grappling Axe (pickaxe) can be purchased for 800 V-Bucks.
Here is the schedule for the remainder of the Fortnite x DC Comics crossover event.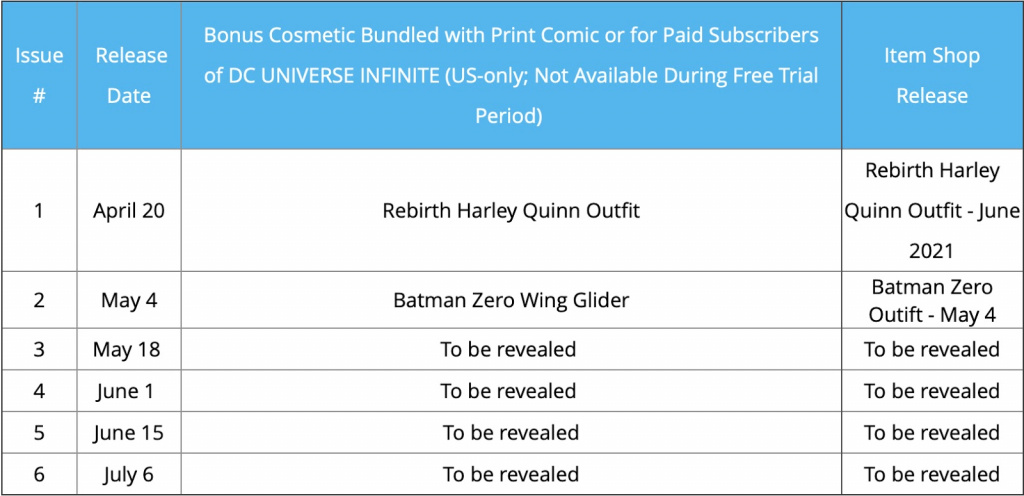 (Picture: Epic Games)
Stay tuned to our Fortnite tab for any and all of your Epic Games Battle Royale needs. We'll be sure to update you with posts on new content arriving in-game.