Epic Games brings new challenges for Fortnite Chapter 3 Season 2 for players to complete and earn more XP rewards. These daily and weekly challenges will test players' skills and provide unique rewards upon completing them. 
One of the Fortnite Week 4 challenges require you to interact with bounty boards to complete its challenge. Not sure where to find the boards? No problem, as we'll be giving you the locations of all the bounty boards in Fortnite Chapter 3 Season 2.
How do bounty boards work in Fortnite Chapter 3 Season 2? 
When you interact with a bounty board, you will be tasked with a target player that you need to eliminate to receive gold bars, the currency in Fortnite. The map will highlight a specific area giving you a general outline of where your target is, and it will be up to you to hunt and eliminate them.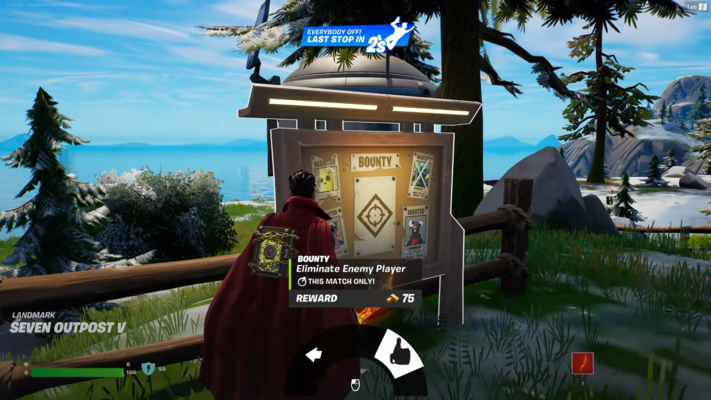 If another player eliminates your target, you will receive a "bounty poached" notification in-game. It will still reward you for the bounty in terms of the quest completion, but you will receive fewer Gold bars.
This Week 4 challenge is calling on players to channel their inner Boba Fett, as you are required to accept a bounty from a bounty board 30 seconds after landing. You must hunt down and eliminate your targets as quickly as possible to avoid losing your bounty.
All Bounty Boards Locations in Fortnite Chapter 3 Season 2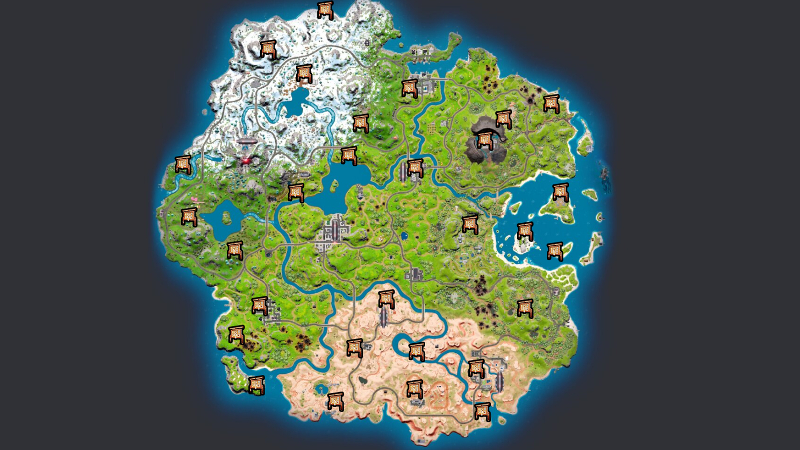 Fortnite's Week 4 challenges for Chapter 3 Season 2 have 29 bounty boards for you to locate and accept their bounties. We have provided a map pinpointing each location of the bounty boards so you'll know when to make your exit from the Battle Bus.
Bounty Board #1: North of the Logjam Lumberyard at the Washout Wharf landmark
Bounty Board #2: Near the Seven Outpost II northwest of Logjam Lumberyard
Bounty Board #3: Inside the main building in the centre of Logjam Lumberyard
Bounty Board #4: Against the wooden walls in Shifty Sands
Bounty Board #5: Near the Floaty Boats Landmark, east of The Fortress
Bounty Board #6: Near the group of RVs, south of The Fortress
Bounty Board #7: In the south-west corner of Sleepy Sound
Bounty Board #8: On the north-east side of Coney Crossroads
Bounty Board #9: Inside the Daily Bugle Building on the ground floor
Bounty Board #10: West of the Seven Outpost and north-east of the Daily Bugle
Bounty Board #11: North-east of the Daily Bugle at Seven Outpost III.
Bounty Board #12: In the Northwest section of The Sanctuary
Bounty Board #13: On the main Mighty Mountain island to the east of the map, below the statue
Bounty Board #14: On the island northeast of Mighty Mountain, inside one of the buildings
Bounty Board #15: At the Seven Outpost VII, east of the Mighty Mountain landmark, near The Sanctuary.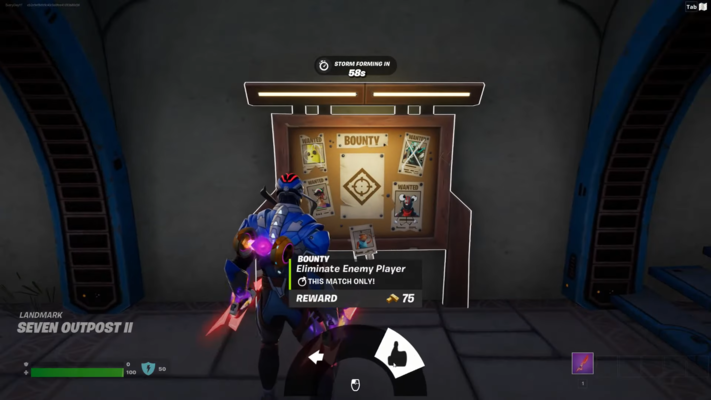 Bounty Board #16: On the southern end of The Joneses, inside the house's basement
Bounty Board #17: On the right side of the Condo Canyon's Canyon Plaza.
Bounty Board #18: At the Seven Outpost IV, just south of Condo Canyon
Bounty Board #19: Found inside a garage at Chonkers Speedway POI
Bounty Board #20: North of Chonkers Speedway POI at the Impossible Rock landmark
Bounty Board #21: Near a building located at the northern end of Rocky Reels
Bounty Board #22: South-west of Rocky Reels, near Butter Barn
Bounty Board #23: West of Chonkers Speedway, at Synapse Station
Bounty Board #24: On Windbreakers Island near the turbine landmark
Bounty Board #25: At the Seven Outpost, just south-west of Greasy Grove
Bounty Board #26: Inside a building in the north-west corner of Greasy Grove.
Bounty Board #27: South-east of Camp Cuddle at the Broadcast Bunker landmark
Bounty Board #28: At a vending machine in Camp Cuddle
Bounty board #29: At the Seven Outpost V, West of Command Cavern
The bounty board locations are often near Points of Interest (POI) on the island map, as you'll be better off looking for them near their entrances. Starting at the edge of the map will also be beneficial, as there will be fewer players roaming around, allowing you to pick off your targets quietly.
This particular challenge only requires interacting with one bounty board and hunting down the intended target. Once it's complete, you can keep going and earn as much Gold as you see fit to acquire those exotic weapons you want to buy. 
And there you have all the locations of the Bounty Boards in Fortnite to help you complete this Week 4 challenge. We like to thank the YouTube channel EveryDay FN for the walkthrough of all bounty boards locations in Fortnite.
Check out our dedicated Fortnite section for the latest news, updates, guides, esports coverage and more. 
Feature Image courtesy of YouTube / EveryDay FN.
---
For more Fortnite news be sure to check out our dedicated section, or some of our Guides & Tutorials, just below:
Fortnite Guides - All Fortnite Redeem Codes | When Does Fortnite Chapter 3 Season 5 Start?|All Fortnite Twitch Drop Rewards| How To Make Your Own Fortnite Skin |
Fortnite Events - Fortnite Winterfest 2022 | 
The Best Fortnite Creative Codes - Best Edit Course Codes|Best Prop Hunt Codes|Best Zombie Map Codes
Featured image courtesy of Epic Games.