With Fortnite Season 4 Nexus War, Marvel superheroes entered the battle. If you've ever wanted some superhero abilities in Fortnite, then you are in luck. We show you how to get superhero abilities by finding the Mystical Bomb, Arcane Gauntlets, Groot's Bramble Shield and Silver Surfer's Board.
Fortnite superhero abilities: The mythic items
Fortnite Season 4 Nexus War, at launch, has four superhero abilities for players to acquire via mythic items. These Fortnite superhero abilities could greatly increase your chances of winning a match, and they are well worth acquiring. 
There are four mythic Fortnite items in the game right now, each giving you a superpower. 
Fortnite mythic items list:
Mystical Bomb
Arcane Gauntlets
Groot's Bramble Shield
Silver Surfer's Board
Since you now know what items to look for to get Fortnite superhero abilities, check out the next sections showing you how to find each one of them. You can have more than one of these items at a time.
Fortnite Mystical Bomb and Arcane Gauntlets
The Mystical Bomb is essentially an energy ball which deals 60 damage to players and sets a massive area on fire. It is by far the most powerful of the Fortnite superhero abilities. Then, the Arcane Gauntlets shoots you into the air, allowing you to escape enemy fire, or just get around quicker.
These two Fortnite mythic items and the superhero abilities they provide are grouped together since you need to defeat Doctor Doom to find both of them. 

(Picture: Epic Games)
To beat Doctor Doom and get these mythic items, follow the steps below.
Jump out of the bus in Battle Royale and glide to Doom's Domain (previously known as Pleasant Park)
Head into one of the phonebooths nearby to put on a henchman disguise.
Break into the large house in Doom's Domain, where Doctor Doom will be patrolling around.
Get some weapons and take him down, while avoiding his AOE fire ability and staying at range.
Pick up the two glowing books he drops, which gives you Mystical Bomb and Arcane Gauntlets.
Don't forget to pick up a key to Doom's Vault, located under the soccer pitch for more tasty loot.
Check out our full guide on how to defeat Doctor Doom in Fortnite, as well as a video clip showcasing the superhero abilities below.
Groot's Bramble Shield and Silver Surfer's Board
Finding Groot's Bramble Shield and the Silver Surfer's Board might be a bit more challenging, and requires luck to get. Groot's Bramble Shield is like a slower version of the Baller, which was vaulted back in Chapter 1 Season 10. It heals the player riding it but it is slower than the Baller, and has a 25-second cooldown.
The Silver Surfer's Board gives you the Fortnite superhero ability to boost into the sky. It works a lot like the vaulted Launch Pads.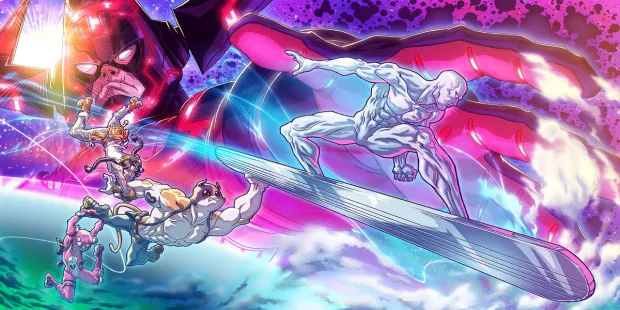 (Picture: Epic Games)
Both of these Fortnite mythic items are found in the same way. However, the Silver Surfer's Board is a very rare drop, so it might take multiple matches to find one.
Follow the steps below to find Groot's Bramble Shield and Silver Surfer's Board:
Join a Battle Royale match and take a look at the map for Quinjet landing locations.
Jump out and glide to one of the Quinjet landing locations marked with a white ship on the map.
Pick up a weapon and shoot drones.
Drones drop a coin which gives you either the Groot's Bramble Shield or Silver Surfer's Board. 
Just keep shooting until you manage to loot one.
Check out Groot's Bramble Shield in action below.
---
For more Fortnite news be sure to check out our dedicated section, or some of our Guides & Tutorials, just below:
Fortnite Guides - All Fortnite Redeem Codes | When Does Fortnite Chapter 3 Season 5 Start?|All Fortnite Twitch Drop Rewards| How To Make Your Own Fortnite Skin |
Fortnite Events - Fortnite Winterfest 2022 | 
The Best Fortnite Creative Codes - Best Edit Course Codes|Best Prop Hunt Codes|Best Zombie Map Codes
Featured image courtesy of Epic Games.