Fortnite Season 3 Chapter 1's map
is covered with Christmas trees, presents, and other festive attributes thanks to the ongoing Winterfest 2021. Sgt. Winter is this year's Santa, and players can find him getting cosy in the
Winterfest lodge
and traversing the map in his truck with presents.
There is plenty of new additions to the Winterfest 2021, including the Spider-Man: No Way Home outfits in the item shop. Players looking to earn some extra XP might want to complete Winterfest 2021 challenges. Completing seven of these challenges will reward them with the Snowmando Glider while completing ten of them will reward them with the Frosty Back Bling.
One particular challenge wants players to fly with a chicken. Here's how to do it.
The chicken challenge in Fortnite Winterfest 2021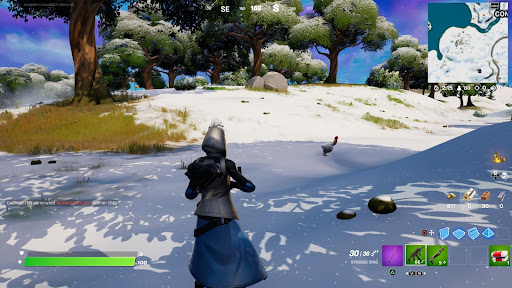 Chickens are relatively easy to find when compared to other Winterfest 2021 items like the snowball launcher. Players can usually find one cooing in the snowy areas of the map outside the houses.  While finding one is simple, players have to pick them up to actually hover across the map. Getting hold of a chicken can be tedious since they run very fast. The best way to get hold of one is to corner them someplace or approach them quietly from behind.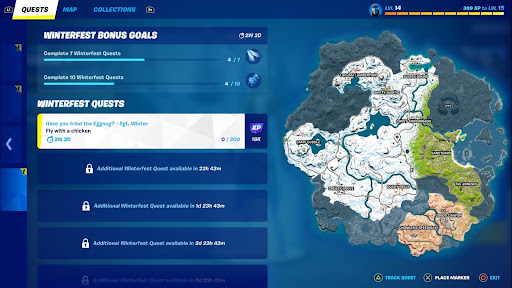 Once players have picked up a chicken, simply press the jump button to fly 200 meters across the map to complete the challenge and earn a quick and easy 18,000 XP in the process. Players looking to grab more free goodies should check our guide on how to get the Sultura skin and Blizzabelle skin.
Check out our dedicated Fortnite page for everything you need as Chapter 3 rolls along. We'll keep you in the loop with the latest challenges, cosmetics, and more.
Featured image courtesy of Epic Games.