Fortnite Chapter 2 Season 7 brings a host of new changes. Fortunately, you can rely on us to tell you all about them! Among these changes, includes the return of mechanics that were previously removed from the game, namely: upgrade benches! The best part is that finding their locations could earn you an easy 30,000 XP toward your Battle Pass. How 'bout that?
How to upgrade guns in Fortnite Season 7
Since Fortnite Season 5, the upgrade bench mechanic was replaced by NPCs who would perform the upgrade for you. The upgrade also previously required you to have enough materials to proceed. This is no longer the case. Instead, you will need to have enough Gold Bars to perform the upgrade
Upgrading three weapons at an upgrade bench will earn you 30,000 bonus XP toward your battle pass thanks to the Week 1 challenges.
The simplest way to achieve this is to upgrade a common weapon to an uncommon weapon. Doing this only costs 200 gold bars. Of course, when you upgrade higher rarity weapons, it will cost more gold bars. 
Fortnite Season 7 Upgrade Bench locations
Upgrade Benches are scattered across the map. Take a look at the image below to pinpoint each of their locations. We suggest hitting up Craggy Cliffs since there's typically a lot of loot there. It's also less likely that you'll run into any other players.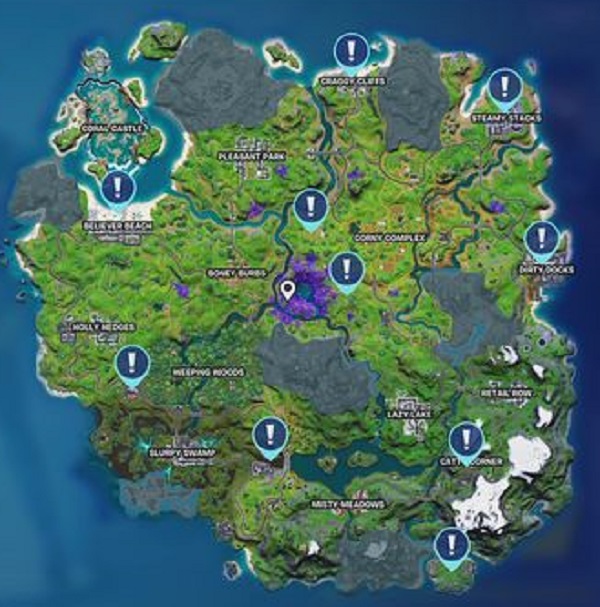 (Picture: Epic Games)
As we mentioned previously, you will need to stock up on enough gold bars to upgrade your weapons. Remember that only weapons with upgrade paths can be upgraded. So you can't upgrade the weapon if it is already at the maximum rarity. We've linked to a video below which shows you how to do this.
So there you have it, the way to upgrade your weapons now that Fortnite Chapter 2 Season 7 is out, and all the Upgrade Bench locations, all in one place.
Do you want more Fortnite news and updates? Good news! We have an entire section on the GINX website, dedicated to Fortnite available right here.