Fortnite Chapter 3 Season 2 continues with the addition of new weekly challenges, resistance quests, item shop rotations, and more. In many ways, the current Fortnite season is shaping up to be one of the best Fortnite seasons in recent memory, bringing many new features to the game. Amongst the major changes, Zero Build mode, sprinting, and mantling have all been introduced in Season 2. Aside from the regular battle royal mode, Epic Games has also brought back some of the best creative modes, like the Croft Manor and Jumpman Zone.
While creatives now also reward XPs that level up the battle pass, those looking for massive XP boosts will first want to check out the Resistance quests, as each completion rewards 23,000 XP. One of Chapter 3 Season 2 Week 3 resistance quests requires you to use a disguise kit and place weapons schematics in Synapse Station. Here's our guide that will tell you exactly how to complete this quest.
Fortnite Synapse Station location - Chapter 3 Season 2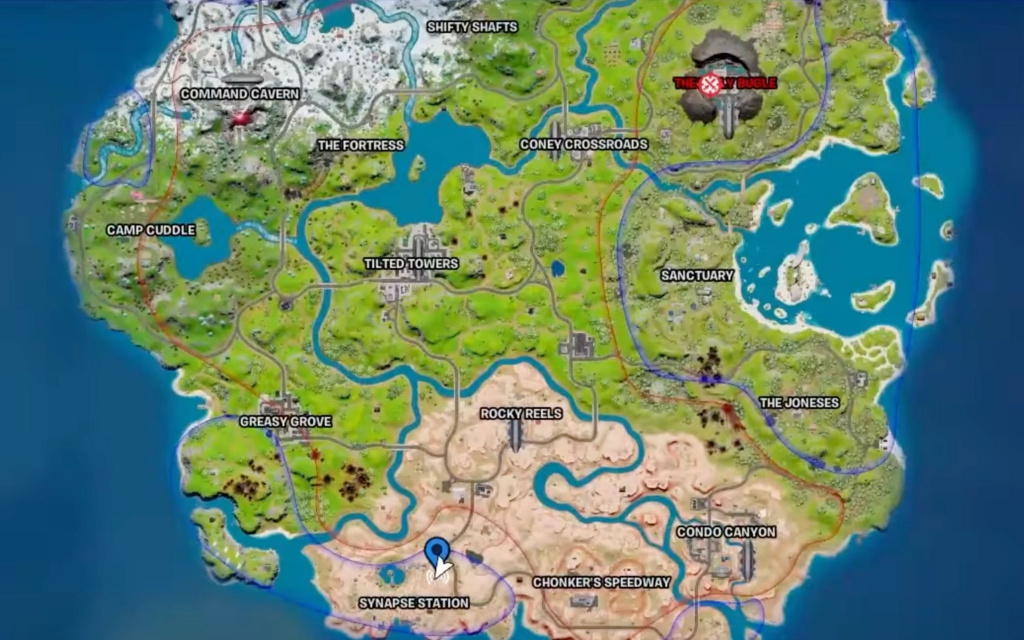 To begin, you first must travel to the Synapse Station, which is a new desert area introduced in Chapter 3 Season 2. If you haven't yet discovered the Synapse Station, you will find it next to the Rocky Reels and Chonker's Speedway.
Check out the Chapter 3 map above to find Synapse Station in the southernmost portion of the Fortnite island. Do note this will be a hot drop as many players are likely trying to complete the challenge as well.
Disguise Kit in Fortnite Chapter 3 Season 2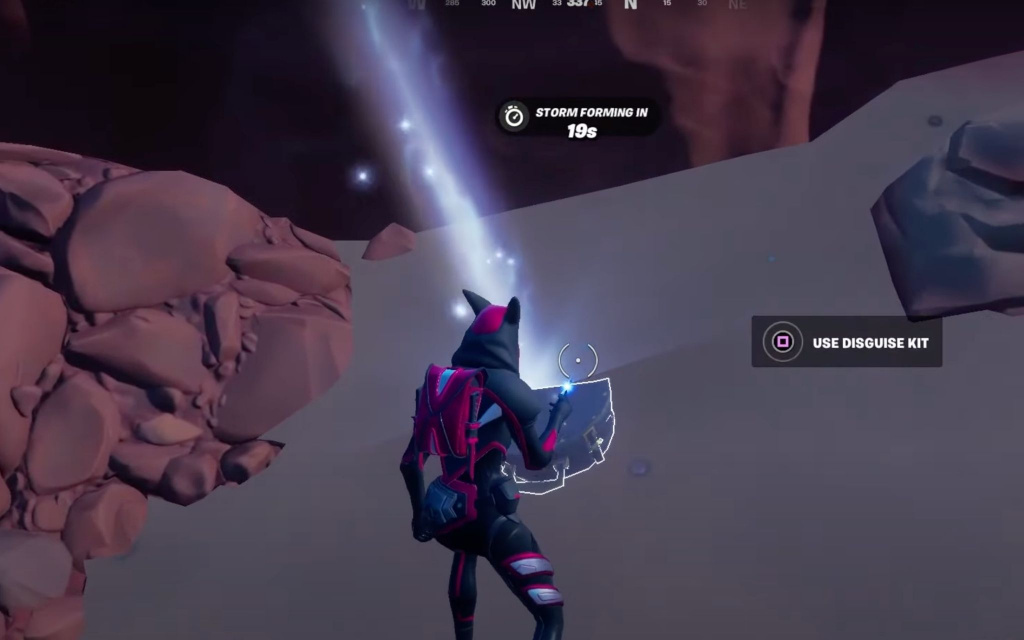 Once you're in Synapse Station, head to the location marked in the screenshot above. You will find the disguise kit down below between two cliffs. Look for the holographic logo. Approach the disguise kit and press the button to interact, upon which the second objective will begin requiring you to place weapon schematics in Synapse Station.
From where you used the disguise kit, head towards the building in the region with a workshop of some sort. Once inside, turn left, and you should find the spot for placing weapon schematics. Simply do so to complete this resistance quest and gain 23,000 XP in the process.
That concludes our guide on how to use a disguise kit and place weapon schematics in Fortnite Chapter 3 Season 2. Make sure to check our dedicated Fortnite section for more news, guides, and features.
Featured image courtesy of Epic Games.
---
For more Fortnite news be sure to check out our dedicated section, or some of our Guides & Tutorials, just below:
Fortnite Guides - All Fortnite Redeem Codes | When Does Fortnite Chapter 3 Season 5 Start?|All Fortnite Twitch Drop Rewards| How To Make Your Own Fortnite Skin |
Fortnite Events - Fortnite Winterfest 2022 | 
The Best Fortnite Creative Codes - Best Edit Course Codes|Best Prop Hunt Codes|Best Zombie Map Codes
Featured image courtesy of Epic Games.