In June, Microsoft announced how their streaming platform, Mixer, would be shut down, and how it would be merging with Facebook Gaming. Now, it seems like Tyler "Ninja" Blevins will not be moving back to Twitch, or to a rumoured platform called "Brime". Instead, it is very likely Ninja is moving to YouTube.
Ninja moving to YouTube rumour
Ever since the Mixer shutdown announcement, fans have been wondering what would happen to the two biggest Mixer stars, Tyler "Ninja" Blevins and Michael "Shroud" Grzesiek.
Now, it looks like we finally know what will happen to the former, as Tyler "Ninja" Blevins was caught by eagle-eyed fans showing a now-deleted test stream on his channel.
Ninja most likely signed to youtube, he currently has a test stream scheduled, probably didn't mean to make it public but this is a huge hint.. pic.twitter.com/e4bd6lhD8M

— HYPEX (@HYPEX) July 7, 2020
While this isn't a confirmation of Ninja moving to YouTube, it is very solid evidence how he just might.
Shroud has still not said a word about his next moves, but Ninja's manager (and wife), Jessica Blevins, did tease how something will happen this week.
You've all been patient....this week will be fun.

— Jessica Blevins (@JessicaBlevins) July 7, 2020
Jessica Blevins tweet above took place just hours before Ninja's now-deleted test stream. I think everyone can put two and two together, right?
The test stream was scheduled to take place on 7th July at 11:32. However, Ninja took it down, or maybe just put it on private.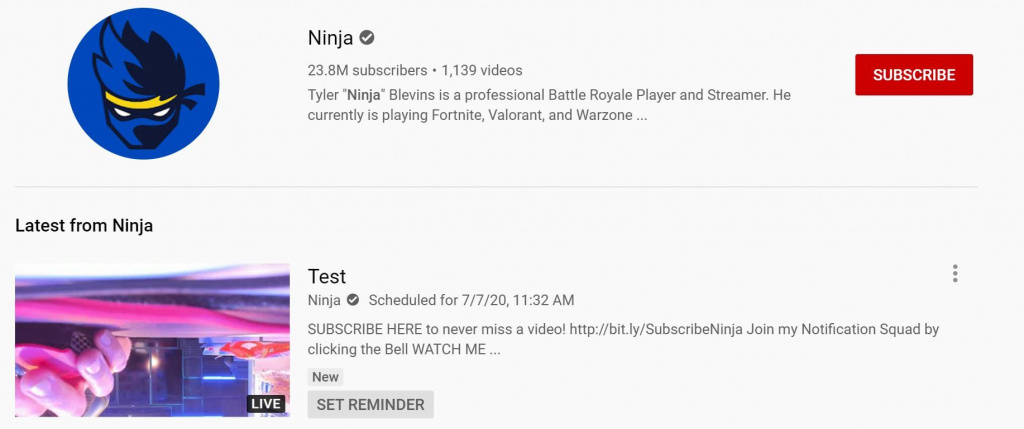 The Ninja test stream on YouTube (Picture: YouTube)
At the time of writing, Ninja has not commented on his rumoured move to YouTube. Taking his wife and manager's comment into consideration, we can expect some kind of announcement from Ninja this week.
Until then, take this information with a grain of salt.