The world of streaming and the internet, in general, has gone into overdrive with rumours surrounding the reasons for DrDisrespect's ban from Twitch, more so after he himself put out his one and only statement since the ban saying he had been given "no reason" for being taken off the platform.
While we are no closer to finding out why the Doc has been banished, that has left room for some rather outlandish theories and none has taken hold quite as much as the rumours of Doc being banned after he attempted to recruit other Twitch streamers plus shroud and Ninja, recently released from their Mixer contracts, to a new Spotify owned platform called Brime.
The evidence for the service though, and any connection to Spotify and/or Google is thin to non-existent with the earliest talk of such a platform coming from that ever-reliable source of information 4chan.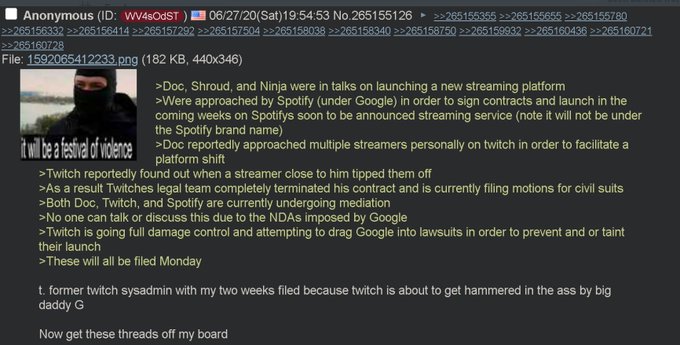 (Credit: Anonymous)
So let's take a look at the evidence and work out what chance, if any, that Brime could become the next streaming platform for some of the world's biggest streamers.
Is Brime a real platform?
Maybe. They do have a Twitter page, but no website nor have the made any attempt to buy the domains that such a service would want to hold. 
The Twitter, which was created in June 2020 and has amassed 75K followers thanks to all the hype appears to coincide with the end of Mixer, giving some credence to be a home for those that had already decided that Twitch wasn't for them.
They have also made some promises in terms of features, including "in-built cloud chatbots" and "clear cut path for meeting affiliate/partner".
They have also had a Q and A where they have stated that they currently have four people working on the service, have NO connection to Spotify or Google and currently have no deals in place for streamers to come on board.
Is Brime connected to Spotify?
Well no, as we've mentioned above the service has confirmed to have no connection to Spotify or Google, with the original rumour posted to 4chan appearing to erroneously suggest the two companies are connected.
Now Google does use Spotify as their default music service and have made moves to acquire them in the past, these talks came to nothing and they are to this day separate companies.
So is Brime real or not?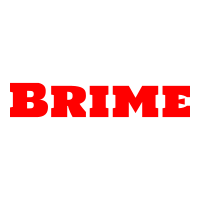 (Picture: Brime)
It appears to be a real service, in the fact that there are currently four guys working on a streaming platform, but without the huge financial backing of one of the big tech companies how far they can realistically get is limited.
How did Dr Disrespect get linked to the platform?
It was a perfect storm really. The closure of Mixer plus the vacuum of information around Doc's ban has created fertile ground for a crazy theory like this.
Some sleuths have also pointed to an apparent clue on DrDisrespect's last stream where a sign read: "Prepare for the 29th."
The theory has also gained wider traction by being shared by Drama Alert's Keemstar to his 2.8M followers.
So is there any chance that a big streamer will be joining Brime?

As a percentage, it would be close to being 0 right now. For one, there is not yet a website or a working service for any streamer to start broadcasting from. Then there is a small fact that Ninja and shroud have just left a failing service, are they really going to take a chance on a platform with no major backers? 
And if no big streamers move there, bringing their hardcore audience and some excitement who else will?