After several weeks of silence, Blizzard has finally responded to Hearthstone's community backlash over the newly-implemented progressions system.
Fans of the popular card game have been voicing their dissatisfaction with the current state of the game's monetisation system for weeks following the release of Hearthstone's latest expansion.
Madness at the Darkmoon Faire came with a completely revamped progression and monetisation system, called Hearthstone Tavern Pass, which works similarly to how Battles Pass systems work in other games, with both free rewards and paid rewards.
While Blizzard has stated that their goal with this new system is for players to be more rewarded and earn more gold, facts have revealed the situation to be the opposite, with calculations saying that you need to play more to earn around ~1000 gold less per expansion cycle.
This has led to massive outrage in the Hearthstone community, additionally fueled with the fact that Blizzard did not respond to any of these claims besides some early changes a few days after the expansion's release.
A month after the release of the Rewards Track system, Blizzard is finally speaking publicly about the changes they are planning to implement "in the following weeks".
And it seems that they have been listening to most complains the community had with the system. Changes will be made across all parts of the system, from Quests to the Rewards Track itself.
Daily and weekly quests changes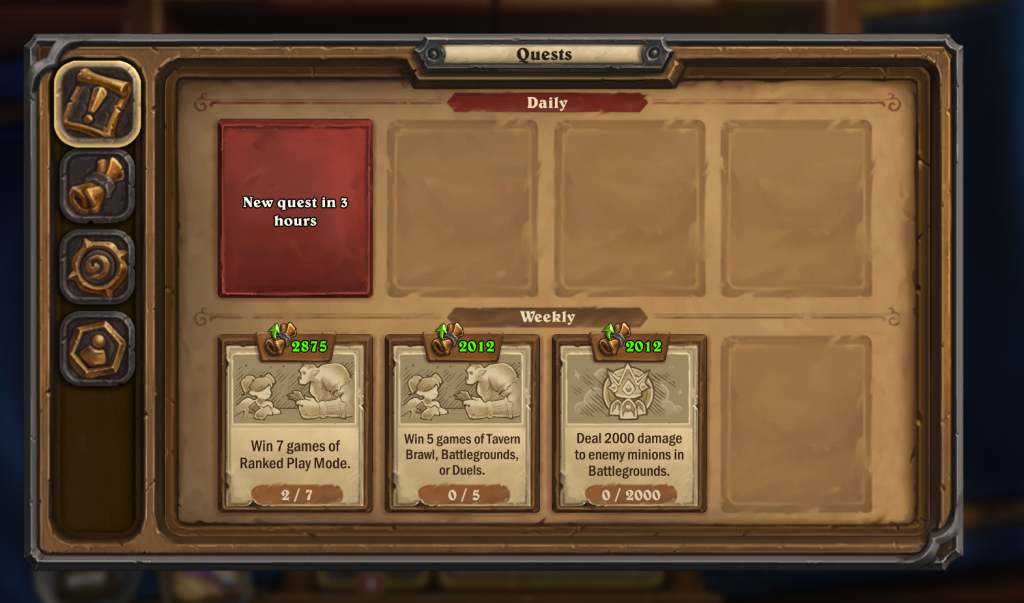 Quests should now be easier to complete(Picture: Blizzard)
Daily and weekly quests will receive a set of changes that will make them easier and faster to complete, while some will be rewarding more experience for completing them.
Additionally, some quests that required too much investment from the players will be removed from the game.
Quests that require Legendary cards and Arena runs will be removed.
Weekly quest "Win 7 Games of Ranked Play Mode" will now require 5 wins instead of 7.
Tavern Brawls and Battlegrounds will now contribute to quest progress.
All 800 XP daily quests will now reward 900 XP.
Fixed an issue with the quest "Play 50 Corrupt Cards" and it now requires 30 Corrupt Cards to be played.
Tavern Brawls and Battlegrounds will now contribute to quests' progress.
Rewards Track XP changes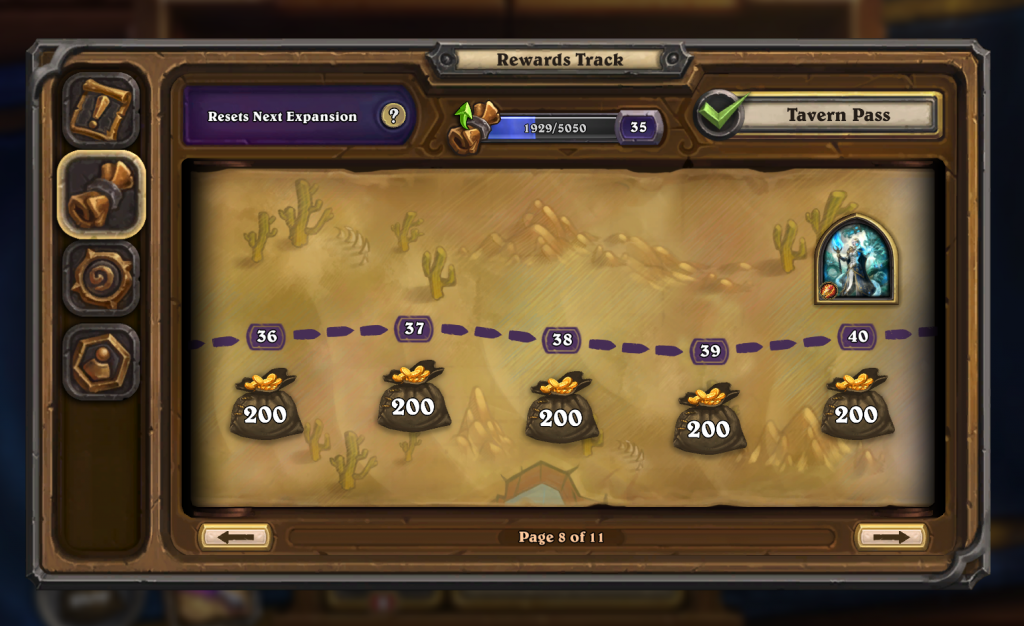 Progressions through levels 1-50 should be significantly quicker with new changes (Picture: Blizzard) 
One of the main complaints players had against the new system is how grindy and slow it feels, while being completely unrewarding at the same time.
Blizzard will now reduce the level XP requirements of the current Rewards Track by a total of 37,000 XP (nearly 20%) which should make progress through levels 1-50 much faster and more consistent.
After this change is implemented sometime later in December, players' existing earned XP value will be retained, which means that you will instantaneously get several more levels and earn those rewards.
Additionally, levels beyond level 50 will be redesigned. The maximum bonus level is now 350, up from 150, and the XP and rewards will be split across these levels.
This means that starting from level 51, each level will now take less XP to complete and earn you 50 gold. The idea behind this change is to make progress after level 50 more rapid with a steady and reliable income of gold.
This changes will be implemented before the end of the year, and Blizzard states that they will continue monitoring the system and make more changes in 2021.