Hitman 3 is getting a seasonal event and new contracts throughout March, unveiled by developer IO Interactive.
The event kicks off today with the Lesley Celebration Escalation contract, while the Easy Allies contracts in Chongqing following on 11th March.
Between 19-29th March, there'll be an elusive target to take down on the Isle of Sgail. During this time, there'll also be Eurogamer contracts for the Mendoza level from 25th March.
This climaxes with two new releases on 30th March; the Deluxe Escalation contract for those who purchased the deluxe edition of Hitman 3, and the Berlin Egg Hunt seasonal event going live from 30th March to 12th April.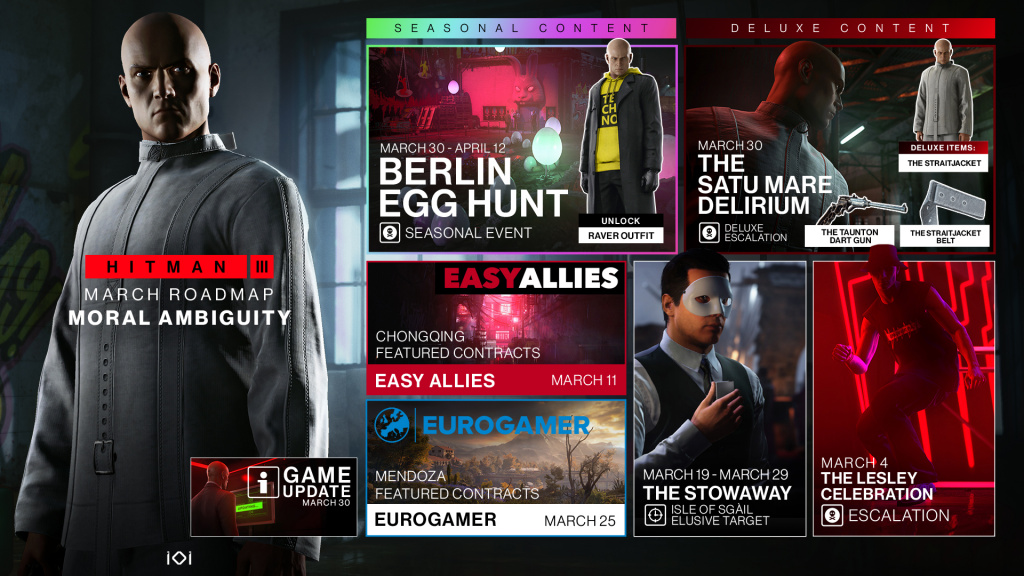 Here's the roadmap for March (Picture: IO Interactive) 
This is the second roadmap of DLC since Hitman 3 launched in January, with last month adding two new elusive targets and two Deluxe Escalation contracts for Deluxe edition owners. It's unclear however how long IO Interactive will continue to support the title, or if this seasonal event is only the beginning of Agent 47's madcap adventures.
IO Interactive's next game will be tied to the James Bond IP, with Hitman 3 marking the final chapter in their World of Assassination trilogy.