NA is no stranger to Danish imports, and Jesper "Zven" Svenningsen is one of them. 
Hailing from the EU, where he played on teams like Origen and G2 Esports until 2017, Zven made his NA debut on TSM with his support, Alfonso "Mithy" Aguirre Rodriguez.
They were a package deal, and while they were considered the "best in the West", NA fans didn't see it that way when they debuted. After two years on TSM with disappointing showings, Zven moved to Cloud9, where he has made an upturn in his gameplay, showing everyone how dominating the AD Carry could be. 
Now, he has reunited with Mithy who joined Cloud9 as a strategic coach, as well as former G2 Esports teammate Luka "Perkz" Perković. After taking down 100 Thieves in a 3-0 sweep in the LCS Mid-Season Showdown, GINX Esports TV speaks with Zven about reunions and their team's confidence moving forward.

Zven joined Cloud9 in 2019 (Picture: Riot/lolesports) 
Congrats on the win. This was a pretty easy series for you guys. Are you excited that Spring Split is done and now we're already into playoffs?
Yeah, I'm pretty happy overall with the new format. Honestly, I think that the Lock In Tournament improved the quality of the games in the regular season. I think last year in Spring Split, the quality was very, very low, but the Lock In Tournament helped teams get over the jitters and into high levels. So I think the playoffs this year will hopefully be high level comparably to last year. I think it's nice that there's only five weeks of play, although teams get less scrims, I still think it's nice.
Do you like the extra day of games as well, because now you're doing three days instead of two?
Yeah. I think that the extra day is nice. We have more games per week, but I think it kind of sucks that you lose a scrim day. You scrim only 15 games per week now, whereas before you're getting 20, which over time is, you know, quite some games; the teams have to do night blocks or have no off days or, you know, something like that. So I think it's not that nice in that sense, but I still prefer this format over the old one. It has its strengths and weaknesses, I guess.
For the first time in a long time, finals weekend will bring the competing teams to the Greek Theatre in Los Angeles with no audience, but are you ready to possibly be back on an actual stage?
Yeah, I think it would be awesome if the finals were played on stage. I think that would be really cool. I think obviously there has to be certain measures taken to avoid COVID-19 situations, but I think if it can, Riot can make it happen, it will be very nice. I think League of Legends esports has overall suffered a lot from not being "on land". I suppose it just gives a different feeling to most people. So I think that'll be a huge improvement.
Does it change much for you to play on stage versus being at home or in a team house? Especially since there won't be an audience?
It doesn't change much for me as a veteran because I've played on stage so many times in my career; I've played so many games before, that I don't really care, but it changes a lot for other teams, which gives me an advantage that it doesn't matter to me. Whereas for other teams that have rookies or less experienced players, it might matter more for them because they might choke or they might have some more nerves playing on stage in front of an audience, on different settings than they usually play. So I think it's an advantage for us that we don't have any rookies or anything.
That makes sense. Speaking of you being a veteran, you've been playing for a long time, from playing in the EU to now in NA. Mithy has now come back as a coach, and you also had some time with Perkz as well on G2 Esports. What is it like to work with them again?
Oh, it's very nice. We know each other, both as people and as players. So we have natural chemistry already. It didn't take long for me to understand how Perkz is thinking about the game and how I'll be thinking about a game. Mithy is still a macro guy and Perkz is still a guy that wants to fight all the time and make plays all the time so they didn't change much. I think that we agree on most things. So it's easy to, I guess, get along, both as players and as people outside the game. So I pushed for this change in the offseason. I'm very happy that it happened.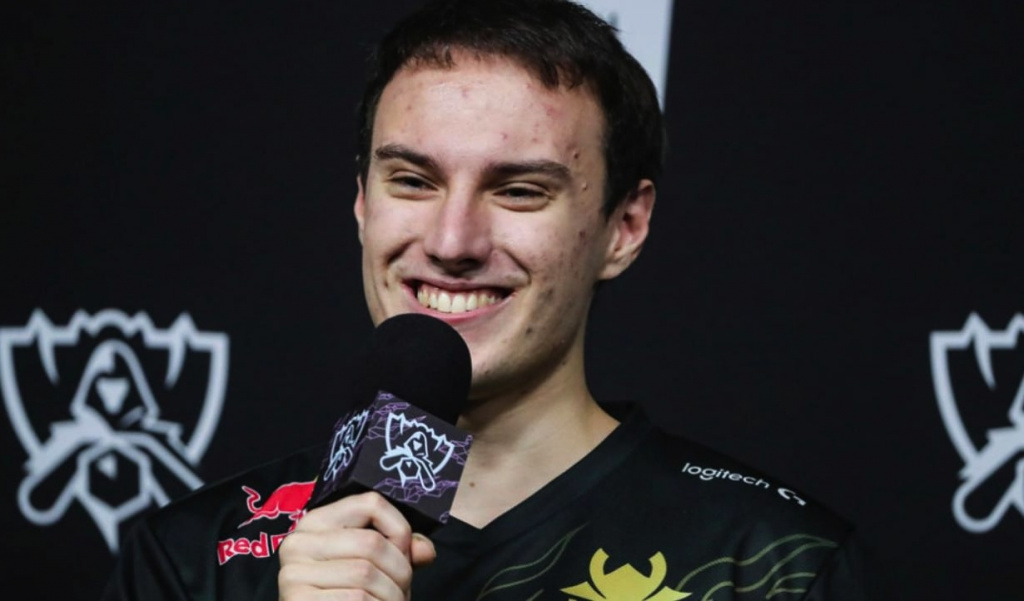 Perkz, seen here in his G2 jersey, now plays for Cloud9 (Picture: Riot) 
Last year Cloud9 had set a lot of expectations early on with the impressive Spring Split run, but things weren't as good in Summer. Do you, or the team in general, have any set expectations now to make sure those mistakes aren't repeated as we head into Summer 2021?
I think this year our coach staff is way too good to allow for complacency, and I think that everyone that was on the team learned a lesson that you should never think that you're too good for everyone else. I think this year there won't be any issues like that. I think anything other than winning LCS would be a disappointment for this team.
Do you guys think that you'll be the winners of Mid-Season Invitational (MSI) and get to represent and actually be able to go to an MSI event versus last year?
Yeah, I think last year it really sucked for Cloud9, for our development that we didn't go to MSI because I think MSI would have given us a wake up call that we needed. It would've been much better in Summer, even if we went to MSI last year and we lost, to make us be much better in Summer Split. So I hope this year that, if we win, then we go to MSI and we can do well there. 
I think that we have what it takes to be a top two team, but we need some time to get there. It's been a while since I played at MSI and I want to go back there.
That's fair. I want to see you guys go to MSI, especially because you didn't get to go last year due to COVID-19. Let's get into the picks in the games. Talk to me about this Ezreal pick into the Senna.
I mean, Ezreal has always been a counter pick to Senna. You don't necessarily win lane with Ezreal versus Senna, but you can farm very freely. Senna has almost always played with a melee champ nowadays like Sett or Tahm Kench or Gragas type champs that aren't as strong in lane. They might not push in lane, but you can still farm easily and if you can farm easily, that's a win. 
You also outrange Senna in team fights or skirmishes. You can generally gain ground in dragon standoffs against Senna as Ezreal, so you have advantage all over. It's a natural counter pick. The biggest thing is that you can fight for free and get your two item power spike and then you're just really strong. That's basically just it. 
Then in the mid game, Tahm Kench and Senna can't do anything to Ezreal. You can stand in mid alone and push them in 1v2 and you have priority everywhere. You can go teleport and you can just do what they do, but better. And you can do it alone as well.
But then you picked Senna and Tahm Kench in Game 2 into Jinx and Thresh. So why, what was the change there?
Well, the difference is that against Thresh, Senna and TK actually does well in lane versus that. Whereas against Karma and Ezreal you just push. Also in that game, we have more ball comp where Senna was really good. We had Senna, Olaf and Orianna. I gave Olaf and Sion some backup on a dive, and when they go forward, Jinx can't really kill Sion. They have a ball comp with the Jinx and the control mage, but we have a better ball comp than they do. We have strong tanks and we also have more damage than they do. 
Senna and TK actually win lane against Jinx and Thresh, or at least goes even or pushes a little more. In the games I played, Senna scales well, because I can hit everyone on their team, but in the games they played, Senna has a hard time doing damage in most of the fights. So I think their pick of Senna was too early in draft, whereas ours was pick four or five in the second phase, which is much easier to judge what's good. 
Also at that point they had banned a couple of champions already. So the Senna and TK picks might not have been the best or our first priority, but it was what was available. I think that Senna in ball comps, like tank top, Olaf jungle, Orianna is really strong.
There was a lot of back and forth in these games, especially in Game 1 with a few fights that came down to the wire. How do you typically stay calm during those tense situations?
I think it was kind of free. We had bad mistakes. I got caught once in the jungle and Fudge got caught one time and Phil [Vulcan] had a bad engage mid one time on Leona, but overall I think that's just the Game 1 thing that happens to us often where we often lose Game 1's, even long term we've lost Game 1, in our best of fives against TSM, 100 Thieves and Team Liquid. 
I think just, we don't tend to scale in the series, but I wasn't worried about that. In fact, I knew that our comp was good and that we kind of do outscale in Game 1. So even if we make mistakes now, it's still fine. I think losing the third dragon when Fudge died was pretty bad. But besides that, and my death in the jungle, I think the game was decent. I was never really worried that we would lose.
Does it worry you to lose a Game 1 in a best of five? Do you worry that it'll maybe stunt the momentum or anything like that?
No, not at all. When we lost to TSM in Game 1, we came back and won the series. We lost the first game to 100 Thieves, and Game 2 actually, we had a reverse sweep, I have no fear that losing Game 1 matters, even against Team Liquid. I think we have a good team, good team mental, and we also have good team adaptation in drafts. So I feel confident that no matter what happens in Game 1 or 2, we always come back.
Speaking of Team Liquid, you are going to face them next. So what are your thoughts on them as a team and as your competition?
Team Liquid is very standard recently. They've been playing more towards Alphari because the bot lane has been playing worse. In Lock In their bottom lane was playing really well, but I think now they're playing less well, I suppose you could say. 
I think Tactical has had a lot of those moments, I've also had some of those moments today in Game 1, I guess, but he's been having a lot of them. I think that overall, they rely more on Alphari and top side now. So I think that they're very standard and very predictable. But I think they're also the best team besides us. I think that even if we beat them this time, they will probably be back in the finals through the lower bracket. 
We've been scrimming Team Liquid the whole year. They've been our main scrim partner the whole year. I think we both knew already that we would play them in finals. So I'm looking forward to it.
The LCS Mid-Season Showdown continues on Saturday 27th March.