It's been almost a year since Joshua "Jatt" Leesman became head coach for Team Liquid, and so far, things have been going pretty well. 
They began the year picking up Lucas "Santorin" Tao Kilmer Larsen from FlyQuest and Barney "Alphari" Morris from the LEC, and though visa issues delayed Santorin's return to LA, the team won the first ever LCS Lock In tournament in a nail-biting 3-2 series against Cloud9. 
The short spring split hasn't been as kind, but Team Liquid have been fighting their way up the ladder and still look strong before the Mid-Season Showdown, which will determine which team will represent NA at MSI in Iceland this year.
During Week 5 of the LCS Spring Split 2021, Jatt speaks about trying to reach MSI and their loss against Counter Logic Gaming.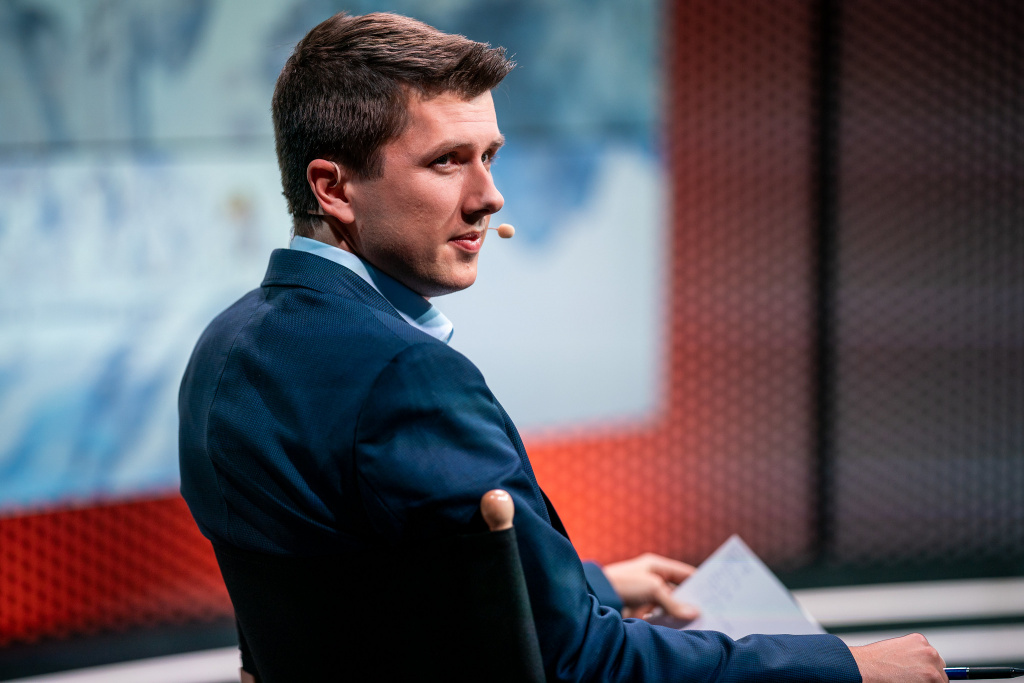 Jatt has been Team Liquid's head coach since last year (Picture: Riot Games) 
This was a weird loss against CLG because you guys were pretty strong in the beginning. Based on your initial reactions, what do you think went wrong?
I think, maybe this is a lame answer, but we played poorly and they played well. I think there's always a danger of… it's like a sports trope, right? The trap game or the letdown game, and we had a big high with our win against Cloud9 yesterday. We definitely, I think, let our guard down a little bit and we just didn't play sharp. 
We were slow in a lot of our communications around if we should or should not fight, and that ended up giving CLG a lot of kills in the mid game, and then they played well to punish and close it out.
Team Liquid is now 9-6 with just one week left in the split. What do you think the strengths and weaknesses have been within the team? Do you think any weaknesses are quick fixes that will just take some time to correct, or do you think there's something underneath?
I don't think anything is a quick fix, but I also think that we have been a fairly strong early game team for sure. I think there have just been some issues with our cohesion around how we play out the mid and late game. That is kind of natural when you look at the stats of it all, but I also do think that there is a lot of game-to-game variance in the regular season. 
So I don't think people should read too much into the records and I think, notwithstanding the CLG game, I think we can still be a very strong team in the future.
@ him pic.twitter.com/xb6VhWDXmn

— Team Liquid LoL (@TeamLiquidLoL) March 8, 2021
How has this split been treating you in regards to the increased games in a smaller overall split?
I think overall I really liked the move of an expanded regular season. So when I look at the Summer Playoff format and I see that that's going to be playoffs qualification based off of 45 games, when you combine Spring and Summer, I think that's really good because I think the large sample size is a strong indicator of team strength or weakness. 
The thing that I don't like about it is the compression that ends up happening in Spring, where you're really trying to have these MVP and big strength or weakness conversations based off of four or five weeks of play, which I think is just… I mean, maybe it's very exciting for the viewers, but [it's], I don't know, somewhat inconsistent on the team side. So I think it is actually pretty hard to deal with the compression of the Spring Split and that's pretty much it.
If you took off your coach hat and put back on your analyst or caster hat, would you feel the same way, but for a different reason or just feel exactly the same across the board?
I think that's hard to say, especially right now after a loss to CLG, but I would actually think I'd be running into the same quandaries as an analyst of trying to figure out [how good] teams really are because a bad meta read or a bad week of practice has a larger impact in the standing, since you're playing three games against three unique opponents each week. 
It will slightly increase the amount of variance when compared to the previous nine week, 18 game schedule; both are really not that many games to be honest and still have the best-of-ones to create volatility and variance, which adds excitement. But you're just turning that up a little bit when you do 18 games across three weeks, which, like I said, it can be exciting, but it's just hard to deal with as a team.
Even though technically this Spring Split is only six weeks, you guys have been playing longer with the Lock In tournament added on too. Do you think that the tournament had a different vibe since half of the games turned into best-of-five, or do you see it as an attachment to the Spring Split?
I really liked the Lock In tournament while it was happening, and then once the Spring split started, it seemed that people just kind of forgot that it existed. So I liked it. I liked the vibe of being able to play best-of-fives and being able to flex some versatility, and if you're actually inclusive of the Lock In tournament and the Spring Split, I think we'd have the best, or one game different, win percentage of any other team in the league. 
So in that way I think that's the sample size that I'm talking about for the ability to tell team strength, but I'm kind of getting away from your original question. The Lock In tournament, I think in some way, maybe could be an extension of the Spring Split, it just doesn't count in the standings. But for me, it's just been one continuous path to improvement with the team that started back in January and included Lock In tournament.
Are you beginning to look ahead to the Mid-Season Showdown and the teams you may have to face? Or are you focusing on a game-by-game basis?
I think it's definitely right now smart to look towards playoffs because we're not in sixth, we're jockeying for seeding. We want to be top four so that we get the double elimination side of the bracket. A lot of the teams we play next week are going to be likely playoff opponents and it's going to be on the same patch as playoffs. 
This was our last game on patch 11.4; everything from here on out, we'll be on patch 11.5. So yeah, it's a little bit of both. It's because of the position we are in the standings, we need to focus on game by game, but absolutely we're thinking about long-term and have been all split.
How do you prepare for that? Are you looking at the other teams and seeing from past games, how you did specifically towards them, or are you looking at other teams and seeing how they did as a whole in the split?
I think every team is going to be a little bit unique when you approach scouting and you're going to pull from a bunch of different information. You're going to pull from what they've done on stage. You're going to pull from what you've done against them in practice. You're going to pull from what has worked and hasn't worked for you and kind of custom tailor your plan to each individual team.
The first time we spoke was last year, you had just begun coaching Team Liquid, and you said that you felt being a coach played to your strengths. What are your feelings now on how comfortable you feel as a coach compared to then?
I still agree with what I said back then. I am a little bit more comfortable now than I was then, but it's still an incredibly complex role that will have huge jumps in difficulty, just depending on what happens. So you always have to be aware, nimble and ready to take on the next situation.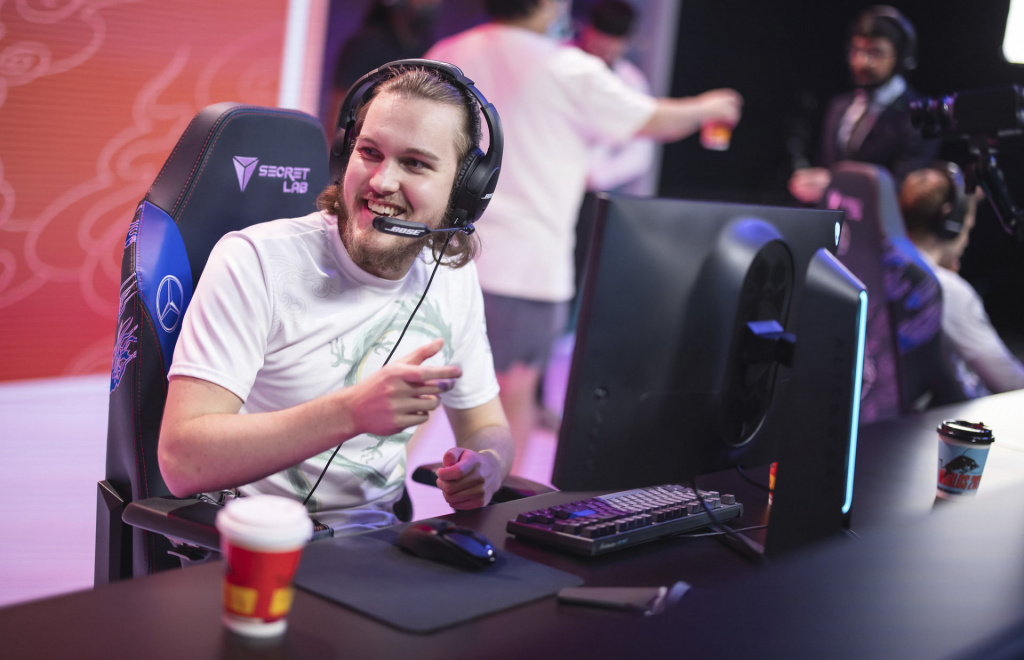 Santorin now plays for Team Liquid (Picture: Riot Games) 
What do you mean that it will have huge jumps in difficulty depending on what happens? Do you mean if you make it to Worlds or things like that?
I just mean that it's just an incredibly dynamic job in the sense that we had these issues at the start of the year; we're practicing with substitutes and integrating Santorin and Barney from being like secondary coaches to being on stage, to having a strategic coach in Kold, who also had visa issues and only got here a couple of weeks ago. Then just comparing different meta reads or whether or not you win or lose, or the types of mistakes you make on stage. 
There's just so many things that kind of get thrown at you and you just have to be ready to adapt. It's not all about just saying, "Oh yeah, Hecarim's OP, guys. That's it." There's a lot of other skills that are involved in coaching.
Speaking of Santorin and Alphari, how do you feel their additions to the team have been so far, and what was it about their gameplay or their attitudes that made you want to snag them for your roster?
I think you can just look at their history as players and you can see how much skill they have and how flexible they're going to be able to be. We just wanted that to be a part of Team Liquid. 
So far, I do think it has been going actually really well. The 9-6 record looks worse than a lot of people expected. It is worse than what we expected as well, but I still think that we're identifying the right things and continuing to improve, and I still think we have a really good chance of winning the Mid-Season Showdown and being the MSI representatives for NA.
Now that you have Kold here, do you feel that things are really going to start to take hold now everyone's in NA?
Yeah, it definitely helps to have everyone in the same time zone and I think that's been an improvement, so it'll just be about jelling more from here on out.
You can catch Week 6 of the LCS Spring Split from Friday 5th March.