The second week of the League Of Legends European Championship saw some of the top teams begin to pull away from the crowd – with one obvious frontrunner leading the charge.  
If you need a guide to the best plays and picks, here's what you need to know following the second week of the LEC. 
The Picks
With Sett's introduction to the LEC, there was a focus on top-lane matchups in this week's games – with the Boss of the rift seeing a 90% pick/ban presence in his first week of availability on stage.  
With a 50% win rate as of the end of Week 2, it's likely that we'll be seeing a lot more of the top lane muscle man as the weeks go on – something which cannot be said for perennial mid lane favourite Akali, who is currently sitting at a 100% ban rate in the LEC, something that can be said for no other champion in the game.  
Coming in at a close second is Pantheon with 13 bans over 2 weeks of play- and seeing the outplay that Excel's Son "Mickey" Young-Min managed to pull off in a Level 3 tower dive against MAD Lions this week, it's not hard to see why.
The Plays
One of the most memorable plays of this week goes to Misfits' jungler Iván "Razork" Martín Díaz on Lee Sin – however, safe to say it was not a clip that will be added to his highlight reel any time soon. 
Despite Misfits eventually securing the win in their game against Excel after a stellar performance from mid laner Fabian "Febiven" Diepstraten on a 7/1/7 Leblanc, it was not as easy a victory as the score lines would suggest – with Excel managing to secure Baron Nashor from under Misfits' noses after a failed flash by their jungler.  
On a slightly more positive note, this weekend treated LEC viewers to an ADC masterclass by none other than veteran AD Carry Martin "Rekkles" Larsson – with a total KDA of 14/0/14 on Miss Fortune and Senna.  
In both of his team's victories he has been a standout player, but the play of the weekend has to go to mid laner Tim "Nemesis" Lipovšek for his superb performance on a slightly unconventional Ornn pick into SK Gaming.  
He managed to successfully turn what looked like a losing teamfight for Fnatic, and pick up a quadra kill for Rekkles, and Baron Nashor for his team.
The Standings 
There is a clear hierarchy beginning to form in the LEC – with an unsurprisingly undefeated G2 standing king over the pack.  
Coming in at second place with one loss each are Rogue, Fnatic and Origen – with the latter looking arguably the strongest of the three, their only loss coming at the hands of G2.  
Perhaps the two most surprising developments in the standings come from Excel and Schalke 04; the former sitting at a comfortable 2-2 in the standings after a lackluster performance throughout 2019, and the latter falling to the bottom of the table, yet to pick up a single win.  
With all still to play for, and with the Spring playoffs still a distant prize, there is ample time for the standings to diversify in the coming weeks.  
The question now stands – is there anyone that can take down G2? With four (mostly) convincing victories under their belts, the team seem to be going from strength to strength in the first few weeks of competition.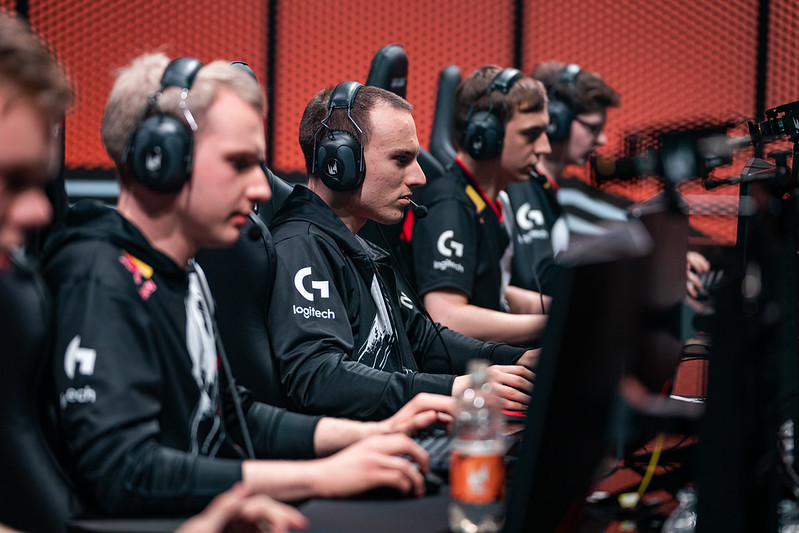 G2 look unstoppable (Picture: Michal Konkol/Riot Games) 
With yet another controversial role swap between Rasmus "Caps" Winther and Luka "Perkz" Perković, it seems there is nothing this team cannot do.  
With the LEC's premier matchup of Fnatic vs G2 coming this weekend, and with Fnatic looking to be on stellar form despite their first loss against Origen, fans across the globe await with bated breath. Will the kings of the LEC be dethroned? Or will Fnatic simply become another notch in G2's belt?