Legends of Runeterra, Riot Games' first foray into the world of card games, will receive massive updates entering 2021 as the developers have presented a detailed look at the roadmap for the year. The update includes an all-new co-op mode, Legends Labs, and at least four expansions until July.
Let's have a detailed look at everything that will be coming to Legends of Runeterra in 2021!
Legends of Runeterra 2021 roadmap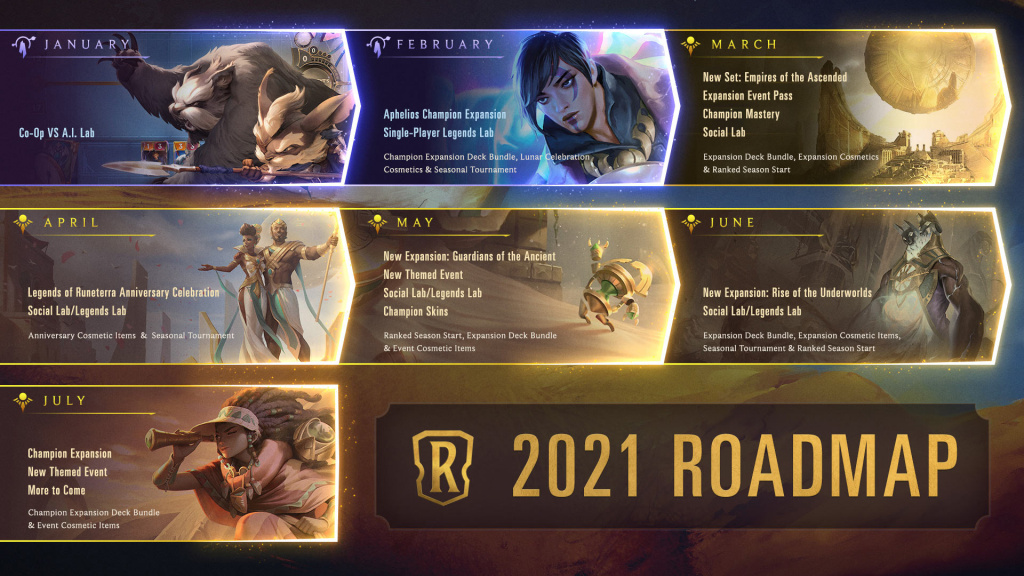 (Photo: Riot Games)
Back in June of last year, Riot had given us a glimpse into what the long-term future of Runeterra would look like, and now we have a concrete set of content to look forward to during the first seven months of 2021.
Legends of Runeterra will get the last Call of the Mountain expansion coming February, a brand-new set titled Empires of the Ascended coming in March, and three subsequent expansions in the following months.
The plan also includes a celebratory anniversary event that's yet to be unveiled.
Legends Labs and United Front co-op Lab
Using the experimental Labs mode, where the devs get to have fun breaking the rules established in the base game, we can expect two new types of Labs moving forward.
Legends Labs
Legends Labs are special single or multiplayer game modes in which you can upgrade a single card in multiple ways -- give them more attack points, new keywords, and effects, up to you.
United Front co-op mode
Perhaps more exciting is that, for the first-time in LoR, we'll be able to play in a co-op mode titled United Front. Starting this 13th January, this cooperative mode pits two players against an AI, led by Noxians Darius, Draven, or Swain.
Players will alternate turns during the match, with one designated as the attacker, meaning this player will be able to play cards when the attack token is on your side, meanwhile the other will be the defender.
On top of this, there will be special co-op cards to mix and match, as well as a few surprises Riot teased but didn't want to spoil.
Legends of Runeterra is available free to play on PC, Android, and iOS.