Everything was running quite smoothly while announcing the official ratings for Madden 22, yet there's always a stone in the road.
EA always justifies its rating decision on the lastest performances, meaning that if an elite player had a down year it will be reflected in their overall.
This "rule" apparently only applies whenever they want as they just blatantly avoided acknowledging the fifth-best performance by a running back in NFL history.
Top Ten running backs in Madden 22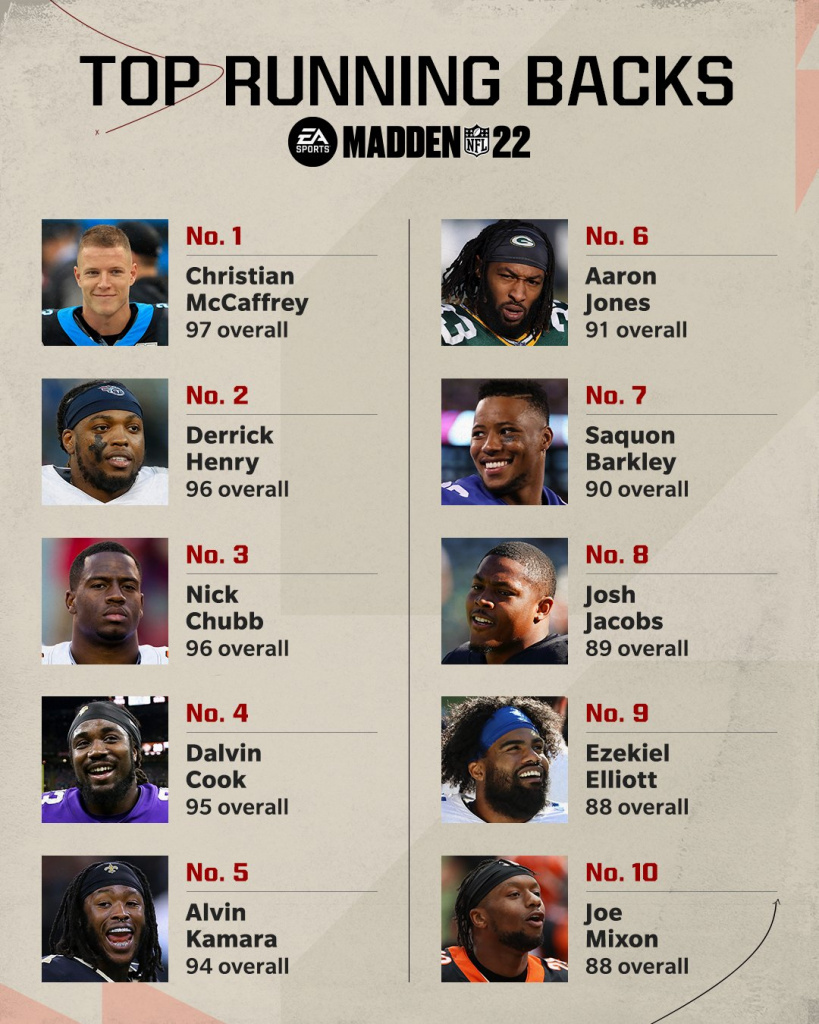 The official Madden Twitter account teased last night that another offensive player would get officialized as a member of the Madden 22 99 Club, and after a seasonal display for the ages, we assumed that "King Henry" could be in that conversation.
However, a combination of the Kansas City Chiefs Tight End, Travis Kelce, being announced as the newest inductee to the club, and the release of the top ten running backs in the game, ended any of those Derrick Henry rumours
The Tennessee Titans running back was so underappreciated that he is not even considered the best RB in the game, as the official list goes as follows:
97 OVR Christian McCaffrey - Carolina Panthers
96 OVR Derrick Henry - Tennessee Titans
96 OVR Nick Chubb - Cleveland Browns
95 OVR Dalvin Cook - Minnesota Vikings
94 OVR Alvin Kamara - New Orleans Saints
91 OVR Aaron Jones - Green Bay Packers
90 OVR Saquon Barkley - New York Giants
89 OVR Josh Jacobs - Las Vegas Raiders
88 OVR Ezequiel Elliot - Dallas Cowboys
88 OVR Joe Mixon - Cincinnati Bengals
We find it very hard to condone being naive towards the accomplishments that Derrick Henry had last year, especially considering that similar feats are what put McCaffrey in the Madden 99 Club in the first place.
As the official rating keep coming out we will bring you everything you need to know about them.
Be on the lookout as we will bring you everything you need to know about every Madden release, news, MUT tips and more.