Madden players often find it to be a bumpy road to start once again to build an elite army of players for the Ultimate Team game mode, and
Madden 22
is no different.
Although, it does have a crisp feel to have the opportunity to walk that road once again and recruiting players, changing playstyles and then some.
One amazing way to start off this adventure will be to assemble a very respectable squad with the correct choice of players on the auction house.
Best offensive players to buy and stay on budget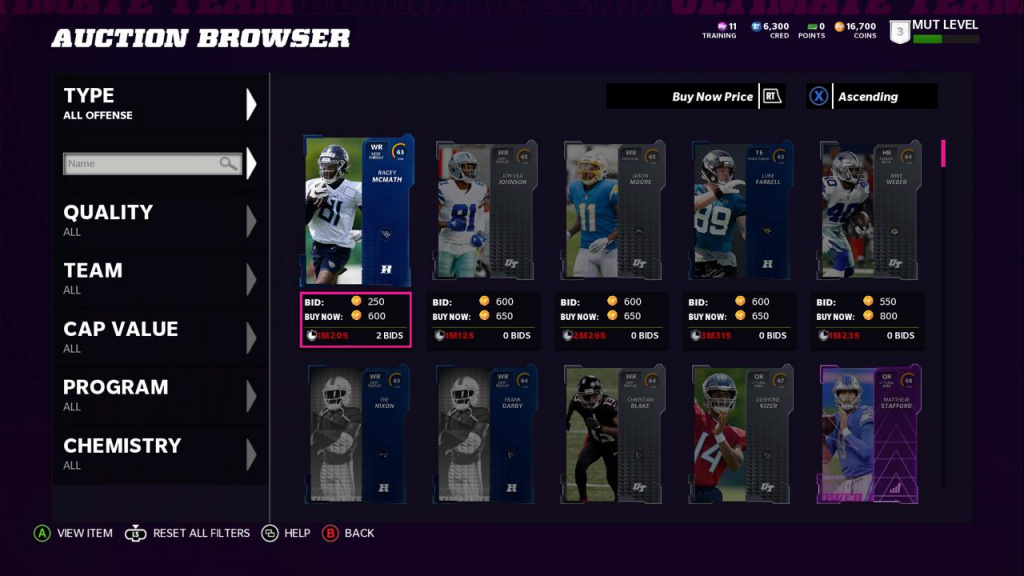 You are going to start this game mode with a very limited budget, which will force you to be a very calculating coach in order to find the right pieces at the right price.
For the offence, we identify some playmakers that could definitely help you ease into the Ultimate Team challenges:
78 OVR QB Justin Herbert - Los Angeles Chargers - 2,700 to 3,200 MUT coins
74 OVR QB Justin Fields - Chicago Bears - 2,800 to 3,300 MUT coins
74 OVR HB Nyhiem Hines - Indianapolis Colts - 3,800 to 4,300 MUT coins
76 OVR HB Tony Pollard - Dallas Cowboys - 5,700 to 6,200 MUT coins
67 OVR WR Anthony Schwartz - Cleveland Brwon - 1,750 to 2,150 MUT coins
76 OVR WR Jaylen Waddle - Miami Dolphins - 9,250 to 9,650 MUT coins
78 OVR TE Kyle Pitts - Atlanta Falcons - 12,000 to 14,000 MUT coins
77 OVR TE Noah Fant - Denver Broncos - 8,100 to 8,600 MUT coins
Make sure to look for other good deals comparing overalls with prices and you can definitely build a Lombardi-worthy team.
In the meantime, make sure to give a look at our dedicated Madden 22 section as we will bring you everything you need to know about the game, from news to guides, MUT tips and more.