One of the most highly requested features for Madden 22 has been confirmed and is also getting some new additions. The Yard debuted in Madden 21 and was instantly a fan-favourite mode. The unique backyard-style 6v6 gameplay was a breath of fresh air from the usual stadium and arena play. While EA Sports is returning the mode to the newest title, the developers have also announced a few new features to go along with it. 
In one of the instalments of Gridiron Notes, Madden's staple blog, the developers revealed the new features along with a plethora of other news. While they didn't go into too much detail, fans can get excited about a couple of confirmed features coming to The Yard with Madden 22. 
The Yard gets new features in Madden 22
The highlight of the new The Yard features in Madden 22 is the inclusion of a solo-based campaign. This is a fresh experience for those looking to spice up their gameplay even more beyond quick play and franchise and career mode.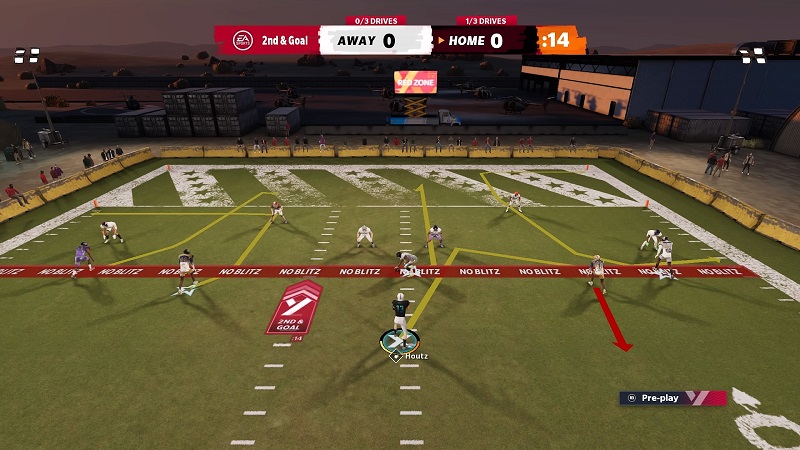 The solo campaign will bring players to new fields located on "gorgeous beaches and beautiful mountain landscapes across the world." It seems The Yard is being taken for a ride outside of the traditional backyard-style fields we saw in Madden 21. 
Included with the campaign and new locales, players will be able to battle bosses that have "unmatched NFL talents" and unlock rewards along the way. The bosses will likely be characters that have all of their stats maxed out and beyond, giving you a real challenge. 
Aside from the solo experience, you can also do battle with your friends or a random opponent in the new ranked mode of The Yard. There will be rewards able to be earned for winning matches and likely some kind of ladder system so players can prove they're the best Yard competitors out there. 
All of this is launching with Madden 22 on 20th August 2021.
Don't forget to check out our dedicated Madden 22 section, filled with guides, news and much more.