History in the NFL has been made of those players who have left a mark in the game, not necessarily those who have accumulated hardware over the years although we do have very few examples that have done both.
You can even create a bigger footprint by starting with your own franchise as part of the football unwritten code admires sportsmanship, leadership and loyalty within each team.
Madden 22 takes that and converts it into the newest program that arrives at Madden Ultimate Team with the debut of the Team Diamonds series.
Dan Marino will be the crown jewel of the Team Diamonds program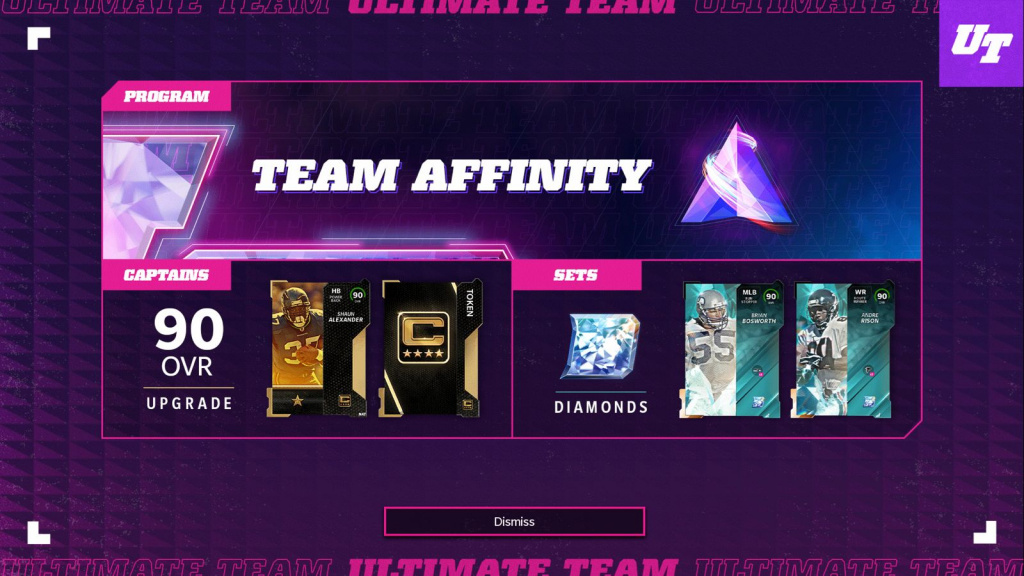 Different to other series in this game mode, the Team Diamonds will mainly be acquired through the exchange sets under the Team Affinity menu.
Each NFL franchise will have its own Team Diamond edition player plus if you were to complete all of the teams you can trade in each team's collectable toke for this year's Team Diamonds Champion: QB Dan Marino.
Here you have the full list of Team Diamonds players available:
90 OVR DT Tommie Harris - Chicago Bears
90 OVR WR T.J. Houshmandzadeh - Cincinnati Bengals
90 OVR HB Thurman Thomas - Buffalo Bills
90 OVR LT Gary Zimmerman - Denver Broncos
90 OVR WR Josh Cribbs - Cleveland Browns
90 OVR CB Aqib Talib - Tampa Bay Buccaneers
90 OVR FS Larry Wilson - Arizona Cardinals
90 OVR WR Charlie Joiner - Los Angeles Chargers
90 OVR MLB Derrick Johnson - Kansas City Chiefs
90 OVR MLB Gary Brackett - Indianapolis Colts
90 OVR TE Billy Joe Dupree - Dallas Cowboys
90 OVR HB Ricky Williams - Miami Dolphins
90 OVR HB Duce Staley - Philadelphia Eagles
90 OVR WR Andre Rison - Atlanta Falcons
90 OVR LOLB Charles Haley - San Francisco 49ers
90 OVR QB Phil Simms - New York Giants
90 OVR LE Tony Brackens - Jacksonville Jaguars
90 OVR CB Aaron Glenn - New York Jets
90 OVR LT Lomas Brown - Detroit Lions
90 OVR HB Ahman Green - Green Bay Packers
90 OVR RE Mike Rucker - Carolina Panthers
90 OVR HB Kevin Faulk - New England Patriots
90 OVR SS Jack Tatum - Las Vegas Raiders
90 OVR LE Chris Long - Los Angeles Rams
90 OVR DT Haloti Ngata Baltimore Ravens
90 OVR WR Marques Colston - New Orleans Saints
90 OVR MLB Brian Bosworth - Seattle Seahawks
90 OVR LG Alan Faneca - Pittsburgh Steelers
90 OVR SS Bernard Pollard - Houston Texans
90 OVR TE Frank Wycheck - Tennessee Titans
90 OVR WR Ahmad Rashad - Minnesota Vikings
90 OVR ROLB Brian Orakpo - Washington Football Team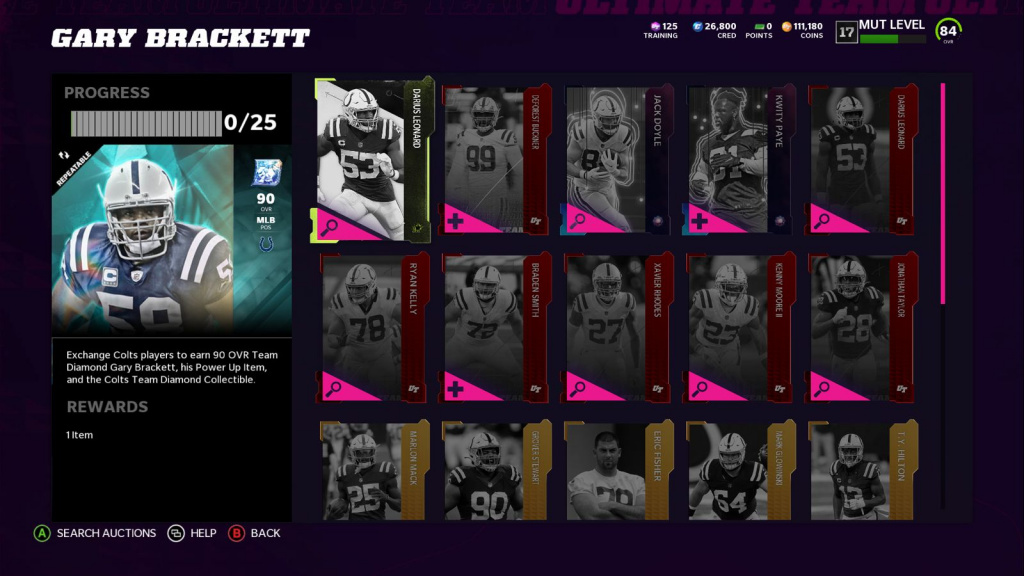 To obtain any of those players you will have to trade in 25 items of the selected franchise and you will receive that franchise's Team Diamond player, its corresponding Power Up player item and a Team Diamond collectable from that franchise.
After you collect all 32 franchises you could redeem your 95 OVR QB Dan Marino with the Miami Dolphins chemistry.
You probably will be able to find those items at the auction house but we assure you that they will go for a fortune although if MT coins aren't a problem for you that could be an alternative.
Make sure to give a look at our dedicated section as we will bring you everything you need to know about every Madden release, news, MUT tips and more.
Featured image courtesy of  EA Sports