We have already crossed half of the early access time available for the Madden community and we are just hours away from the worldwide release of this year's edition of the franchise.
Once we get to that point the early birds will definitely have an advantage over the rest and we are willing to help you in order to close that gap as effective and quick as possible.
So without further ado, we start this guide series where we create the best possible Madden Ultimate Team lineup under a certain coin budget - first up, 25,000 MUT coins, so an entry-level team but just because its cheap doesn't mean it can play ball, and we are here to show you how.
Build the best team possible for under 25,000 MUT coins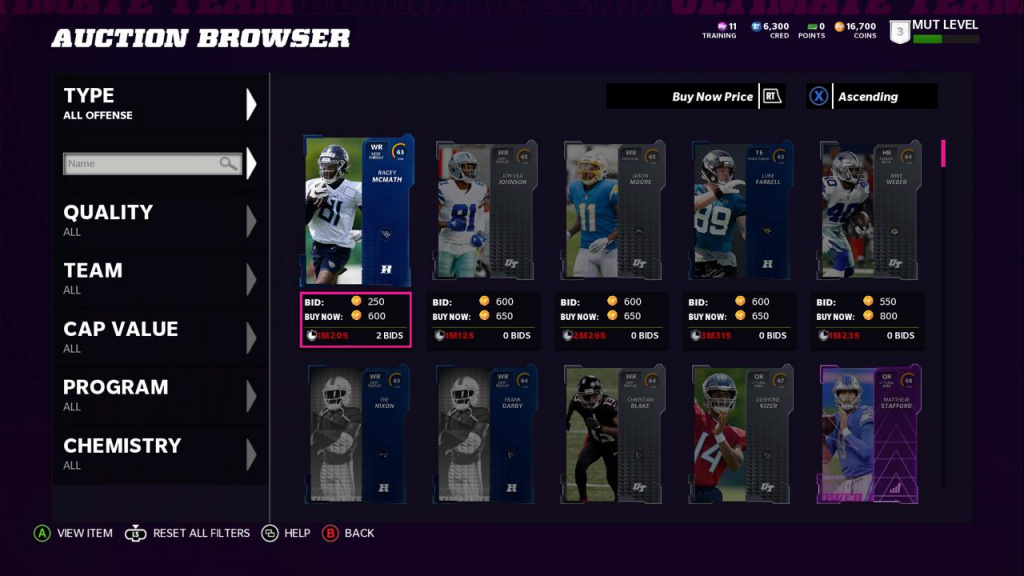 Before we start uncovering our roster we should definitely lay some ground rules of what are we analyzing in order for you to understand the logic behind our selections.
Every item we will be listing can be found at the auction house so that way we create an equal playing field regardless of when you were able to play the game for the first time.
Also, the prices listed can vary a little bit depending on the hardware you use to play the game, we are using the Xbox database for every exercise, so you may see a different price on PlayStation or PC.
Offence
QB PUP 76 OVR Patrick Mahomes - 1,100 MUT coins 
We are going to take advantage of the high flow of this card to get it at a very reasonable price considering it is a PUP item. The balance between throwing talent and scrambling ability is unmatchable at this rate.
HB Gold 73 OVR Kalen Ballage - 1,150 MUT coins
The current Steelers' running back bring a fantastic mix of speed at the position with the attributes of SPD and ACC at 84 while maintaining a decent strength to run between the tackles.
LT Silver 69 OVR Josh Jones - 700 MUT coins
LG Silver 69 OVR Michael Dunn - 700 MUT coins
C Gold  73 OVR Dan Feeney - 1,050 MUT coins
RG Gold 71 OVR Germain Ifedi - 1,000 MUT coins
RT Gold 73 OVR Jawaan Taylor - 1,050 MUT coins
For the offensive line, we prioritized the pass protection attribute for both tackles while we look for a better run block rating for the inside linemen. This will provide a balanced group that can execute most of the playbooks.
TE Gold 73 OVR Mo Alie-Cox - 1,100 MUT coins
One of my favourite steals of this first exercise as the 6'5" tight end provides a prototypical frame with 75+ SPD and ACC at a great price. He also carries a 74 catch attribute that makes him unfair in the early stages of the game mode.
WR1 Gold 78 OVR Mike Williams - 2,400 MUT coins
WR2 Gold 73 OVR Allen Hurns - 1,100 MUT coins
WR3 Gold 74 OVR Mohamed Sanu Sr. - 1,050 MUT coins
This wide receiver group brings a combination of big frames with quickness. The wideouts have an emphasis on mid and deep routes while the slot receiver (WR3) focuses on the short route attribute.
Defence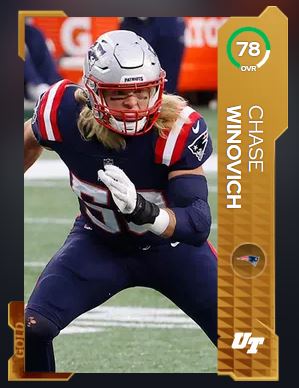 RE Gold 72 OVR Justin Madubuike - 1,100 MUT coins
DT1 Gold 73 OVR Andrew Billings - 1,100 MUT coins
DT2 Silver 69 OVR Renell Wren - 600 MUT coins
LE Gold 78 OVR Chase Winovich - 2,500 MUT coins
The approach we took with this group is to accentuate their run stop abilities with the exception of the left end where we also want elite speed to put the opposing quarterback under pressure.
LOLB Power Up 71 OVR Darius Leonard - 1,050 MUT coins
MLB Power Up 73 OVR Lavonte David - 950 MUT coins
ROLBGold 73 OVR Joe Thomas - 1,050MUT coins
This is probably my favourite group on this roster as we were able to snatch two power-up items at an amazing value. We are infatuated with the corps' awareness and play recognition attributes, without disregarding coverage abilities.
CB1 Gold 74 OVR Charvarius Ward - 1,050 MUT coins
CB2 Gold 74 OVR Amani Oruwariye - 1,150 MUT coins
We were able to obtain an expert on man coverage and an expert on zone coverage giving up adaptability to any defensive playbook.
FS Gold 74 OVR Jeff Heath - 1,050 MUT coins
SS Gold 73 OVR Will Parks - 950 MUT coins
The focus here was to get a speedy ballhawk and a vigorous second level protector with coverage abilities and we got exactly that without spending more than 2,000 MUT coins. Talk about bargains.
LINEUP TOTAL COST - 24,950 MUT coins
This is totally flexible to your squad and playstyle needs but it certainly can be used as a price guide to give proper value to an acquisition or really understand which attributes are valuable to each position.
You definitely would not care about throw power if you are a defensive tackle or short routes if you are a quarterback, so take a deep dive in order to understand what your team needs.
Whether you replicate our suggestions or cross it over with your favourite players, we are certain that you will have a blast building the best possible team in your chase for the Lombardi.
Make sure to give a look at our dedicated section as we will bring you everything you need to know about every Madden release, news, MUT tips and more.