Square Enix's
Marvel's Avengers
is no stranger to controversy and is considered to be the biggest joke of 2020. This followed significant oversight by the game's developers, which resulted in a nearly USD 50 million revenue loss. To put the cherry on top, the game lost nearly its entire online player base, following mounting complaints attributed to the game's poor visuals and character artwork, bugs, and overall bad storyline. 
After nearly a year following the game's debut, it would be sensible to think that such major issues would be resolved by now. Sadly, this is not the case.
New bug exposes players IP address in latest Marvel's Avengers update
In a tweet from Marvel's Avengers Twitter account, it was announced that a recent content update introduced a new bug that exposed the IP address of players, which later prompted Marvel's Avengers to warn PlayStation 5 players not to stream their gameplay online.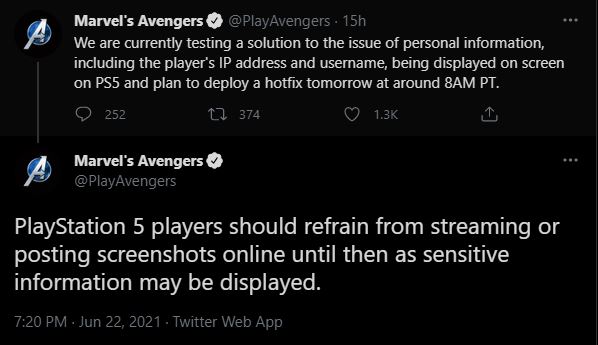 (Picture: Twitter / Marvel's Avengers)
The tweet came as the result of multiple users complaining about the issue after screenshots surfaced across social media. Indeed, this is not the type of news Marvel fans would prefer to read, ahead of the game's next major expansion, "War of Wakanda", which was announced during E3 earlier this year.
We covered this new expansion in a previous article, which will include the addition of Black Panther to its hero line-up. Considering that the Black Panther DLC was delayed due to actor Chadwick Boseman's death, we really hope that Square Enix will resolve these issues, so as to not do the tribute to the late actor any injustice.
In case you missed the launch trailer for the new expansion, you can check it out in the video below.
We can only hope that a fix will be released soon and endeavour to update you in the days to follow.
Don't forget to check out our dedicated Marvel section for more news and updates.
Header image via Marvel / Square Enix.