We're at the halfway point with Marvel Studios' latest limited series, Moon Knight, as major plotlines are slowly coming together while continuing to flesh out the duality life of Marc Spector and Steven Grant. The latter takes a bit of a backseat in the third episode, providing much-needed assistance to Marc and delivering quotable one-liners we'll remember long after the series' conclusion.
This week, we finally travel to Egypt as Marc/Steven and Khonshu navigates their way across Cairo's streets, tracking clues and leads on Arthur Harrow's location. However, things may not have worked out for the trio despite Layla's help and the lack of cooperation from other Egyptian gods.
In this analysis, we'll be exploring a breakdown of Moon Knight Episode 3, The Friendly Type, ending with some final thoughts and a brief review of the series at this point. We'll be breaking down significant plot points, characters and details; we have placed a spoiler alert if you have yet to watch the latest episode on Disney+.
Moon Knight Episode 3 – Breakdown: Three's definitely a crowd
Episode 3 of Marvel Studios' #MoonKnight is now streaming on @DisneyPlus. pic.twitter.com/LdG4ZvLz9r

— Marvel Studios (@MarvelStudios) April 13, 2022
After Arthur Harrow gets his hands on the golden scarab, which we find out that it serves as a compass to Ammit's tomb, Marc Spector got whisked away to Cairo in pursuit of stopping him from releasing Ammit from her resting place.
This week's episode of Moon Knight, titled "The Friendly Type", starts with Layla El-Faouly getting a fake passport and explaining why she's going back to Egypt. The circumstances surrounding it have yet to reveal themselves, but it appears that she isn't welcomed there.
Arthur Harrow and his followers are trekking across the Egyptian desert, locating Ammit's tomb with the guidance of the golden scarab. On the other hand, Marc is chasing down leads in an exhilarating rooftop sequence that has its difficulties with Steven Grant intervening from time to time.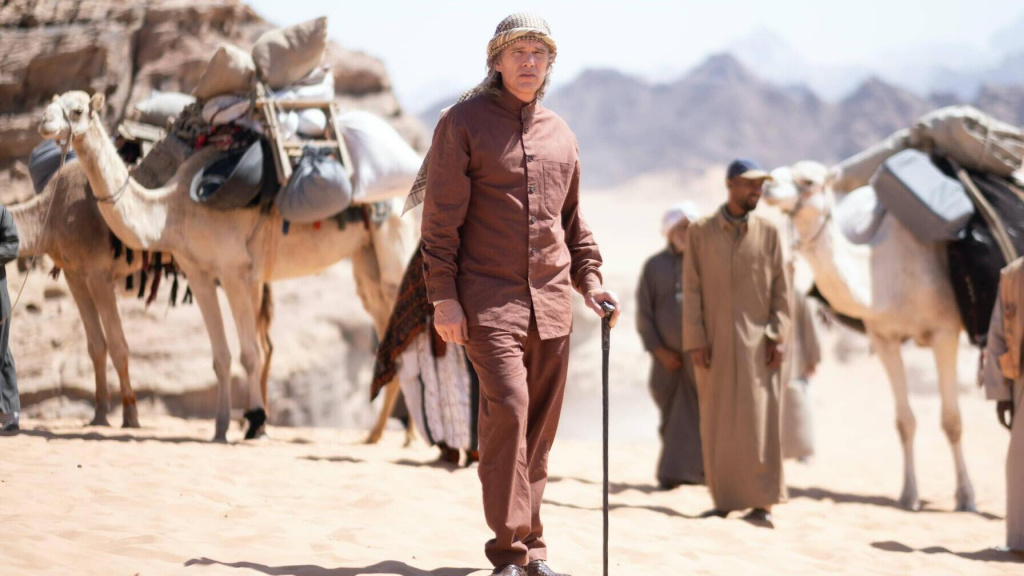 From the rooftops to a taxi before getting knocked out and waking up surrounded by bodies, Marc nor Steven can't take responsibility for the body count. Many have speculated that another identity, Jake Lockley, may be emerging but wasn't officially addressed during the series' promotion.
Just as Marc interrogates a local criminal on the whereabouts of Harrow and his followers, the criminal opts to sacrifice himself to keep Harrow's location a secret. As Marc and Khonshu discuss their options, the Egyptian deity to the skies to send a message to the other gods in the hopes that they'll listen to his pleas.
Khonshu had run-ins with the gods previously, but it's apparent that he's on borrowed time. Through a portal, Marc gets transported to the meeting place for fellow avatars inside the Great Pyramid of Giza. We got to see a moment of Steven fangirling over this; however, Marc didn't seem to share Steven's enthusiasm.
During this meeting, we again learned why the gods preferred not to interfere with the woes of man, much like we saw in Eternals. The gods completely abandoned humanity; Khonshu didn't, as they continued to allow their avatars to progress with their agendas.
In a moment that brought some comic relief while showcasing the amazing talent possessed by its lead, Oscar Isaac, Khonshu uses Marc as a conduit to speak to the gods, thus accusing Harrow of trying to revive Ammit. Harrow gets summoned before turning the tables on Marc/Khonshu, citing that Marc has been mistreated by the god, gaining the upper hand and leaving Marc/Khonshu dejected.
They did receive some help from Hathor's avatar, Yatzil, that they need to find Senfu's sarcophagus. Senfu was the only person that knew of the location of Ammit's tomb as he recorded the eventuality that the gods had changed their minds.
🌌 pic.twitter.com/W6v4mfsrNs

— Marvel Studios (@MarvelStudios) April 13, 2022
Not only did Senfu take Ammit's tomb location to his death, but his sarcophagus was recently sold on the black market. Enter Layla, who decided to help Marc find the sarcophagus but only to stop Harrow as they travel to the home of a fellow antiquities collector, Anton Mogart.
At this point, we find out that Layla has a history with Anton in Madripoor, the exact location MCU fans were first introduced to in The Falcon and the Winter Soldier. It does leave us wondering if she had encountered the Power Broker during her time there and whether she was actively in Madripoor around the events of The Falcon and the Winter Soldier.
After the formalities and the seemingly breaking down of trust between Anton and Layla, Harrow once again finds the opportunity to get into the minds of Anton, Layla and Marc. Not only does he reveal that he knows why Layla moved out of Egypt, but Marc knows the truth behind her father's death.
Flexing some of Ammit's power in a "show and tell" presentation, Khonshu presses Marc to "summon the suit, " igniting an intense fight sequence at Anton's compound. At some point, Steven takes control of the body, bringing Mr Knight to the party until he gets mortally wounded, giving back control to Marc.
While the moment was hilarious, it showed a growing truth between Steven and Marc and the seamless transition between the Moon Knight and Mr Knight personas. After taking the map fragments of Ammit's tomb, the pair head out into the desert, in which Marc gives Steven control to piece the map fragments together, revealing that the constellation is the clues to Ammit's tomb location.
While some help from Khonshu, literally turning back to the exact moment where the constellation last appeared in the skies, the gods reconvened inside the pyramid to encase Khonshu in stone. As Layla gets the exact coordinates, Khonshu is no longer free, and Marc/Steven loses their attachment and power to the god, and yes, the suits are gone too.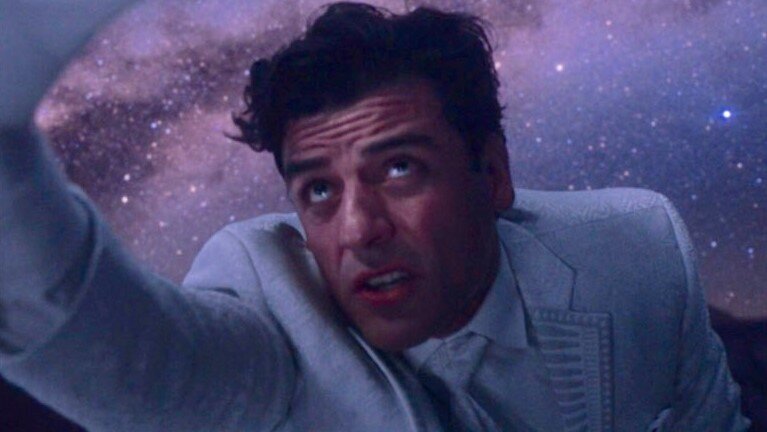 Before the episode concludes, Harrow is seen talking to Osiris' avatar, Selim, who informs Harrow that they had entombed Khonshu in stone following his recent actions. Harrow tells Khonshu that while he'd enjoyed inflicting pain on the god's behalf, he's about to achieve a feat that no other god, including Khonshu, could do.
Moon Knight Episode 3 – Breakdown: Review and Final Thoughts
Episode three is quite the step up from the previous episode as it dedicated most of its screen time to Marc Spector and his relationship with Khonshu. Additionally, the episode took the audience to Egypt, setting up the stage for an epic event rumoured to be happening in next week's episode.
The episode hints at a secret Marc is keeping from his soon-to-be ex-wife, Layla, and if we were to follow subtle teases, this might have something to do with Layla's reputation in Egypt and her father's passing. Many people online have speculated that Marc may have been responsible for her father's death, and possibly the reason he had the golden scarab appears to be plausible.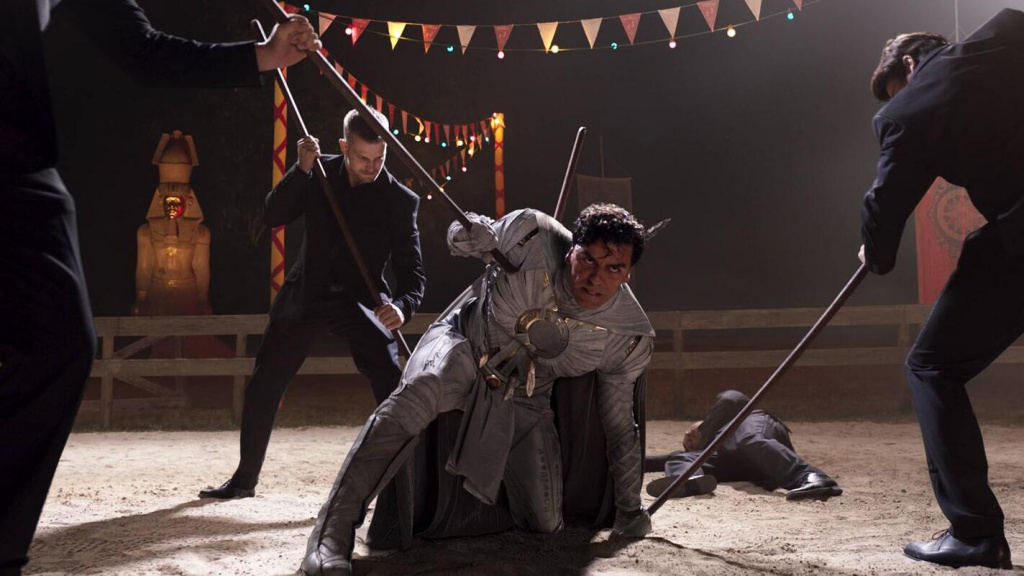 After three viewings, the episode was initially hard to follow, and I did lose interest in the early minutes of the episode. I have yet to determine whether it resulted from the narrative's pacing or editing, but eventually, it picked up momentum after that.
Another issue I had with the episode has become quite the talking point online: the confusing CGI graphics. While the night sky sequence was incredible to watch and visually hypnotic, I can't say the same during the early minutes of the episode, particularly when Marc converses with Khonshu.
It's pretty noticeable, and I'm baffled by it, but I do hope it wasn't intentional; however, it was a disappointing moment in the episode. On the flip side, I can appreciate them for including Mr Knight once again, although rather sparingly this time around, as many weren't warm to Steven being the Mr Knight persona.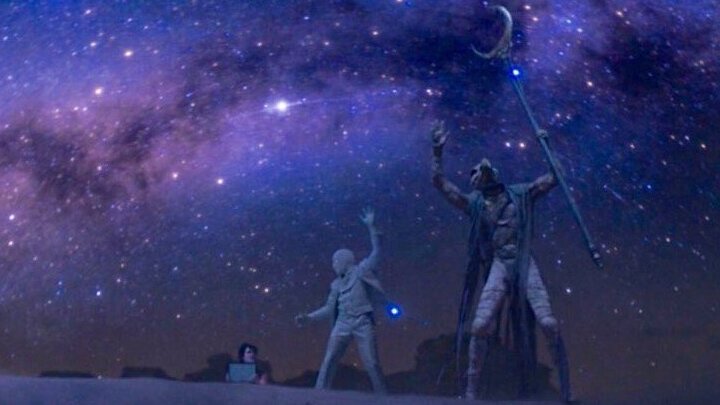 I got quite a good laugh during the fight sequence as it's expected of Steven to be somewhat pacifist. Steven had his moment throughout the episode and Marc leaning to him for help was a sign of acknowledgement that they needed each other more than ever.
Interestingly, the budding relationship between Steven and Layla may throw a wrench in Marc's plans and possibly shift the dynamic between them. It will be worth keeping track of, especially if Jake Lockley is introduced, which could cause some friction between them.
But the main highlight is the superb acting from Oscar Isaac, who masterfully plays all roles to near perfection, as many people noted online. The transitions between Marc and Steven were marvelled at, given how impressive the amazing facial expressions and vocal capabilities were performed with such care.
Oscar Issac is truly an amazing actor, you can see the demeanor change between Marc and Steven. Marc is more brooding while Steven is more flamboyant #moonknightpic.twitter.com/eiTJUjRPsf

— 💭 (@stevenmarcthink) April 13, 2022
There have been calls for an Emmy nomination for his performance in Moon Knight, but I'll reserve my judgement once the final episode arrives. Nevertheless, there is merit for an Emmy nomination, and I welcome that idea, but we'll have to see if the Television Academy agrees.
Moon Knight is streaming on Disney+ with new episodes set for release every Wednesday at 12 am PT / 3 am ET.
Don't forget to check out our dedicated Marvel section for the latest gaming and entertainment news.
Featured image courtesy of Marvel Studios.