Despite Minecraft content creator Dream's speedrun validity coming into question in recent times, the content creator continues to soar in terms of YouTube subscribers. Dream has even branched out into music and has a whole line of merchandise fans can purchase, amongst other achievements. Recently, Dream hit yet another YouTube subscriber milestone, and hit back at fans who are slamming his merchandise.
Dream hits 19 million YouTube subscribers
If you are wondering why #DREAM19MIL was recently trending on Twitter, then wonder no further. 
Dream has hit a whopping 19 million subscribers on YouTube. On 30 December 2020, the Minecraft content creator announced going from 1 million to 15 million subscribers.
Less than three months later, and Dream has managed to hit 19 million subscribers, easily gaining more than 1 million YouTube subscribers per month.

(Picture: Dream via Twitter)
On Twitter, as you can see from the image above, Dream simply stated "love you guys" after speedrunning to this big new milestone. 
Dream defends merchandise
For those who are unaware, Dream has an entire line of merchandise, from hoodies to beanies, hats, socks and more featured on the DreamBranding website.
According to Dream, some people are saying "Dream's merch is just a smiley face it's boring." while others say they could draw the logo in paint.
On Twitter, Dream has come out to defend his merchandise, stating: Could you also have a facility, ship tens of thousands of orders, have a website,  hire and maintain tens of people with good conditions, get all the high-quality printing equipment, customer support, etc etc. Draw it in paint then !!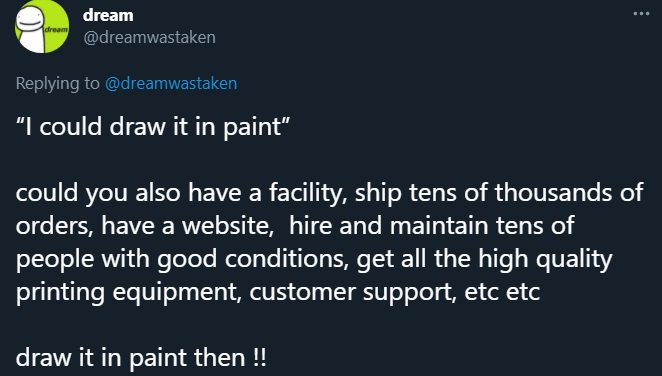 (Picture: Dream via Twitter)
The Minecraft content creator finds this especially funny since the smiley face was actually drawn in paint. Following up in another Tweet, Dream explains: "The smile was literally drawn in paint and that's the point LMFAOOO."
Congratulations go out to Dream for speedrunning to another big YouTube subscriber milestone.