Markus "Notch" Persson is the creator of Minecraft and the founder of Mojang. After his massive .5 billion deal with Microsoft in 2014, where he sold the game and the studio, he is no longer in control. He is, however, notorious for his controversial tweets and has now made a "deal" with Game Maker's Toolkit, deleting his Notch Twitter account.
Notch deletes Twitter account
Recently, Notch got into a disagreement on Twitter with Mark Brown, a gaming journalist better known to fans for his YouTube channel Game Maker's Toolkit. The Game Maker's Toolkit and Notch had a bit of a strange argument if you can even call it one.
Mark Brown, on the Game Maker's Toolkit Twitter account, simply talked about enabling skippable ads on his episodes. He didn't feel as if the diminished user experience from unskippable ads was worth the extra money. Then, he also noted some of the ads promoted US President Donald Trump's campaign for reelection.
This is when Notch jumped in, telling Game Maker's Toolkit to drop the politics. Then, a deal took place, where Game Maker's Toolkit is supposed to drop the politics, while Notch deletes his Twitter account...
The context of this strange, excessive deal can be viewed below.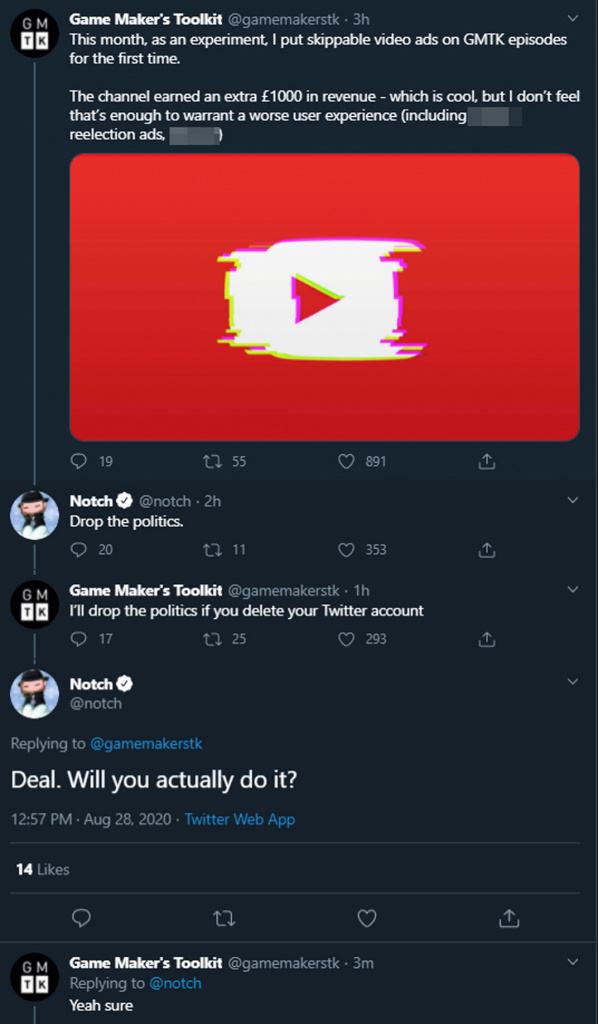 (Picture: Game Maker's Toolkit)
The end result of all of this? Well, Notch actually did delete his Twitter account. 
It is unclear if Notch will return at some point or if there is more to the story than meets the eye. Notch's final Tweet can be viewed below:


(Picture: Game Maker's Toolkit)
Last year, it seemed Microsoft and Mojang distanced themselves from Notch. For example, an update in March 2019 removed mentions of Notch from the game's menu.
Exactly what Notch means by "the old internet" is a bit unclear. Taking a guess, the original creator of Minecraft might mean an internet without politics?