If you've ever seen the 2010 film Inception, where Leonardo DiCaprio goes into a dream within a dream, within a dream, then you might enjoy YouTuber Fundy's creation. Fundy created Minecraft inside Minecraft, allowing him to play the game inside the game, while even inserting his PC into the game.
Minecraft inside Minecraft
YouTuber Fundy recently released a video entitled "So I made Minecraft in Minecraft". The video already has 2.5 million views, and it is simply incredible to watch.
We assume a mind-numbing amount of work had to go into creating Minecraft inside Minecraft, so props to Fundy for creating such a visual, mind-boggling experience.
Fundy even created his own computer in Minecraft, adding yet another layer to the experience. This Inception-like creation runs at 20fps according to Fundy, who even goes so far as to show himself using his PC inside of Minecraft, to play Minecraft...
While Fundy doesn't explain exactly how he managed to achieve this feat, he does explain: "Keep in mind there is a lot going on right now. There is so much, so, so much that is going on behind the scenes.
"It is insane. The amount of things I am running just to make this work, it is insane."
He can even go as far as to watch videos in Minecraft from YouTube, and inserted himself into the game, while playing the game, and streaming himself playing the game.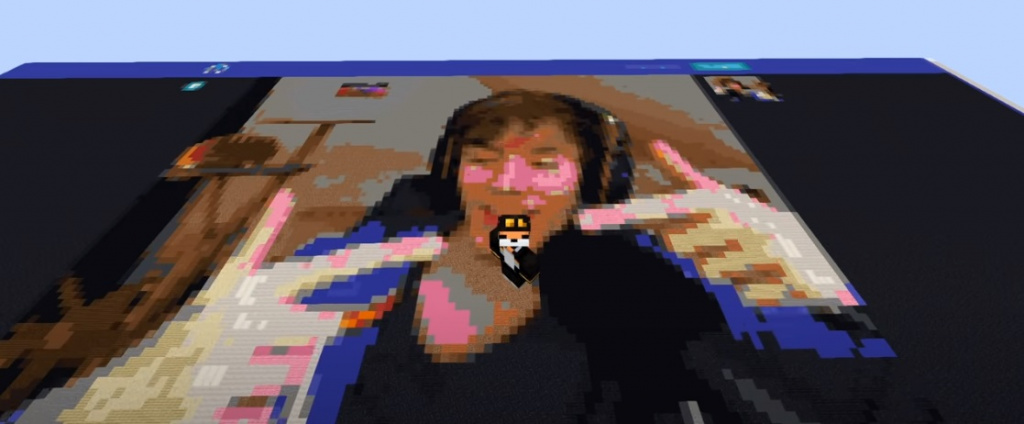 Fundy inside the game, pointing towards his character in the game... (Picture: Fundy)
Since his creation is on a server, he could even invite friends to play Minecraft inside of Minecraft with him. 
It is honestly one of the most amazing creations we've seen so far, and yet again proves Minecraft truly offers infinite wonders and endless possibilities.