Minecraft's sandbox formula has allowed talented creatives and builders to recreate worlds within the game that otherwise wouldn't have been possible. Using the available resources they have at their disposal, we have seen original and reimagined recreations brought to life in typical Minecraft fashion.
We have previously reported several Minecraft builds by players going above and beyond in Minecraft, including the Halo Ring from Halo Infinite and the Pizzaplex map from Five Nights at Freddy's: Security Breach. However, recently, one player took up the challenge of building a prolific symbol from Norse mythology in Minecraft with beautiful shots to prove it.
The Tree of Life stands tall in Minecraft
Posted to the Minecraft subreddit on 22nd January 2022, Reddit user Neozono posted several images of their first completed build in Minecraft, Yggdrasil or the Tree of Life. At the same time, the inspiration for the build was not founded on Norse mythology but the version featured in the Square Enix RPG Dragon Quest 9 and 11, respectively.
According to Neozono, this majestic build took "more than 100 hours" to complete and was built in Minecraft's Creative Mode. Nevertheless, the Minecraft community responded in absolute awe over this stunning build and asked for a world download to be made available.
Neozono promptly answered that a world download plan would be available soon. "I plan to open a Patreon with all my worlds in the future so that people can download everything I have and everything I'm going to build," they said.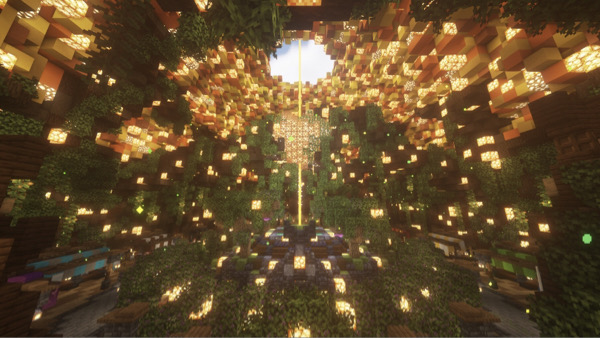 Some members of the Minecraft community forwarded suggestions of builds that Neozono could work on next. For example, one Redditor had requested for Jörmungandr to be built as the next project; another wanted all nine realms to be recreated in Minecraft. "Now make Vanaheim, Asgard, Alfheim, Jötunheim, Niflheim, Muspelheim, Helheim, Svartalfheim, and Midgard," Redditor Stanley523 commented.
Building this massive scale looks daunting for builders of any skill level. Indeed, staying motivated can also be a challenge, even if it's just to place a block down one at a time. But, according to Neozono, inspiration was almost everywhere and kept them motivated during the build.
"One of my big inspirations in the last few months has been looking at a lot of the amazing builds people do on Reddit or other sites. And of course, the real key, if you want to make big builds, is to use the World Edit; it makes it so much more possible and easy to do almost everything. Something that would take you hours to do you can do in a few minutes with that mod, the crown of this project is the perfect example."
Minecraft's sandbox format encourages creativity, and builds of this kind can motivate and inspire many to start projects of their own. As it's never too late to start building in Minecraft, all it will take is one block to begin your creative journey.
Featured image courtesy of Reddit / Neozono and Mojang / Xbox Game Studios.