NBA 2K22 has started releasing the full list of rosters and stats for each player, and one of the first that players are interested in is the Los Angeles Lakers. 
When a team is headlined by LeBron James, it's going to garner a ton of interest. However, given that the Lakers have had one of the craziest off-seasons in recent memory, players are even more intrigued to see what 2K has given them in terms of stats and ratings. 
Below, fans can see the stats for each Laker, the team's rating and strategies to implement to be successful when using LA in NBA 2K22. 
LA Lakers NBA 2K22 stats and rating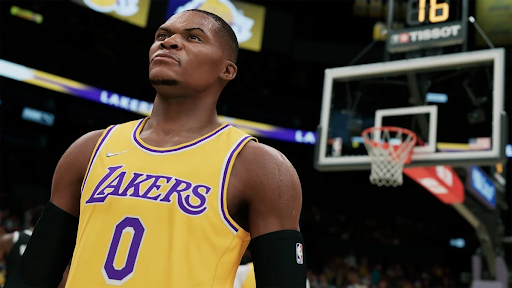 Starting off, we'll list the full ratings for the LA Lakers roster as a whole. 2K lists them as a T1 Tier roster, so their ratings will be higher than most teams. 
OVR: 83

INS: 88

OUT: 82

ATH: 90

PLA: 82

DEF: 67

REB: 64

INT: 64

POT: 86
With the team's age, the highest average in the NBA, some of their stats will be down, like their defensive rating. However, with an OVR of 83, the Lakers should be one of the best teams in 2K22, with only the Brooklyn Nets having a higher rating. 
Moving on, each of the player's stats was also revealed. As expected, LeBron James is leading the pack, with Anthony Davis and Russell Westbrook following. 
LeBron James: 96 OVR, 82 3PT, 91 DNK

Anthony Davis: 93 OVR, 72 3PT, 88 DNK

Russell Westbrook: 86 OVR, 75 3PT, 83 DNK

Carmelo Anthony: 78 OVR, 84 3PT, 70 DNK

Dwight Howard: 78 OVR, 68 3PT, 80 DNK

Kendrick Nunn: 78 OVR, 83 3PT, 75 DNK

DeAndre Jordan: 76 OVR, 25 3PT, 85 DNK

Rajon Rondo: 76 OVR, 77 3PT, 30 DNK

Malik Monk: 76 OVR, 86 3PT, 80 DNK

Talen Horton-Tucker: 76 OVR, 70 3PT, 65 DNK

Marc Gasol: 75 OVR, 80 3PT, 60 DNK

Wayne Ellington: 75 OVR, 87 3PT, 50 DNK

Trevor Ariza: 74 OVR, 60 3PT, 65 DNK

Kent Bazemore: 74 OVr, 81 3PT, 75 DNK
LA Lakers strategies in NBA 2K22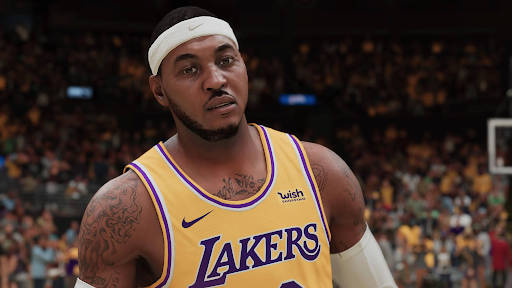 Obviously, the main strategy with the Lakers is going to be running the offence through its stars. LeBron James and Anthony Davis are the two stars on the team, with Russell Westbrook and Carmelo Anthony being the main supporting cast. 
Any opponent you play against as the Lakers will have to try and find a way to defend those four players on the floor. That's an extremely difficult task, as James, Davis, Westbrook, and Anthony is a terrifying trio. If a defence is playing LeBron or Davis close, you can run the offence through Westbrook and get the ball to Anthony on the baseline for his signature three. 
However, utilizing the Lakers deep, albeit old, bench is the key to success. Few teams have the depth that the Lakers have, and as long as you substitute correctly, you'll always have a threat on the floor. There are several three-point specialists, like Malik Monk or Kent Bazemore, to get the ball in a zone defence. But there are also guys like DeAndre Jordan and Dwight Howard who can make life miserable for a defence in the frontcourt. 
Ultimately, the Laker have the ability to match up with any team in NBA 2K22, so reacting to what the defence throws at you while using the many stars on the roster is the best strategy. 
Be on the lookout because we will bring you the latest news and tips on NBA 2K, Madden, FIFA and all your favourite sports games.