Niantic's Pokémon GO is currently filled with content in preparation for the first-ever online GO Fest scheduled for the last week of July. The latest surprise involves the debut of the iconic Team Rocket duo of Jessie and James from the animated show.
A couple of days ago, Niantic announced Team Rocket balloons would be popping up for players of the location-based game, letting them battle grunts and (if they're lucky enough), leader Giovanni. Now, the beloved members of the evil organisation will come to generate even more chaos in the world of Pokémon GO.
How to find Jessie and James in Pokémon GO
Spotting the special members of Team Rocket is fairly easy. While regular grunts are flying across the map in black balloons, Jessie and James do so in a special Meowth shaped one.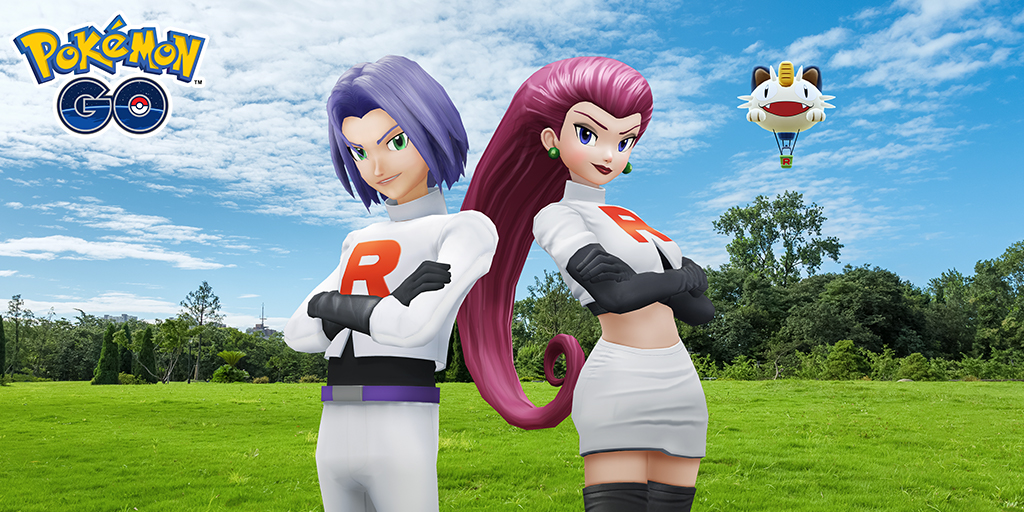 (Picture: Niantic)
Unlike leader Giovanni, players won't be required to activate a Rocket or a Super Rocket Radar, as they'll both appear regardless of their usage. At the moment, there's no set date for when they'll stop showing up so be ready and on the lookout for those rare Meowth balloons.
Team Rocket GO Fest Weekly Challenge
Jessi and James are not the only surprises Niantic gave Pokémon GO fans, as the previously announced weekly challenges leading up to the GO Fest have been slightly changed
We say slightly as the general theme around the next challenge remains the same, focusing on the battle aspects of the game, Niantic revealed players will have to duke it out with Team Rocket members to receive the challenge's rewards.
Here's the rundown of the newly revealed details for the challenge that's set to start on July 10th:
Poison-type and Dark-type Pokémon are appearing in the wild, in Eggs, and in raids.
Team GO Rocket balloons are appearing more often.
The Meowth balloon seems to be appearing at a higher rate.
Suicune has been turned into a Shadow Pokémon. Defeat Giovanni to save it. Complete the GO Fest Weekly Challenge: Battle Timed Research to receive a Super Rocket Radar that will help you track Giovanni down.
The following Pokémon are being captured and turned into Shadow Pokémon now:

Nidoran ♀
Nidorina
Nidoran ♂
Nidorino
Machop
Machoke
Gligar
Shuckle
Stunky
Skuntank
Furthermore, on July 12th from 11:00 am to 2:00 pm local time, expect the next bonuses and features when you log in to the game:
More Team GO Rocket balloons in the skies and more Team GO Rocket Grunts capturing PokéStops for the duration of the take-over
2× Stardust when you defeat Team GO Rocket Grunts and Team GO Rocket balloons
The Meowth balloon appearing more often than usual
The opportunity to use a Charged TM to let your Pokémon forget the move Frustration and learn a new move
Team GO Rocket music playing in Pokémon GO
There's no better time to jump back into the free-to-play mobile game, with Pokémon GO on track to have its most profitable year to date.