Rainbow Six Siege might be slowing down the frequency of new operators, but there's a wealth of meaningful changes to the gameplay coming in Year 6.
Following the Six Memevitational, Ubisoft showcased the Year 6 roadmap for Rainbow Six Siege, which starts with Operation Crimson Heist and the arrival of new Argentinian operator Flores and a Border map rework.
There will be three more operators rolled out in 2021. After Flores, we'll have a Native American operator originating from the Nakoda tribe, bringing an even wider variety of representation to Siege. These will be followed by Croatian and Irish operators too. 
The Favela map will getting reworked in season two, while the third season, instead of a dedicated map rework, will see numerous maps tweaked. These won't be fundamental changes to the design, but quality-of-life improvements, including changes to lines of sight, rolled out across a variety of maps.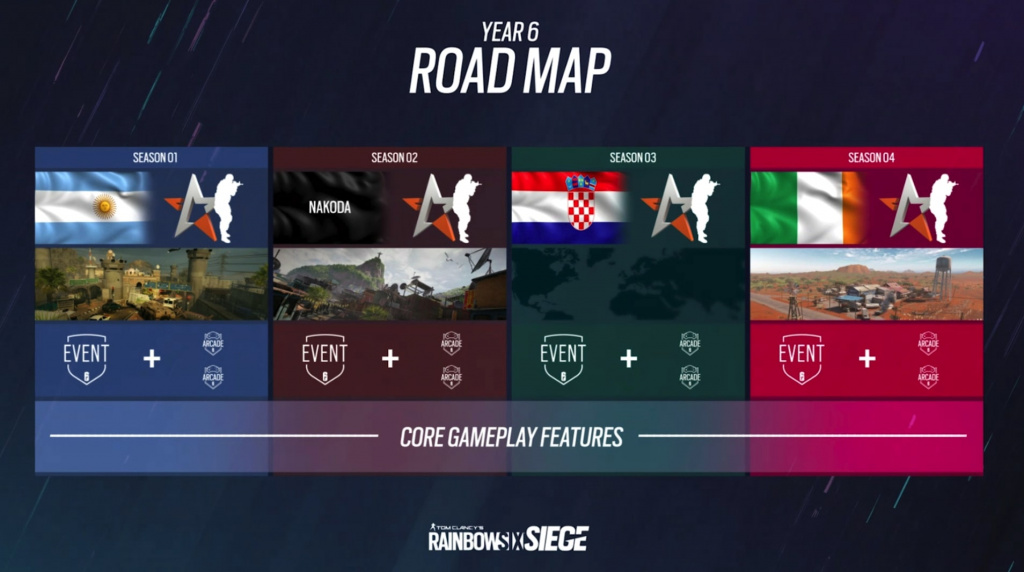 Here's the roadmap for Year 6 (Picture: Ubisoft)
For season four, Outback will be getting reworked in a bid to place it back in the ranked pool.
Throughout Year 6 however, Ubisoft is planning to roll out a wealth of gameplay additions and other improvements which you can check out below. 
What's coming in Rainbow Six Siege Year 6
More activities after death
One of the core gameplay changes coming in Year 6 is designed to keep eliminated players still involved with the match. With this update, players will be able to control any of your deployed gadgets after death, including personal drones, turrets, and Echo's Yokai drone. 
Attacker repick
In a bid to rebalance the field between Defenders and Attackers, you'll now be able to switch operators during the preparation phase as an Attacker. This means you can gather intel on your opponent's strategy, and switch to better counter the defences ahead.
It's a shift which hopes to make Attackers more of a threat during the preparation phase, while making the use of intel-orientated gadgets more valuable.
Speed vs health system
Instead of the speed vs armour trade-off used in Siege, where doesn't explicitly state how much the increased buff is for armour points, they're now switching to a speed vs health system. If you choose three speed and one health you'll start off with the usual 100HP, but each additional health point will give you 20HP extra. So if you choose to have one speed and three health you'll have 140HP starting out in matches. 
Gonne-6
This is a new secondary weapon arriving in Operation Crimson Heist. It only has one shot, but it instantly destroys any bulletproof gadget. 
Overhaul to menus
At some point in Year 6, there will be updated menu screens for Rainbow Six Siege - which includes a new splash screen (seen in main picture above), transitions and an updated logo. 
Reputation system and stream mode
The reputation system is set to be pushed to the forefront in Year 6 - making it easier for players to understand why they're being punished and rewarding positive standings.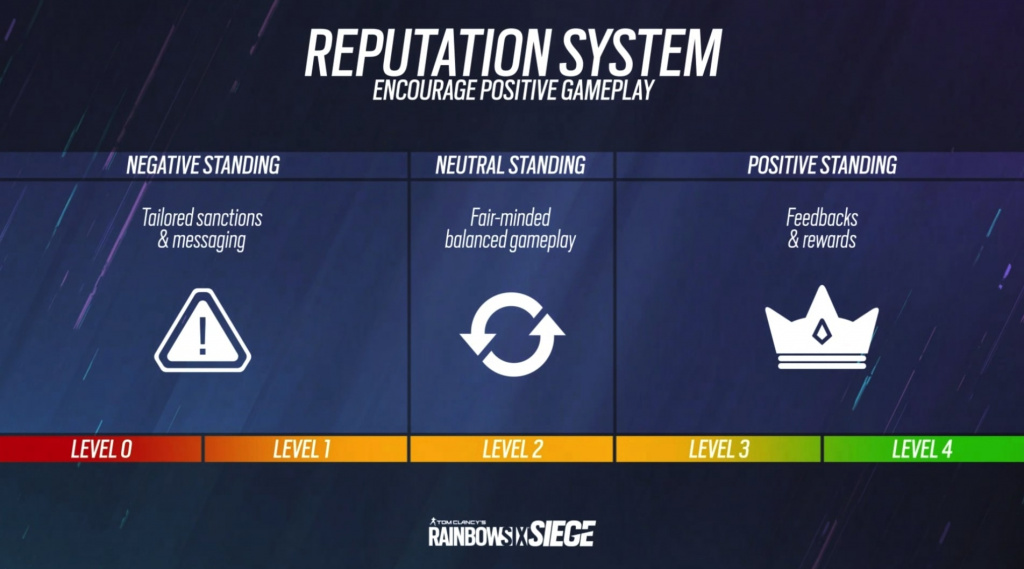 How Ubisoft is developing the reputation system (Picture: Ubisoft) 
Additionally, the developers will introduce a Streaming mode tool in Operation Crimson Heist to help counter stream-sniping for influencers, which will hide their name, region and ping to lessen the issue. 
Operator reworks
Multiple operators are also going under the microscope in Year 6, with plans to roll out significant changes for Goyo and Melusi, along with buffs to Mira and Maestro. 
Anything else? 
Along with some exciting customisation options and crossover skins you can check out here, there's also minor technical improvements. 
Ubisoft are working on ways to reduce the game file size so Siege takes up less space on your hard drive - including looking into putting customisable items on a server.
They're also looking to address DDoS issues for console players with new tools, and looking to further solve server issues via social media tools which allow them to directly address specific cases.