Being a survival-horror title, ammo isn't all that abundant in Resident Evil 8 Village. However, as with other titles in Capcom's iconic franchise, there's a way to unlock the Infinite Ammo "cheat" on all weapons. We say "cheat" because it feels like one but actually, it's part of the game, and no cheat code is required. However, you won't be able to unlock Infinite Ammo on Resident Evil Village weapons in your first playthrough. Here's a step-by-step guide to get the Infinite Ammo "cheat" on your weapons.
How to unlock Infinite Ammo in RE Village
If you jump through enough hoops and play Resident Evil Village a lot, you will be able to unlock Infinite Ammo on all guns/weapons.
The process isn't that easy, however, as you will need to work for Infinite Ammo on, for example, one of the best weapons in the game (Wolfsbane) while others are a bit easier to unlock this cheat for.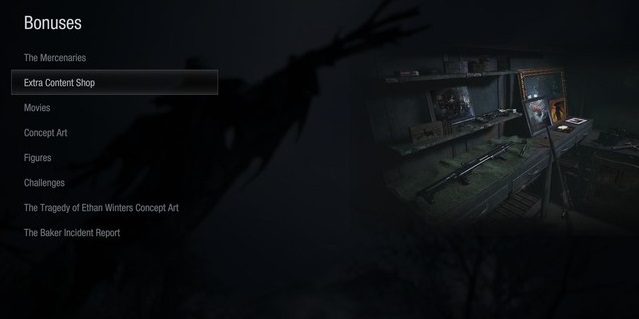 (Picture: Capcom)
To unlock Infinite Ammo in Resident Evil Village, you will first need to complete the game's main story campaign, which should take anywhere between 10 and 16 hours.
Once you've completed the game, you can head to the Bonuses menu, and click on Extra Content.
Here, you will find the ability to unlock Infinite Ammo on all guns/weapons, if you meet the requirements.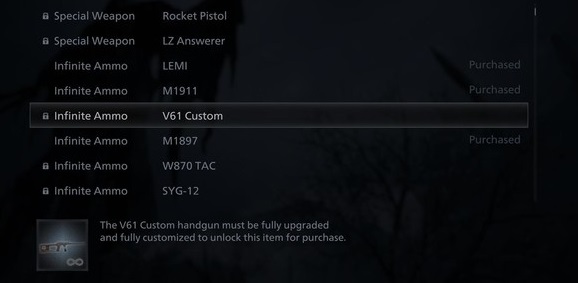 (Picture: Capcom)
The requirements are an amount of Challenge Points (CP) which you attain by playing the game. While you get CP throughout your first playthrough, you will only know how much you've acquired after you've beaten the game once.
All Infinite Ammo RE8 Village weapons:
LEMI (Handgun)
M1911 (Handgun)
V61 Custom (Handgun)
M1897 (Shotgun)
W870 TAC (Shotgun)
SYG-12 (Shotgun)
F2 Rifle (Sniper)
GM 79 (Grenade Launcher)
M1851 Wolfsbane (Magnum)
S.T.A.K.E. (Magnum)
WCX (Assault Rifle)
USM-AI (Handgun)
Dragoon (Assault Rifle)
Handcannon PZ (Magnum)
Rocket Pistol (Special)
Another requirement to unlock Infinite Ammo for each gun/weapon in Resident Evil Village is that you need to have all customizable parts for a gun before the option to unlock this "cheat" becomes available.
Lastly, weapons need to be fully upgraded, so check out our guide on how to upgrade your guns.
Keep in mind this isn't actually a cheat in the true sense of the word. Therefore, Achievements/Trophies will remain enabled when using Infinite Ammo on a weapon.
Check out our dedicated section for everything Resident Evil 8 Village, including guides, news and more.