Daniel "Bluey" Bluett is one of the most polarising players in Rocket League esports - some consider him amongst the best mechanical players the game has ever seen, others see a toxic player that for all his talent is a detriment to the team. 
He started his RLCS career at PSG and was at the heart of their DreamHack 2018 Leipzig Major win. Many predicted further success but a poor showing in RLCS Season 5 led to a collapse in morale and infighting. 
Bluey was moved on, and with no team picking him up he decided to partner with David "Deevo" Morrow to form Savage! They recruited Yanis "Alpha54" Champenois, and stormed through the RLRS, getting promoted at the first try. It was a performance that brought them to the attention of FC Barcelona who signed the team ahead of RLCS Season 7.
The team wasted no time in the top tier - finishing 2nd in EU League Play and reaching the quarter-finals of the World Championship.
Season 8 saw Bluey play some of the best Rocket League of his career, recognized with the Clutch Playmaker (for most assists) and the Regular Season MVP. Despite Bluey's efforts though, it was a poor season for the team as a whole. A sixth-place finish meant they missed out on Worlds and Bluey found himself in a familiar position - off the team and searching for a new home. 
Options were limited and he found himself dropping down to the RLRS - joining Triple Trouble to help them in their quest to be promoted.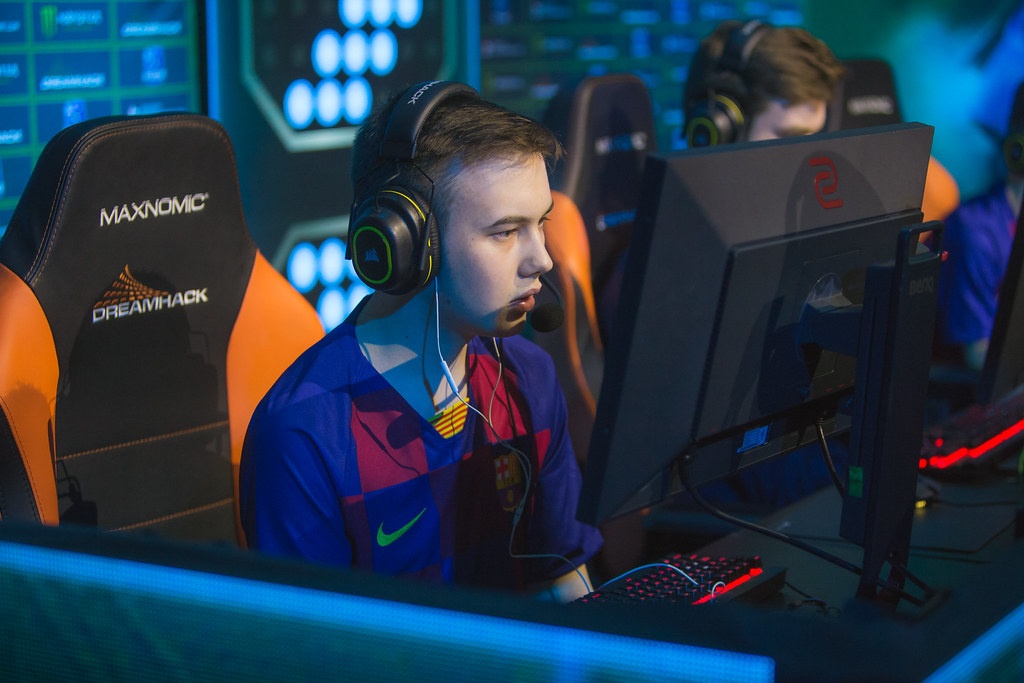 (Credit: Zeebo)
We spoke to Bluey after Triple Trouble's Week 1 loss against Espanyol, to talk about dropping down to the RLRS, being branded "toxic" and his failure to secure another RLCS team for Season 9.
A lot has been written about your time at Barca and your recent statement in regards to being a "toxic" player seems to have been well received within the community. Looking back was that label ultimately warranted?
God no! It makes me super unhappy to see that people still put the "toxic" label on me even though they have no idea what happens internally. I captained FCB for 2 seasons and during my time in FCB, I did everything I possibly could to help my teammates feel as comfortable as possible - in and out of the game. 
My drive to win is unmatched and I know that being "toxic" never helps anyone and I've learned from the mistakes I made at PSG. As captain, all I want is to get my team to the top and win RLCS and to do that I did everything I could to help my team in a positive way. I never did anything toxic purposely and if I somehow did my teammates would tell me after the game and talk to me in person since we lived in a team house.

 
What is your relationship with the guys at Barcelona like now?
My relationship with the Barca guys is fine. We have no problems and we parted on good terms. I don't talk to them much since I'm focusing on my team and my future but I'll sometimes go into Flakes' stream and talk to him. I've known Flakes for almost 5 years now and I'm proud of him for working hard and getting the spot on FCB.
Despite the reasons for leaving PSG and Barca you had real success with both sides are there any moments that stand out for you?
With PSG, winning DreamHack Leipzig 2018 is a standout moment for me. I'll never forget that tournament because it's the only major LAN I've won and I hope to win more in the future. With Barcelona, it would have to be the RLCS Season 7 World Championships because we made Day 3 and that was honestly my dream team. It sucks that we didn't get further at worlds but it is what it is. Going from RLRS to Worlds in two seasons is very hard and it's something I can say I did - although I wouldn't recommend it.
 
You wouldn't recommend it?
We got very lucky albeit we were a very good team. Lucky in the sense that Deevo and I found a diamond in the rough in Alpha54. We stormed through RLRS after being kicked from our respective teams, promoted to RLCS, then qualified for Worlds. Only a few teams have done that.
On a personal level, last season was a success - you picked up the Regular Season MVP and Clutch Playmaker. Were you surprised to be dropped?
I was extremely surprised that I was dropped. It came out of nowhere. I just had the season of my career stats-wise and I couldn't have been happier with my personal performance on the pitch. But I got dropped because of the emotional side of me. Which is fair enough. And I have to state this because I've seen a lot of confusion within the community. It was because I was very emotional - not toxic. And they thought it was best to drop me in favour of someone who wasn't as emotional.
Do you think that "toxic" label affected your chances of getting picked up by another RLCS side?
100%, no doubt about it. But there's nothing I can do now but try and prove to everyone that that is not who I am. If people really want to get a taste of my personality and who I am they can always drop by my stream and see what I'm like instead of assuming. There's always going to be rumours but I'll gladly debunk them with how I am on stream. 
The way the community responded to your statement was pretty positive... 
Yeah, the general community feedback has been pretty positive and it makes me happy. 
Let's bring it to the present. How is the feeling around Triple Trouble compared to past teams - is it home for you?
Yeah, Triple Trouble feels very homey to me. I've worked with RamS before and I've known Rix and Tad for years. We all get on really well.
Who reached out to who to get it going?
I actually reached out to Tadpole or Rix Ronday, don't remember which. But, I told them I'm potentially getting kicked from FCB because at the time it wasn't confirmed and I asked them for tryouts because they were really my only option at the time, but I went to them because I respect them as a team and I knew they were good and they had potential to be in RLCS. Tadpole was in RLCS Season 7 and made the World Championships so him being on that team was a big pull factor for me.
The RLRS started this weekend and you got reverse swept by Espanyol. You started strong but a series of defensive mistakes let them back into the game - what do you put that down to?
I think I have the reverse sweep curse, we did really well in the first two games then once we're on match point we can't seem to get anything going. I'm not really sure how or why this happens but it happens. I think it's a mentality thing. The pressure ratchets up on match point and once the opponents win that first game they swing the momentum in their favour, helping their case even more.
Espanyol result aside what are your expectations for the season?
My expectations going into the season is to win it and get that auto-promotion to the RLCS so we don't have to go through the hassle and risk of the promotion tournament. We're one of the best rosters in the RLRS this season, if not the best. Therefore I think the future is bright for us as long as we work hard and focus on each match
What teams do you think are going to be vying for that top spot with you?
The team that I think is going to be at the top with us in RLRS this season has got to be We Dem Girls. They have been playing really well recently, we played them in the skirmish and in scrims and I can say that they are a really good team. They have a former world champion on their team (Greazy) and it'll be fun to go up against them.
Is your dream to take Triple Trouble into the RLCS and get signed by an organisation or do you see your future lying elsewhere?
Yeah, I'd say that's my goal right now. There's nothing I want more than to be in RLCS next season and prove that I'm still one of the best in the world.
There is also the Intel Worlds Opens coming up - do you expect to be competing?
Yeah, I hope to compete for the Olympics, I have nothing planned for it yet so who knows who I'll be playing with. My teammate Tadpole is Welsh so I'd be able to team with him if I wanted to. But we'll see. I'm mostly focusing on the journey back to RLCS but I'd still love to compete for it.
In a recent interview with Ginx.TV Mousesports' Speed talked about how much he disliked the current "demo" meta and he took it back to your Barcelona side in Season 7 - Do you enjoy the meta as it currently is?
As long as I'm the one doing the bumping and demo'ing then yeah, I enjoy the meta right now. I'm having the time of my life in Rocket League and I wouldn't change anything.
How involved are coaches in Rocket league and what kind of impact are they making?
Coaches are very involved and extremely helpful in my opinion. They analyse replays and they'll tell you what you, as an individual, and as a team are doing right or wrong. Some coaches are better than others but in general, coaches are an essential asset to a world-class team. They do a lot of things to help the team succeed in the background which most people would never know, and therefore they are very under-appreciated.
So a couple of quick-fire questions to end it. Who do you hate playing against?
Probably Renault Vitality.
Dream team?
Me, Jstn and Squishy.
Who would you consider the best player you have played with?
Alpha54 or Scrub Killa.
The worst?
Me. I feel bad for my teammates because they are stuck with me!
You can next see Bluey and Triple Trouble in action during Week 2 to the RLRS where they will be hoping to get the first win of the season against Team Vertex.
If you want to hear from Bluey then you can follow him Twitter and catch him live on Twitch.
The RLCS is also back in action this weekend - check out our preview of all the Week 3 action.

​