If you've stuck around for long enough, you know that the most sought-after battle car in Rocket League that is not included in the starting inventory is the Fennec. It's even included in their game cover for crying out loud.
With this change, though, Psyonix has put an end to the extensive search of blueprints and trading communities for the Octane-like body and plenty of more items.
Bundles, much like Rocket League Packs, are a set of items sold collectively at a discounted price and Rocket League has added three of them to kick things off.
The items in each bundle are highly in demand and are a perfect fit for each other as each bundle is built around a specific theme.
Here is the full list of bundles, prices and items:
STREET HEAT for 500 Credits
Takumi
Yamane Wheels
Distortion Decal (Takumi)
Anubis Decal (Takumi)
Vector Decal (Takumi)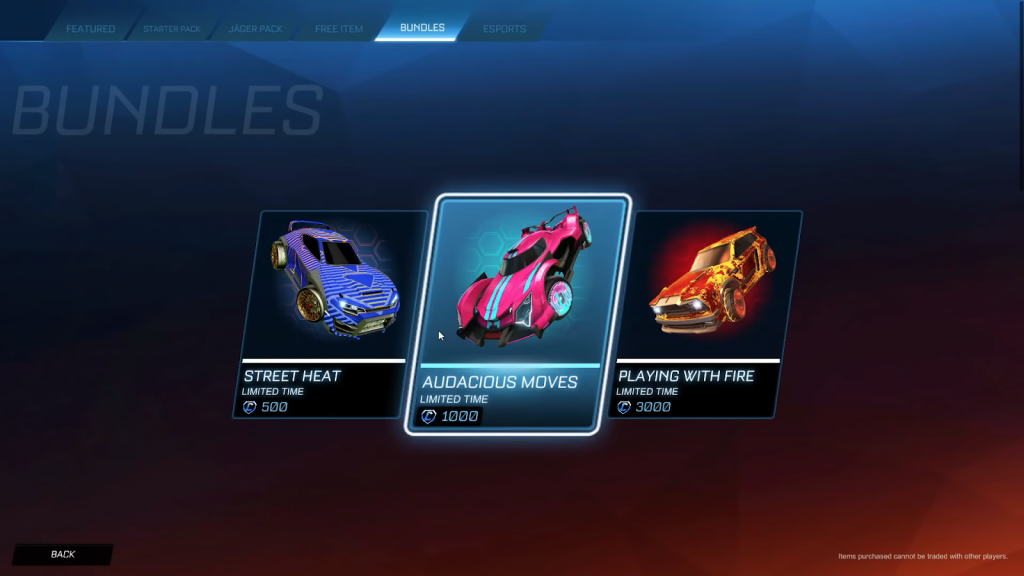 (Image: Psyonix)
AUDACIOUS MOVES for 1000 Credits
Centio V17
Equalizer Wheels
Discotheque Trail
Synthwave Boost
PLAYING WITH FIRE for 3000 Credits
Fennec
Fire God Decal (Universal)
Pyrrhos Wheels 
Pixel Fire Boost
Blazer Trail
Hellfire Goal Explosion
The only difference between Bundles and Packs is the purchase method -- Bundles are bought with the in-game currency of Credits, whereas the Jager Pack or the Starter Pack are purchased with actual money, no middle man involved.
While you will definitely be getting your money's worth, keep in mind these purchases are shortcuts to getting the unrestricted versions of the items.
Buying items in the shop individually, in Packs or Bundles makes all purchased items untradeable amongst players and ineligible to trade-in for a higher rarity.
If that sits right with you, then please help yourself as Bundles seem to be live and here to stay. See you on the pitch with your fire-themed Fennec just like the other thousand players that bought it. Very original.